Whelks & chantilly with bacon
Whelks & chantilly with bacon
Whelks & chantilly with smoked bacon
People

For 2

Preparation Time

30 minutes

Resting Time

2 hours

Winery Pairing

Mumm 4
Ingredients
2 slices smoked bacon
500g whelks
Coarse salt
2 tablespoonfuls vinegar
1 yellow onion
1 sprig of thyme
Salt & pepper
200ml heavy whipping cream
Recipe
Step 1: Whelks
Plunge the whelks into the water with 1 tablespoonful of coarse salt and 2 tablespoonfuls of vinegar for at least 1 hour. Wash the whelks in clean water, put them in a pressure cooker and cover with cold water.
Add to it the yellow onions, a handful of thyme, some salt and pepper. Bring everything to the boil for 20 min and turn off the heat, leaving the whelks in the pressure cooker for at least 2 hours.
Step 2: Cream with Smoked Bacon
Heat the cream and roughly chopped bacon in a saucepan with a pinch of salt and pepper. Cook on a low heat for 10 min. Mix everything in a blender and filter.
Put in the fridge for 1h.
When the cream is cold, whip it into chantilly and serve with the whelks.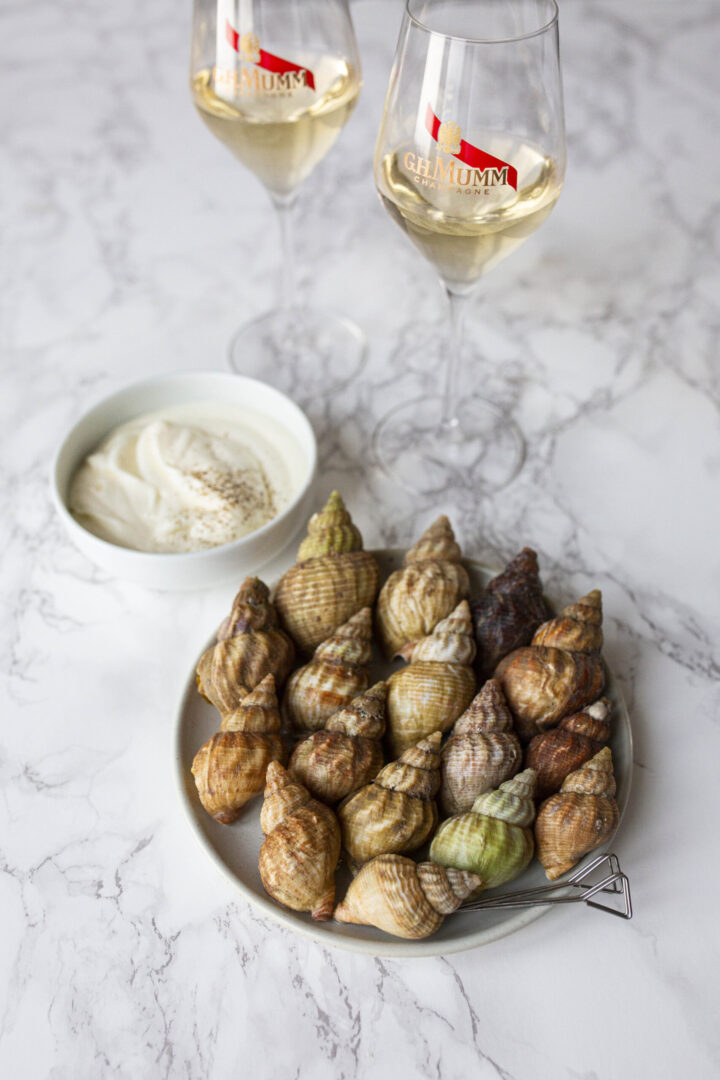 Mumm 4
Mumm 4 is an elegant brut champagne that can be savoured slowly to enjoy its deep complexity or paired with gastronomic delights such as poultry with chanterelles and apricot compote, brie with truffle, game birds or roasted beef or boar accompanied by heirloom vegetables.
Discover the Cuvée
Discover the Cuvée