Inari sushi with marinated salmon
Inari sushi with marinated salmon
Inari sushi with marinated salmon
People

For 2

Preparation time

45 minutes

Cooking time

20 minutes

Winery pairing

Mumm Olympe
INGREDIENTS
Inari
200g cooked vinegared rice
8 fried tofu pockets
250ml dashi (or another bouillon)
2 tablespoonfuls soy sauce
2 tablespoonfuls sugar
2 tablespoonfuls mirin or sake
Filling
100g salmon
1 teaspoonful sesame oil
1 teaspoonful soy sauce
1 teaspoonful mirin Salmon roe
Baby shoots
Recipe
Step 1. Inari
Boil the tofu pockets in a saucepan of boiling water for 1 min.
Strain them and then leave to cool. Squeeze them to remove the excess water.
Add the sugar, soy sauce, dashi, and mirin to a frying pan and bring to the boil.
Add the tofu pockets and leave to simmer for 15-20 min, then strain them.
Carefully open the tofu pockets and fill them with vinegared rice.
Step 2. Filling
Dice the salmon and season with the sesame oil, soy sauce and mirin.
Step 3. Plating-Up
Place a little salmon in each inari and garnish with salmon roe and baby shoots.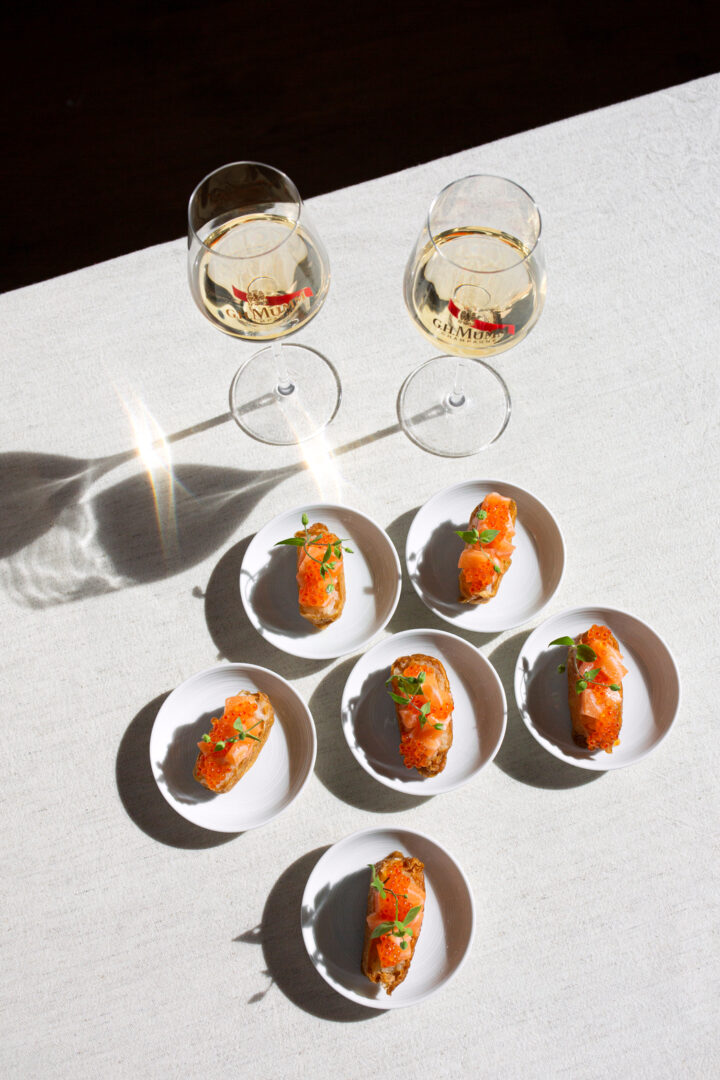 Mumm Olympe
Invited to all the best parties, Mumm Olympe champagne combines delicious sweetness with bright fruit and the House's signature freshness.
Discover the cuvée
Discover the cuvée