MUMM
EXPERIENCES
Cordon Rouge Experience

Price

28€ incl. VAT

Duration

1h30

On this tour, discover how Georges Hermann Mumm, an ambitious, visionary entrepreneur, led Mumm on the path to growth and international development. He brought a philosophy of excellence and innovation to the company that still guides our champagne production, nearly 200 years later. Georges Hermann Mumm was also responsible for creating the famous red ribbon, a worldwide symbol of quality since 1876. The guided tour of the cellars is followed by a tasting of Mumm Cordon Rouge, the symbolic Mumm champagne.

Book a visit (EN)

Book a visit (EN)

Réserver une visite (FR)

Réserver une visite (FR)

Grand cru experience

Price

50€ incl. VAT

Duration

1h30

Since 1827, Mumm has cultivated excellence and know-how, closely linked to the prestigious terroirs we began to acquire from the outset. To produce the exceptional champagnes of the 100% Grand Cru Mumm RSRV collection, we pay the greatest attention to our remarkable vineyard: 216 hectares certified as Sustainable Viticulture in Champagne. This tour will take you to the heart of Maison Mumm's historical site. It is followed by a tasting of two prestige wines, 100% Grand Cru, from the Mumm RSRV collection.

Book a visit (EN)

Book a visit (EN)

Réserver une visite (FR)

Réserver une visite (FR)

DISCOVERY EXPERIENCE

Price

35€ incl. VAT

Duration

1h30

Discover Maison Mumm which, for nearly 200 years, has passionately pursued excellence, as summed up by Georges Hermann Mumm's motto: 'Only the best'. Since 1827, we have been exploring new ways to reveal the essence of Pinot Noir, the signature varietal that defines the unique style of our wines. Following the guided tour of the cellars, an original sensory experience will introduce the tasting of Mumm Millésimé, a complex wine embodying Mumm's know-how and excellence.

Book a visit (EN)

Book a visit (EN)

Réserver une visite (FR)

Réserver une visite (FR)
THE WEEK-END
RENDEZ-VOUS
Between May and October
TASTE ENCOUNTERS

An encounter between champagne, neurosciences and design. Designed by Laurent Fresnet, Cellar master – in collaboration with a neuroscientist and a talented designer – this experience will challenge your perceptions and let you discover the complexity of our champagnes. Following the guided tour of the cellars, let yourself be surprised by this unique Champagne tasting experience, in the elegant surroundings of the Mumm VIP tasting room. An original olfactory experience followed by a surprising multi-sensory tasting of Mumm Millésimé 2013 and Mumm Grand Cordon Rosé.

Book an experience (EN)

Book an experience (EN)

Réserver une expérience (FR)

Réserver une expérience (FR)

EXPERIENCE GRAND CRU & CHEESE

Since the outset, Mumm has acquired vineyards in the most prestigious terroirs in Champagne, particularly Verzenay. Mumm's first plot was purchased in this village renowned for its Pinot Noir – our signature varietal. The expression of our heritage linked to terroir and know-how, the wines produced from this Grand Cru are reserved for a small circle of connoisseurs. Following the guided tour of the cellars, Mumm invites you to taste two wines from the 100% Grand Cru Mumm RSRV collection, paired with French cheeses.

Book an experience (EN)

Book an experience (EN)

Réserver une expérience (FR)

Réserver une expérience (FR)
EXCEPTIONAL
VENUES
The ideal setting for prestigious events, Mumm offers two exclusive reception areas where you can explore its heritage and enjoy its quality hospitality. The Champagne house is able to host your business lunch, cocktail party or gala dinner, a seminar or an incentive meeting
Discover our venues
Discover our venues
PRACTICAL INFORMATION
Opening hours
January 12th – February 28th

Visits from Thursday to Saturday

From 10:00 am to 01:00 pm & from 2:00 pm to 5:30 pm

Boutique is open on Fridays and Saturdays

Closed from December 24th to January 17th included

March 1st – March 31st

Visits from Thursday to Sunday

From 10:00 am to 01:00 pm & from 02:00 pm to 05:30 pm

Boutique is open from Thursday to Sunday

April 1st – April 30st

Visits from Thursday to Monday

From 10:00 am to 01:00 pm & from 2:00 pm to 6:00 pm

Boutique is open from Thursday to Monday

May 1st – October 31st

Visits everyday

From 10:00 am to 01:00 pm & from 02:00 pm to 06:00 pm

Boutique is open daily

November 1st – December 24th

Visits from Thursday to Monday

From 10:30 am to 01:00 pm & from 02:00 pm to 05:30 pm

Boutique is open from Thursday to Monday

Closed from December 24th to January 17th included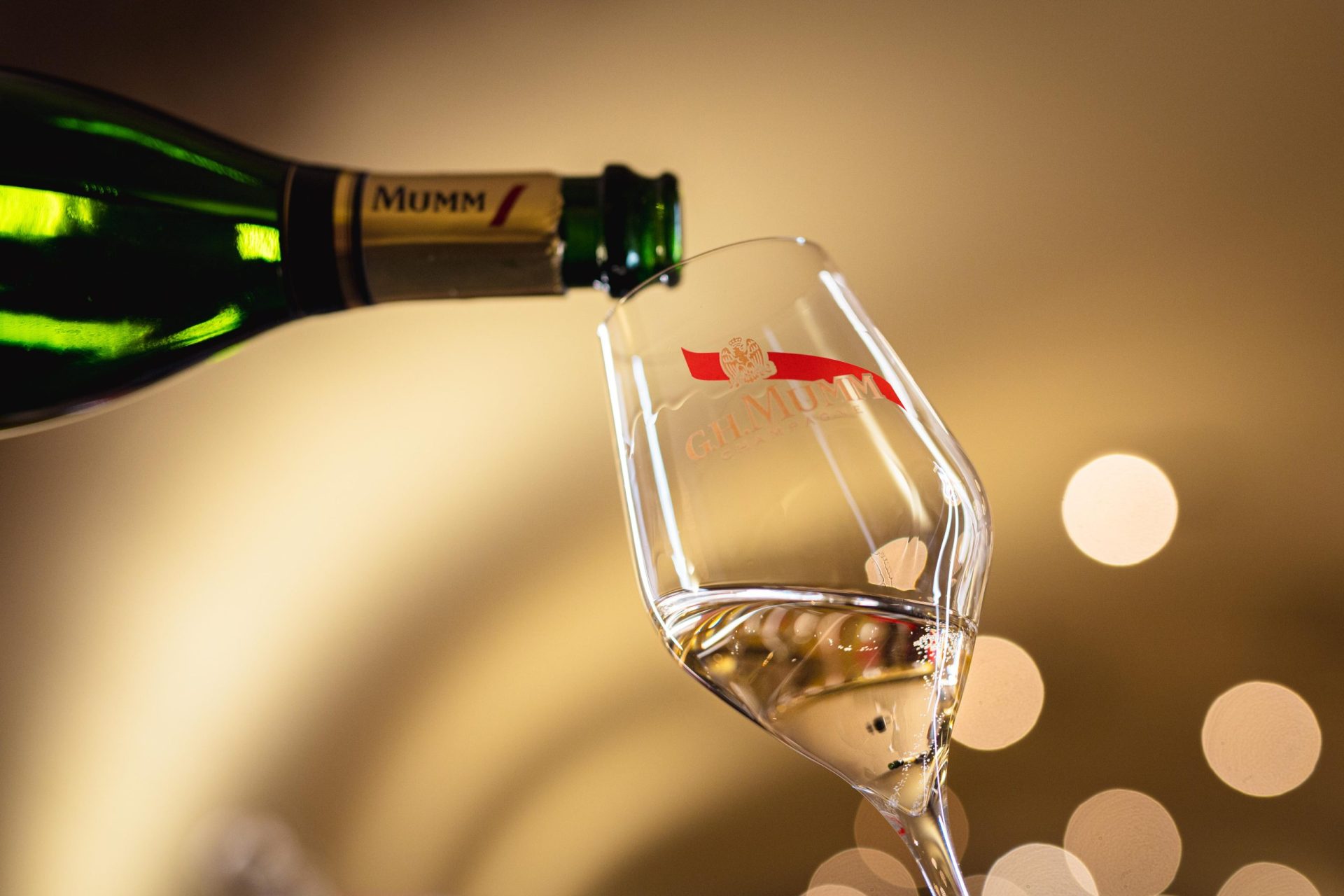 For all visits
Boutique available during opening hours
WIFI connexion
Access to first level only for people with reduced mobility. Please notify in advance when making your reservation
Tour carried out on foot
Please dress warmly
Private bookings on demand
Tours in Italian, Spanish, Portuguese, German – Contact us directly by email: guides@mumm.com
Animals are not allowed in the cellars
Minors under the age of 18 must remain under the supervision of an adult legal representative during the visit
Contact Us
Address
34 rue du Champ de Mars
51100 Reims – France
From Reims train station
20 min
10 min
Go to maps
Go to maps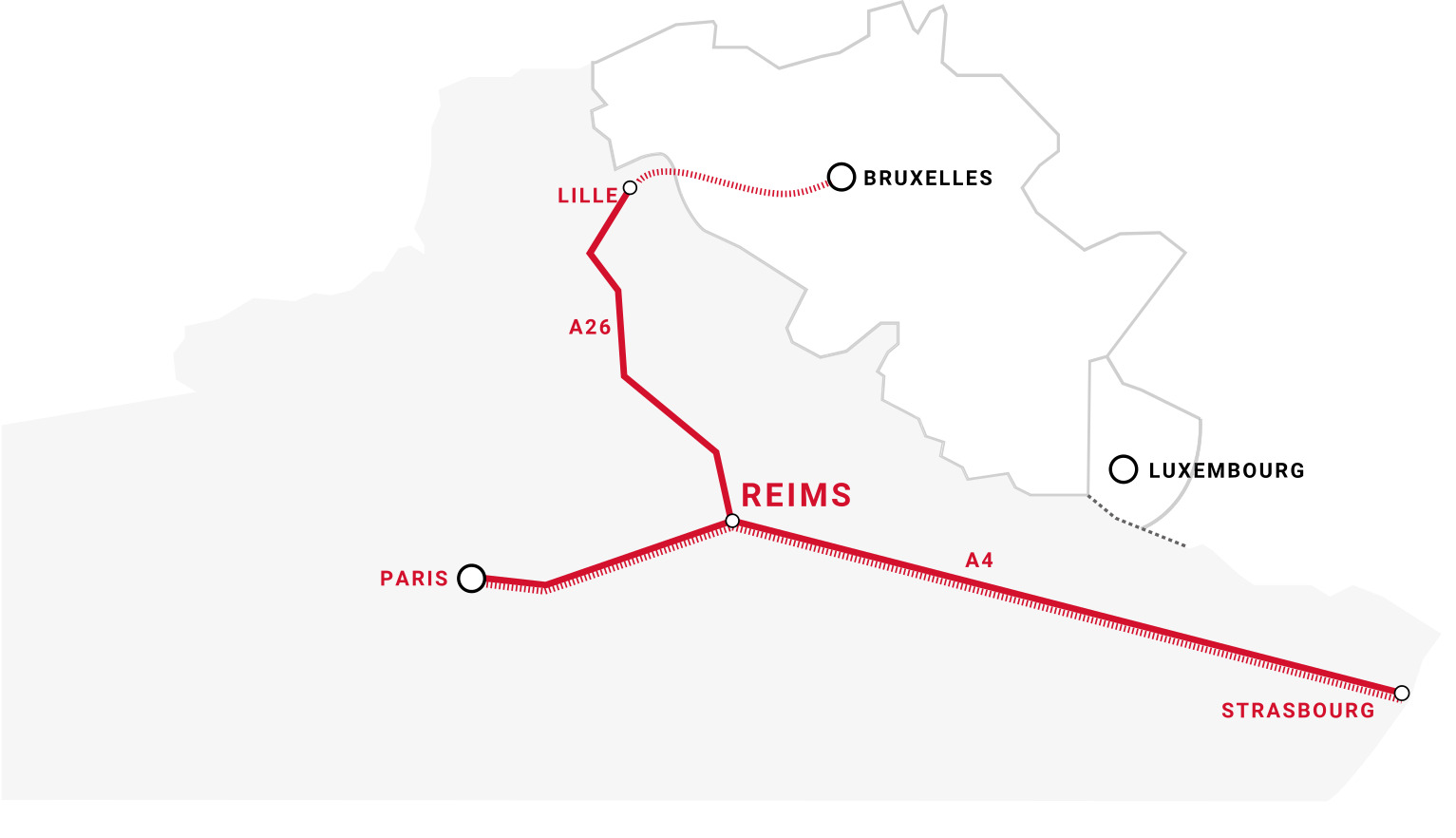 A TOUR OF THE G.H.MUMM CELLAR, REIMS
A journey into the heart of Mumm's history
Discover all the secrets of champagne in a journey through the intimate setting of Mumm's cellars in Reims. The result of 70 years' work, dug into the Reims chalk subsoil, the cellars are home to all of Mumm's champagnes, from the newest additions to the oldest creations that mark the history of the House. Protected from light and heat, it is in this 25 km labyrinth of underground tunnels that the champagnes and still wines develop, a treasure trove carefully watched over by the House's Cellar Master…

The tour offers an opportunity to learn about the expertise that has defined the identity of Mumm wines. From vineyard operations to bottling, from the art of blending to aging, traditional methods are combined with cutting edge techniques that bear witness to Mumm's avant-garde approach.

Following the tour, a tasting of Mumm's cuvées sheds light on the philosophy of excellence that has guided the House for almost 200 years.

This exclusive cellar tour is dedicated to sharing, discovery and joy.