Crispy polenta & king prawns
Crispy polenta & king prawns
Crispy polenta, cream, king prawns & flying fish roe
People

For 2

Preparation time

30 minutes

Winery pairing

Grand Cordon Rosé
INGREDIENTS
Filling
4 king prawns
1 can flying fish roe
1 carton unpasteurized cream or crème fraîche
Zest of 1 lime
2 sprigs of chives
Salt & pepper
Grilled Polenta
1 cup of polenta
4 cups of water
Recipe
Step 1. Polenta
Bring the water to boil in a saucepan and sprinkle the polenta over it.
Stir until the mixture thickens.
Add 1 drizzle of olive oil and season with salt and pepper. Place the mixture in a square dish and leave to congeal in the fridge for 20 min.
Turn out the polenta and cut into squares.
Grill the polenta squares on either side in a hot frying pan with oil, then set aside.
Step 2. King Prawns
Shell the king prawns and remove the guts.
Roughly chop the king prawn meat, and season with salt, pepper, and olive oil.
Step 3. Plating-Up
Place a little unpasteurized cream, a spoonful of langoustine tartare, a few flying fish roe, and a little chopped chives on the polenta squares; then add the zest of one lime.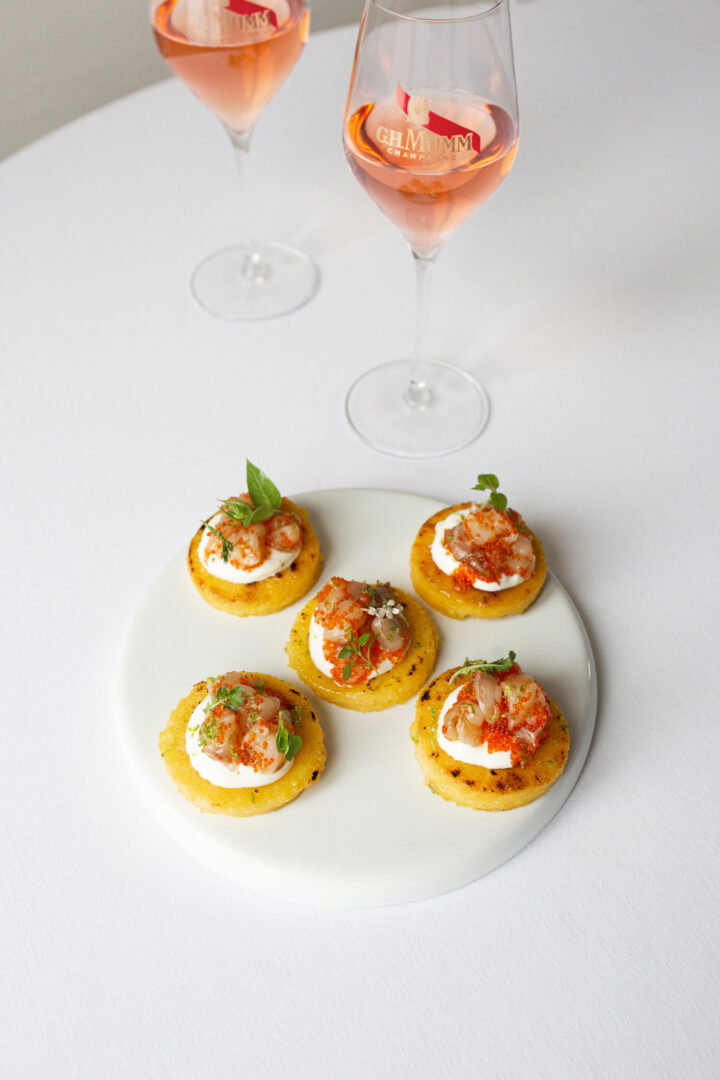 Mumm Grand
Cordon Rosé
Mumm Grand Cordon Rosé is a perfect champagne to savour. Inspiring and intense, it can be enjoyed on its own or paired with a range of creative and modern dishes.
Discover the cuvée
Discover the cuvée