Crispy asparagus & sabayon sauce
Crispy asparagus & sabayon sauce
Crispy white asparagus & saffron sabayon sauce
People

For 2

Preparation Time

45 minutes

Winery Pairing

Mumm 4
Ingredients
6 white asparagus
100g breadcrumbs
3 egg yolks + 1 egg
30cl chicken bouillon
Salt
2 sachets saffron
1 teaspoonful mild chili powder
2 tablespoonfuls flour
200ml sunflower oil
Recipe
Step 1: Saffron Sabayon Sauce
Put the egg yolks into a different saucepan. Add 5 tablespoonfuls of water, the saffron, mild chili powder and a pinch of salt.
Whisk.
Put the saucepan of egg yolks in a bain-marie of simmering water and cook while whisking constantly and gradually blending in the court-bouillon reduction. The sauce should be frothy and smooth.
Step 2: Asparagus
Steam the asparagus for 5 min. Leave to cool.
Flour the asparagus and dip them into the egg yolk and then into the breadcrumbs.
Fry the asparagus for 3 min in oil heated to 170°C.
Step 3: Plating-Up
Arrange the asparagus on a plate and add the sabayon sauce on the side.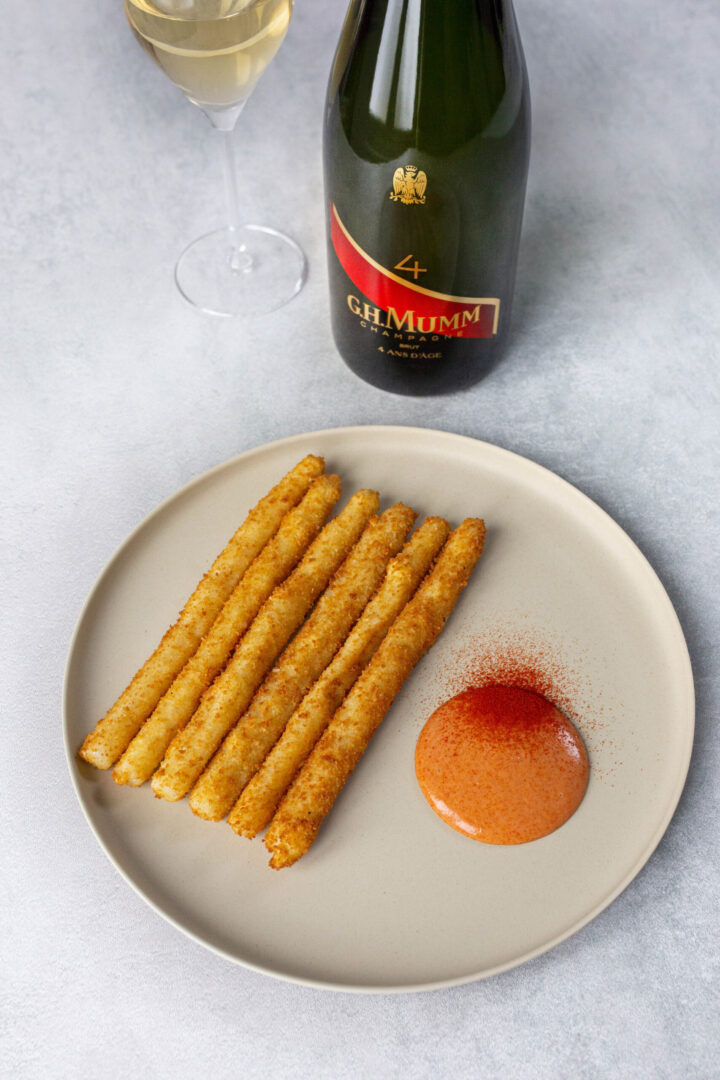 Mumm 4
Mumm 4 is an elegant brut champagne that can be savoured slowly to enjoy its deep complexity or paired with gastronomic delights such as poultry with chanterelles and apricot compote, brie with truffle, game birds or roasted beef or boar accompanied by heirloom vegetables.
Discover the Cuvée
Discover the Cuvée