Arrancini scamorza
Arrancini Scamorza
People

For 2

Preparation Time

30 minutes

Resting time

1 hour

Cooking Time

10 minutes

Winery Pairing

Millésimé 2013
Ingredients
400g Arborio rice
80g scamorza affumicata
180g parmesan
1 chopped shallot
50g flour
1 tablespoonful butter
4 eggs
100g breadcrumbs
1L vegetable bouillon
1 glass white wine
1 tablespoonful olive oil
Recipe
Brown the chopped shallot with olive oil in a large saucepan.
Add the rice and stir until it becomes translucent.
Deglaze with the white wine and add a ladleful of bouillon; let it evaporate while stirring constantly.
Repeat the operation until the rice is cooked.
Add the butter and the parmesan. Leave the risotto to cool.
Form balls and add a piece of scamorza in the center.
Dip the balls into the egg and then into the breadcrumbs.
Fry at 180°C and drain.
Note: Serve hot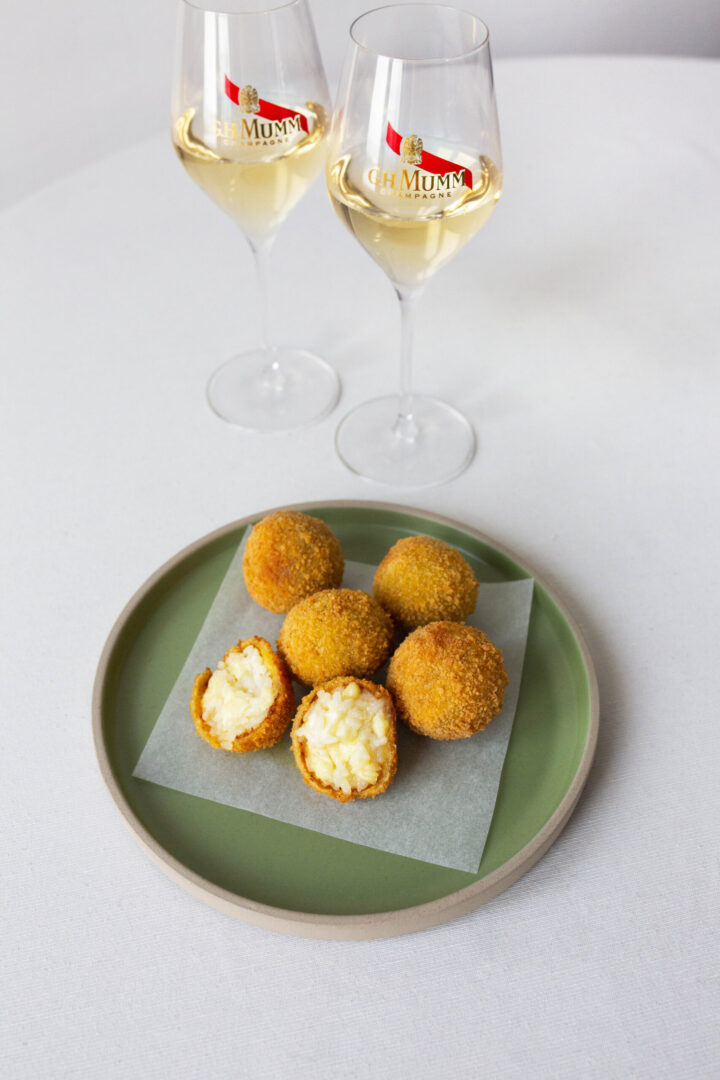 Mumm Millésimé 2013
Mumm Millésimé 2013 is elegance transmuted into a singular vintage champagne. Candlelight illuminates a prestigious restaurant –imposing, yes, but intimate too, the ideal backdrop for the rare pleasure of sharing a most intriguing wine.
Discover the Cuvée
Discover the Cuvée