Guinea-fowl tsukuné
Guinea-fowl tsukuné (japanese meatballs) & teriyaki glaze kebabs
People

For 2

Preparation time

1 hour

Winery pairing

Le Rosé
INGREDIENTS
500g ground guinea-fowl
1 chopped shallot
1 tablespoonful grated ginger
1 tablespoonful corn starch
1 egg
4 tablespoonfuls sugar
5 tablespoonfuls soya sauce
3 tablespoonfuls sake
2 tablespoonfuls mirin
Wooden skewer
3 sprigs of chives
Salt & pepper
RECIPE
Step 1. Meatballs
Mix the ground guinea-fowl, ginger, finely chopped shallot, a pinch of salt, a pinch of pepper, corn starch, 1 egg and 1 tablespoonful of sugar in a bowl. Knead for 5 min.
Form meatballs by hand and blanch them in boiling water for 3 min. Drive two skewers into the meatballs.
Step 2. Marinade
Mix the soya sauce, the remaining sugar, the sake and the mirin in a saucepan. Warm on a high heat for 3 min.
This marinade can be kept in the fridge for 2 weeks.
Step 3. Cooking
The kebabs are cooked on a barbecue, but can also be grilled in the oven.
Plunge the kebabs into the marinade and cook each one on the grill. Plunge the kebabs into the marinade every 5 min until a nice color and a more syrupy sauce is obtained.
Finely chop the chives and sprinkle it over the meatballs.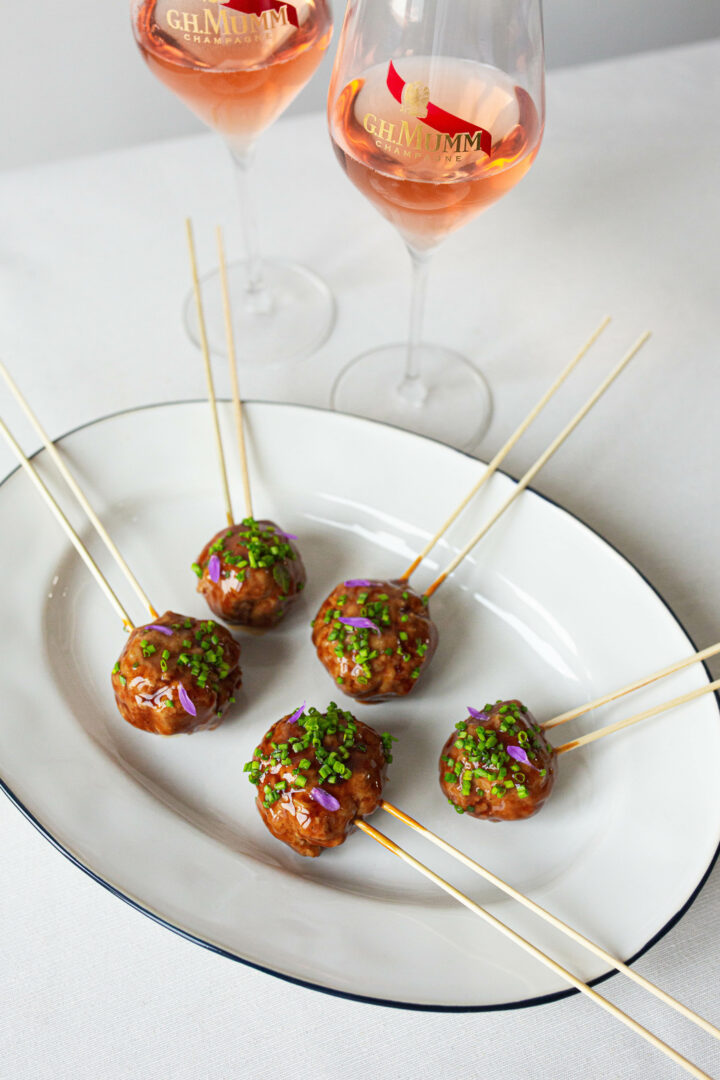 Mumm Le Rosé
Light-hearted Mumm Rosé reveals its charms as an apéritif, but the bright berry notes also complement a wide range of dishes, including simple seasonal starters such as seafood, fresh cheeses and salmon marinated with fresh cranberries.
Discover the cuvée
Discover the cuvée