Prawn crackers & beef tartare
Prawn crackers & beef tartare
Prawn crackers, beef tartare & egg yolk
People

For 2

Preparation time

15 minutes

Cooking time

10 minutes

Winery pairing

Grand Cordon Rosé
INGREDIENTS
200g beef filet
1 egg
1/2 bunch of cilantro
1 shallot
4 sprigs of chives
1 teaspoonful nuoc mam
Juice of 1/2 lime
1 teaspoonful sugar
1 teaspoonful grated ginger
3 tablespoonfuls glutinous rice
Ground black pepper
Garnish
4 Thai basil leaves
1 packet of prawn crackers
Recipe
Step 1. Prawn crackers
Finely chop the beef with a knife.
Toast the glutinous rice in a dry frying pan until it is nicely golden, then roughly crush it with a pestle.
Hard-boil the egg and crush the yolk. Chop the cilantro and the shallot.
Mix the sugar, nuoc mam, lime juice, and ginger in a bowl and add 2 tablespoonfuls of water.
Mix the ground meat with the sauce, shallot, chives, ground black pepper and toasted rice in a salad bowl.
Step 2. Plating-Up
Place the tartare on the bottom of a plate. Cover with Thai basil and crumbled egg yolk. Serve with prawn crackers as canapés.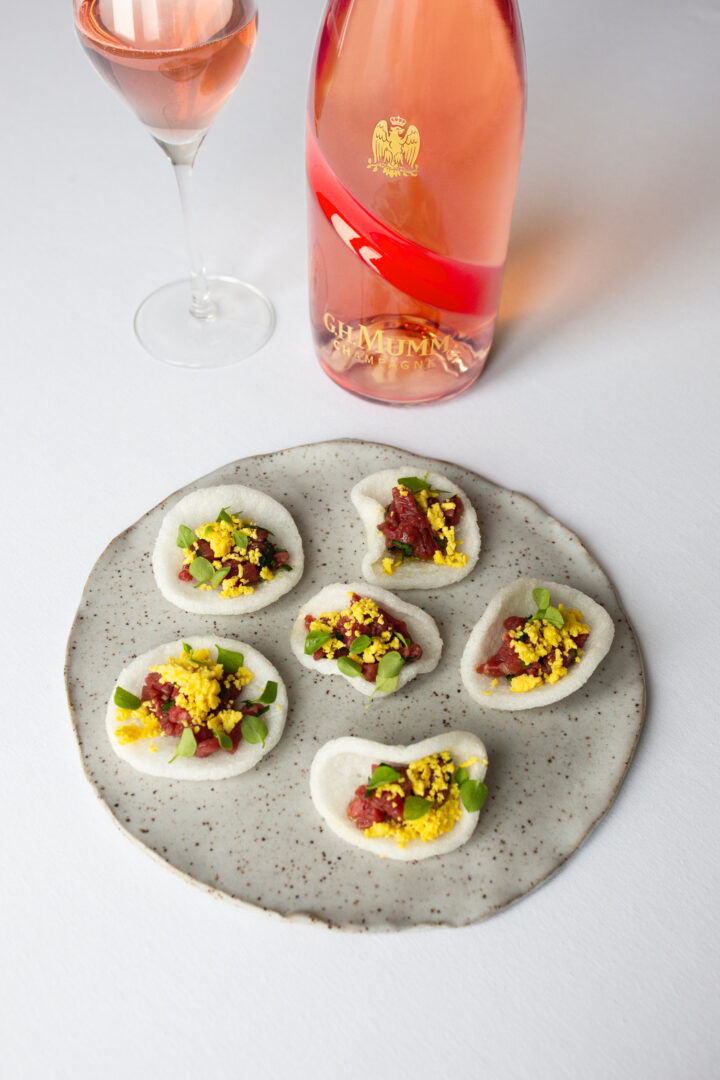 Mumm Grand
Cordon Rosé
Mumm Grand Cordon Rosé is a perfect champagne to savour. Inspiring and intense, it can be enjoyed on its own or paired with a range of creative and modern dishes.
Discover the cuvée
Discover the cuvée