Eggs mimosa with hibiscus
Eggs mimosa with hibiscus
Eggs mimosa with hibiscus
People

For 4

Preparation time

25 minutes

Cooking time

10 minutes

Winery pairing

Le Rosé
INGREDIENTS
6 large eggs
1 raw egg yolk
25cl oil
1 teaspoonful strong mustard
5 sprigs of flat-leaf parsley
Salt & pepper
50g red onion
17ml cider vinegar
45ml water
1 tablespoonful salt
2 tablespoonfuls superfine sugar
50g dried hibiscus
RECIPE
Step 1. Eggs mimosa
Cook the eggs whole for 10 min so that they hard-boil, then immediately plunge them into cold water.
Strain, shell and halve them lengthways, then remove the yolks.
Cover the white "hulls" in plastic wrap and keep in the fridge.
Prepare a mayonnaise by mixing the raw egg yolk and the mustard. Add salt and pepper. Gradually pour in the oil, whisking constantly to obtain a firm mayonnaise.
Crush 4 hard-boiled eggs with a fork. Mix them into the mayonnaise.
Fill the white "hulls" using a piping bag.
Blend in the dried hibiscus at top speed.
Peel the onions, halve them vertically, and then cut them into half-moon shapes (approximately 5mm thick).
Add the vinegar, sugar, salt and water to a saucepan. Boil it, add the onions and then
turn off the heat.
Leave to cool.
Step 2. Plating-Up
Place the eggs on a serving dish.
Put the two remaining egg yolks through a cheese mill and sprinkle them over the dish to obtain the "mimosa" effect. Put a pickle on top of each egg and sprinkle with hibiscus powder.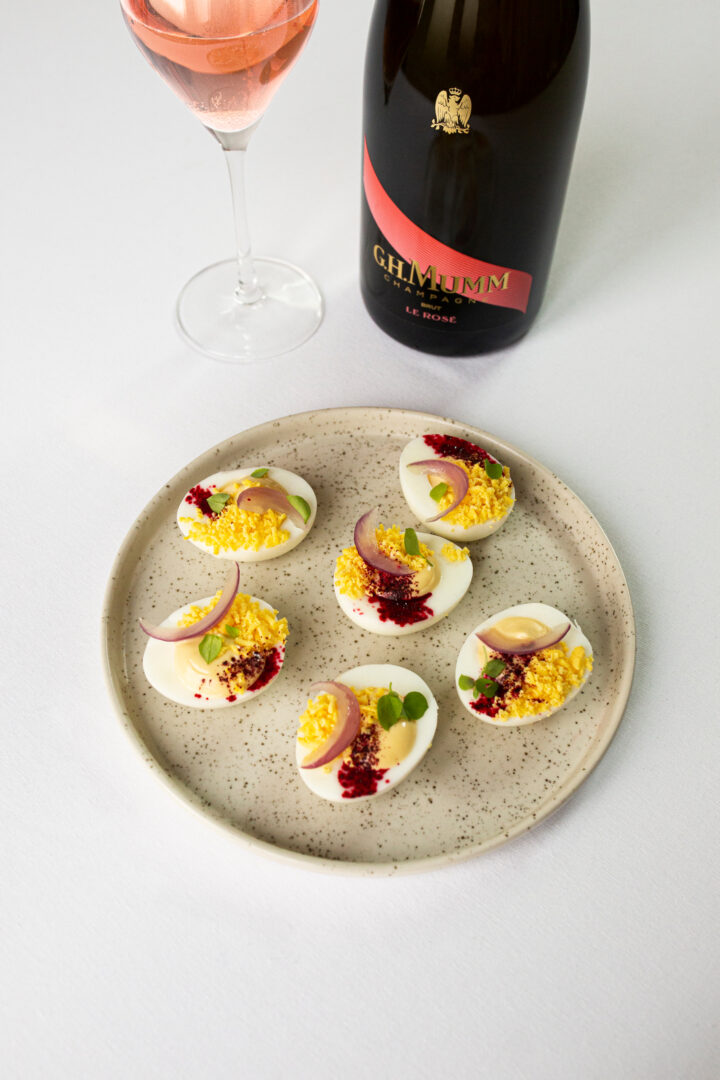 Mumm Le Rosé
Light-hearted Mumm Rosé reveals its charms as an apéritif, but the bright berry notes also complement a wide range of dishes, including simple seasonal starters such as seafood, fresh cheeses and salmon marinated with fresh cranberries.
Discover the cuvée
Discover the cuvée