King prawn croquettes
King Prawn Croquettes & Ginger Mayonnaise
People

For 2

Preparation Time

45 minutes

Cooking Time

20 minutes

Winery Pairing

Grand Cordon
Ingredients
King Prawn Croquettes
500g ground king prawn meat
500g potatoes
1 egg
2 garlic cloves
6 sprigs of parsley
500ml frying oil
Breadcrumbs
4 tablespoonfuls flour
Salt & pepper
Ginger Mayonnaise
1 tablespoonful chopped ginger
1 peeled, degermed garlic
1 egg yolk
2 tablespoonfuls Dijon mustard
25cl sunflower oil
Recipe
Step 1. Prawn Croquettes
Peel and roughly chop the potatoes. Cook them in a steamer basket for 15 min. Once they are cooked, crush the potatoes with a masher.
Steam cook the king prawn meat for 5 min. Crush the fish filets with a fork.
Mix them with the purée.
Peel and chop the garlic cloves.
Blend them into the mixture with the finely chopped parsley. Add salt and pepper.
Work everything with a spatula to obtain a homogeneous filling.
Hand-shape the warm mixture into cylindrical balls.
Turn them over in the flour, beaten egg and then in the breadcrumbs. Heat a chip fryer at 175°C.
Fry the croquettes until they are lightly golden and then drain them.
Serve hot, accompanied with the ginger mayonnaise.
Step 2. Ginger Mayonnaise
Add the egg yolk, chopped ginger, garlic clove and mustard, mix and beat the mayonnaise with the oil.
Add salt and pepper.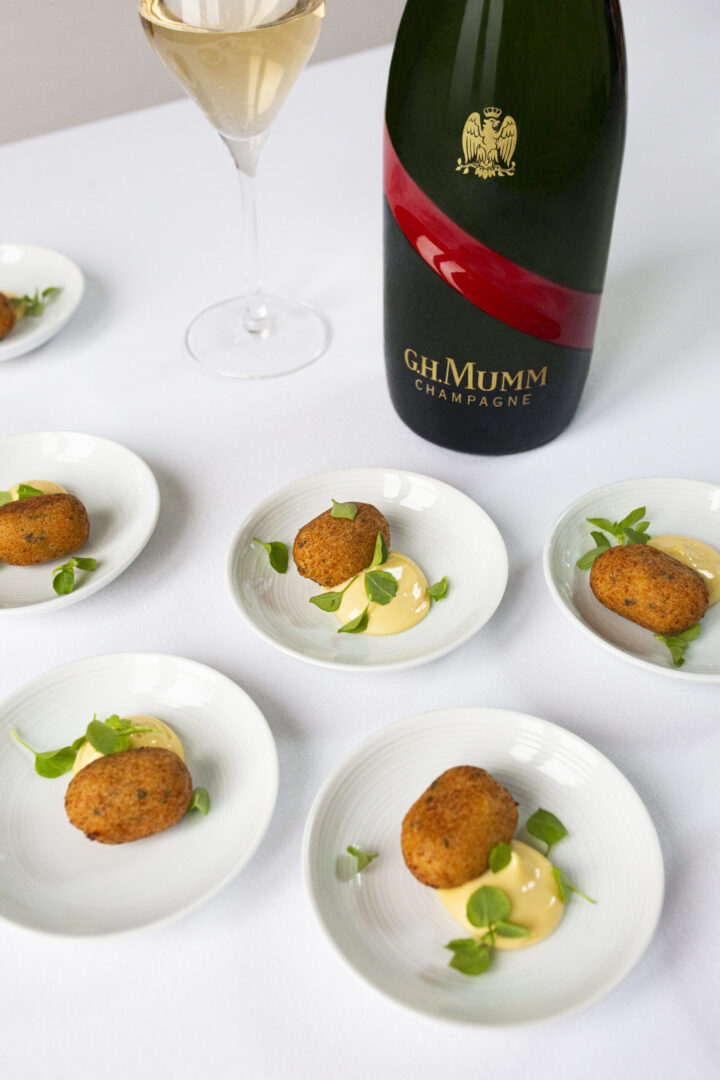 Mumm Grand Cordon
Toasting milestones, personal achievements or simply celebrating friendship with an improvised get-together, the exceptional fresh intensity of Mumm Grand Cordon champagne evokes the exhilaration of life's most unforgettable moments.
Discover the cuvée
Discover the cuvée