Bream tostada
Bream tostada and grilled sesame seeds
People

For 2

Preparation time

40 minutes

Winery pairing

Le Rosé
INGREDIENTS
Corn Tostada
230g nixtamalized corn flour
400ml tepid water
300 ml frying oil
Bream Tartare
1 bream filet
1 egg yolk
1 tablespoonful mustard
150ml sunflower oil
1/2 lime and its zest
3 sprigs of chives
White sesame seeds
1 green onion
Recipe
Step 1. Corn Tostada
Mix the corn flour and water in a bowl. Knead until the water is absorbed and until a homogeneous ball is obtained. Cover with a damp cloth so that the mixture does not dry out.
Preheat a hotplate to medium heat. Using a tortilla press or a dish, place a dough ball approximately 4cm in diameter between the two plastic disks and press on them to form a round tortilla approximately 15cm in size.
Put the tortilla onto the hotplate and cook for 45 seconds. The edge should start to dry slightly. Turn it over and continue to cook for 1 min until small brown marks form.
Turn it over again and leave to cook for another 15 seconds.
Heat the oil in a saucepan to make the tostadas. Fry the tostadas in the oil for 3 min on each side. You can also put them in a deep fat fryer for a total of 2 min.
Step 2. Bream Tartare
Make some mayonnaise in a bowl by mixing 1 egg yolk, 1 teaspoonful of mustard and gradually working in the oil.
Add the lime zest and juice.
Cut the bream filets into tartares and season with salt and pepper, then add 1 tablespoonful of mayonnaise with zest.
Dry toast the sesame seeds in a frying pan for 5 min and transfer.
Step 3. Plating-Up
Put a tostada on a plate. Cover it with tartare, sprinkle with toasted sesame seeds and garnish with chopped chives.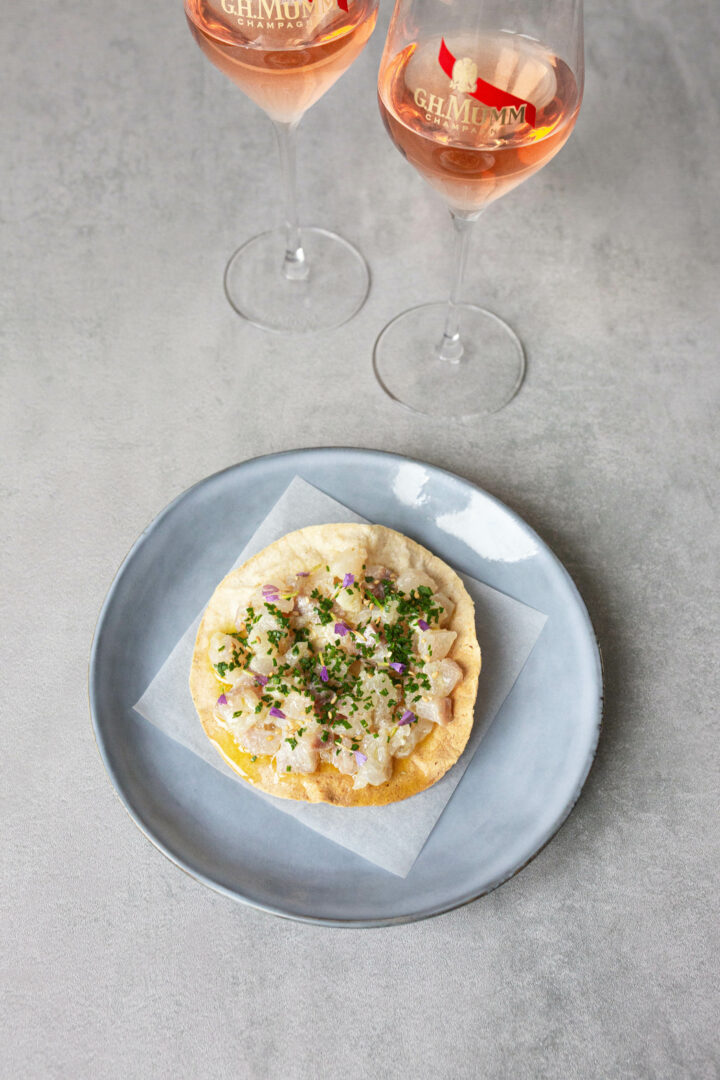 Mumm
Le Rosé
Light-hearted Mumm Rosé reveals its charms as an apéritif, but the bright berry notes also complement a wide range of dishes, including simple seasonal starters such as seafood, fresh cheeses and salmon marinated with fresh cranberries.
Discover the cuvée
Discover the cuvée