Black chorizo empanadas
Black chorizo empanadas & tandoori mayonnaise
People

For 2

Preparation time

45 minutes

Cooking time

30 minutes

Resting time

20 minutes

Winery pairing

Mumm Olympe
INGREDIENTS
Dough
350g flour
5g salt
160g unsalted butter
10cl water
1 whole egg
Filling
1 mild chorizo
1 potato
1 onion
1 teaspoonful chili powder
Tandoori Mayonnaise
1 egg yolk
1 teaspoonful Dijon mustard
Sunflower oil
2 teaspoonfuls tandoori spice blend
Salt & pepper
Recipe
Step 1. Dough
Place all the ingredients in a large salad bowl and mix with your fingertips to obtain a homogeneous mixture.
Form a ball, cover it with plastic film and set aside in the fridge. Divide up the empanadas dough into 12 balls, then roll out each ball into a 15cm-diameter disk.
Step 2. Filling
Cook the potato in the water and remove the skin. Roughly crush the potato with a fork.
Heat a generous drizzle of olive oil in a frying pan and caramelize the roughly chopped onions.
Add the skinned chorizo and dice it. Cook for 3 min on a medium heat and add the potato and chili powder, then leave to cool.
Step 3. Assembly
Place a tablespoonful of filling on each disk. Moisten the border of the disk then seal the empanadas with a fork, or roll the edges over onto themselves. Repeat the operation on the other turnovers.
Place them on a tray covered with parchment paper and brush them with the egg yolk beaten with a little water.
Set them aside in the fridge for at least 30 min. Put the empanadas in the oven at 190°C for 20 min. Serve hot with the tandoori mayonnaise.
Step 4. Tandoori Mayonnaise
Mix the egg yolk, salt, mustard, pepper, and a little oil in a large bowl. Mix to beat the mayonnaise, gradually pouring in the oil. Add the spice blend.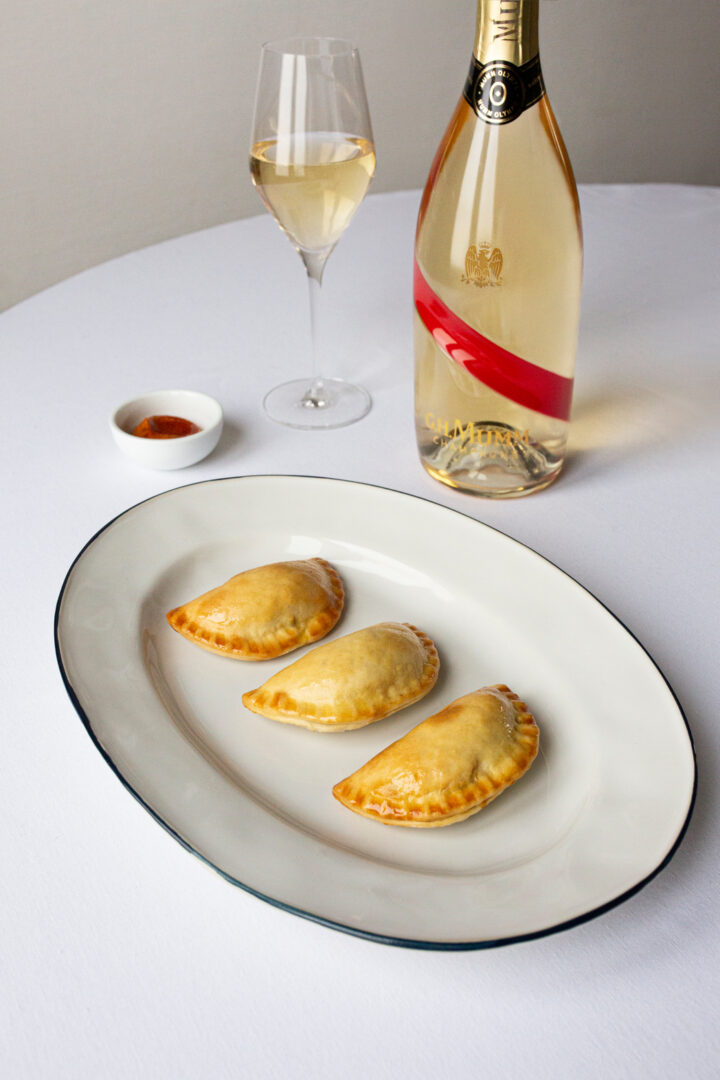 Mumm Olympe
Invited to all the best parties, Mumm Olympe champagne combines delicious sweetness with bright fruit and the House's signature freshness.
Discover the cuvée
Discover the cuvée