Veal tartare with breadcrumbs
Veal tartare with breadcrumbs
Veal Tartare, Brown Butter Mayonnaise & Breadcrumbs
People

For 4

Preparation Time

20 minutes

Winery Pairing

Grand Cordon
Ingredients
180g veal
1 tablespoonful Dijon mustard
2 sprigs of chives
1 dash of lemon juice
1/2 green onion
1 fresh egg yolk
4 tablespoonful olive oil
250g butter
Salt & pepper
4 sucrine leaves
2 slices bread
200ml sunflower oil
Recipe
Step 1. Veal
Roughly chop the veal, finely chop the green onion and the chives. Mix everything in a bowl with a drizzle of olive oil and some pepper.
Step 2. Brown Butter Mayonnaise
Melt and brown the butter; when it no longer bubbles it is ready.
Mix the egg yolk and the mustard in a bowl, gradually add the butter to beat the mayonnaise.
Season with salt and pepper.
Step 3. Golden Breadcrumbs
Roughly cut up the slices of bread with a knife and fry them in oil at 180°C for 5 min.
Drain and reduce into fine crumbs.
Step 4. Plating-Up
Salt the veal tartare and add a dash of lemon juice.
Put a spoonful of tartare onto a sucrine leaf.
Add a drizzle of brown butter mayonnaise then the toasted breadcrumbs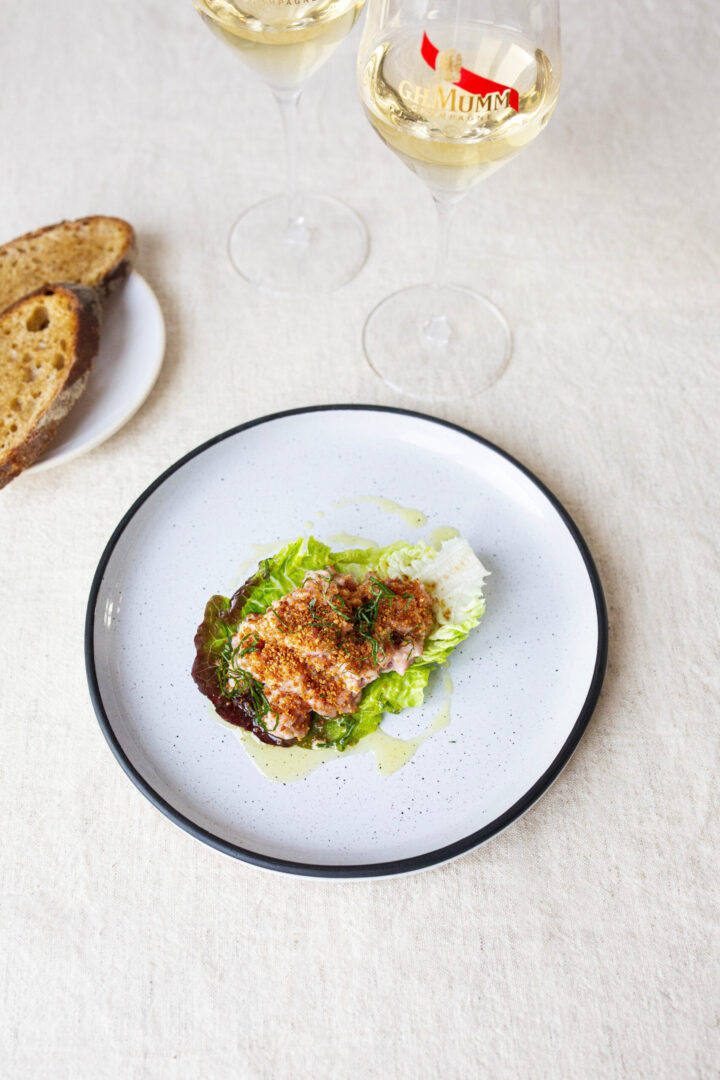 Mumm Grand Cordon
Toasting milestones, personal achievements or simply celebrating friendship with an improvised get-together, the exceptional fresh intensity of Mumm Grand Cordon champagne evokes the exhilaration of life's most unforgettable moments.
Discover the cuvée
Discover the cuvée