Labneh & sardines in oil
Toast, Home-Made Labneh, Chorizo Oil & Sardines in Oil
People

For 4

Preparation Time

20 minutes

Resting Time

1 night

Winery Pairing

Grand Cordon
Ingredients
500g natural Greek yoghurt
500g natural goat or sheep yoghurt
1/2 teaspoonful salt
1 can sardines in oil
100g chorizo
300ml olive oil
1 dab of butter
Recipe
Step 1. Home-Made Labneh
Put the yoghurt and the salt into a sieve covered with muslin gauze, itself placed in a bowl.
Close the edges of the cloth to form a pouch, knot the pouch with string and leave it in the fridge overnight. The labneh is ready to use the following day.
Step 2. Chorizo Oil
Mix together the chorizo and oil in a blender.
Put the mixture into a saucepan and heat until it boils, then turn off the heat. Leave to cool completely.
Filter the oil with the fine sieve and keep this oil for a week.
Step 3. Plating-Up
Spread butter on both sides of the bread and toast it in the oven at 180°C for 10 min.
Put a sardine in oil alongside the toasted bread. Add the labneh and the chorizo oil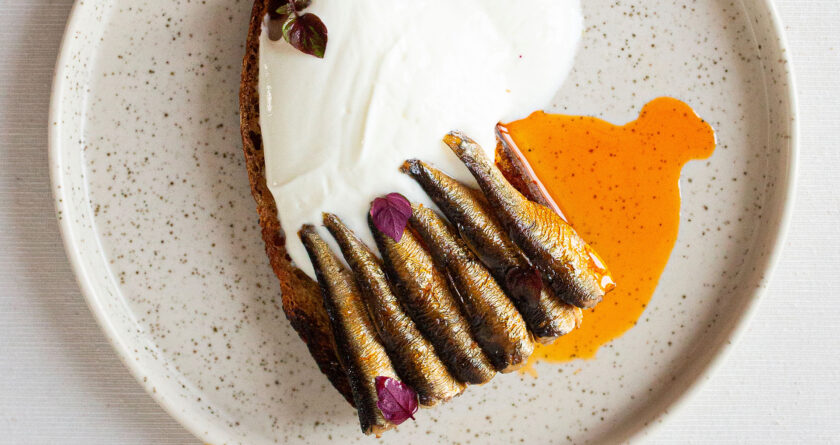 Mumm Grand Cordon
Toasting milestones, personal achievements or simply celebrating friendship with an improvised get-together, the exceptional fresh intensity of Mumm Grand Cordon champagne evokes the exhilaration of life's most unforgettable moments.
Discover the Cuvée
Discover the Cuvée