Home-made chakchouka
Home-made chakchouka
People

For 2

Preparation time

10 minutes

Cooking time

55 minutes

Winery pairing

Le Rosé
INGREDIENTS
3 tablespoonfuls olive oil
1 large sliced onion
2 sweet peppers
1 mild green chili
3 thinly sliced garlic cloves
1 teaspoonful ground cumin
1/2 teaspoonful paprika
1/2 teaspoonful cayenne pepper
800g roughly chopped canned tomatoes with their juice
140g roughly chopped feta cheese
6 eggs
Fresh cilantro
Salt & pepper
Recipe
Preheat the oven at 190°C.
Put the sweet peppers and mild green chili in the oven for 35 min. Place them in an airtight container and leave to cool.
Remove the skin and seeds from the sweet peppers and the chili, then cut into strips.
Heat the oil in a frying pan and add the onion. Cook for 2 min and add the garlic, then the spices, tomatoes, and sweet peppers.
Correct the seasoning.
Leave to form on a low heat for 20 min.
Break the eggs over the chakchouka, cover and leave to cook for 3 min.
Serve hot, preferably with pita bread.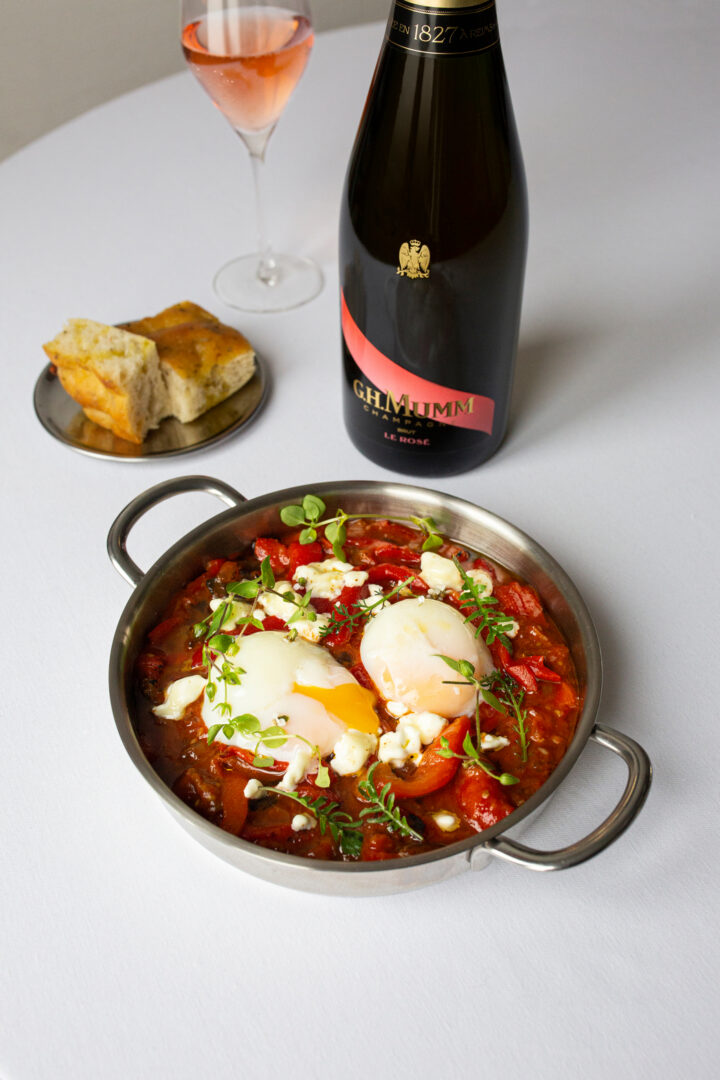 Mumm Le Rosé
Light-hearted Mumm Rosé reveals its charms as an apéritif, but the bright berry notes also complement a wide range of dishes, including simple seasonal starters such as seafood, fresh cheeses and salmon marinated with fresh cranberries.
Discover the cuvée
Discover the cuvée