English muffin & poached egg
English muffin & poached egg
English muffin, mortadella, poached egg and grapefruit hollandaise sauce
People

For 2

Preparation time

40 minutes

Winery pairing

Le Rosé
INGREDIENTS
1 English muffin
2 eggs
1 tablespoonful white vinegar
1 dab of butter
2 slices mortadella
Grapefruit Hollandaise Sauce
Juice of 1 pink grapefruit and its zest
Juice of 1/2 lemon
3 egg yolks
250g butter
3 tablespoonfuls water
2 pinches of salt Ground pepper
RECIPE
Step 1. Grapefruit Hollandaise Sauce
Melt the pieces of butter in a microwave or bain-marie.
Pour half of the grapefruit and lemon juice, and the water into a thick-bottomed saucepan; add salt and pepper.
Add the egg yolks and heat on a medium heat, stirring constantly with a whisk by tracing a figure of 8 shape for 2 min.
Remove the saucepan from the heat, then gradually add the butter, whisking as for a mayonnaise.
Add the rest of the grapefruit juice and stir.
Step 2. Poached Egg
Boil some water in a saucepan while adding the vinegar.
Break each egg into a coffee cup. When the water boils, bring a cup close to the water surface and turn it over in one go. You can make 1-2 eggs per round.
Using a skimmer, draw the filaments of egg white towards the yolk.
After 3 min, strain the eggs with the skimmer and put them into freezing water for a few moments.
Drain them on power towel.
Step 3. Plating-Up
Halve the muffin and butter it. Toast it under the grill for 5 min.
Add the mortadella cheese and poached egg on top, coat with hollandaise sauce and garnish with baby shoots.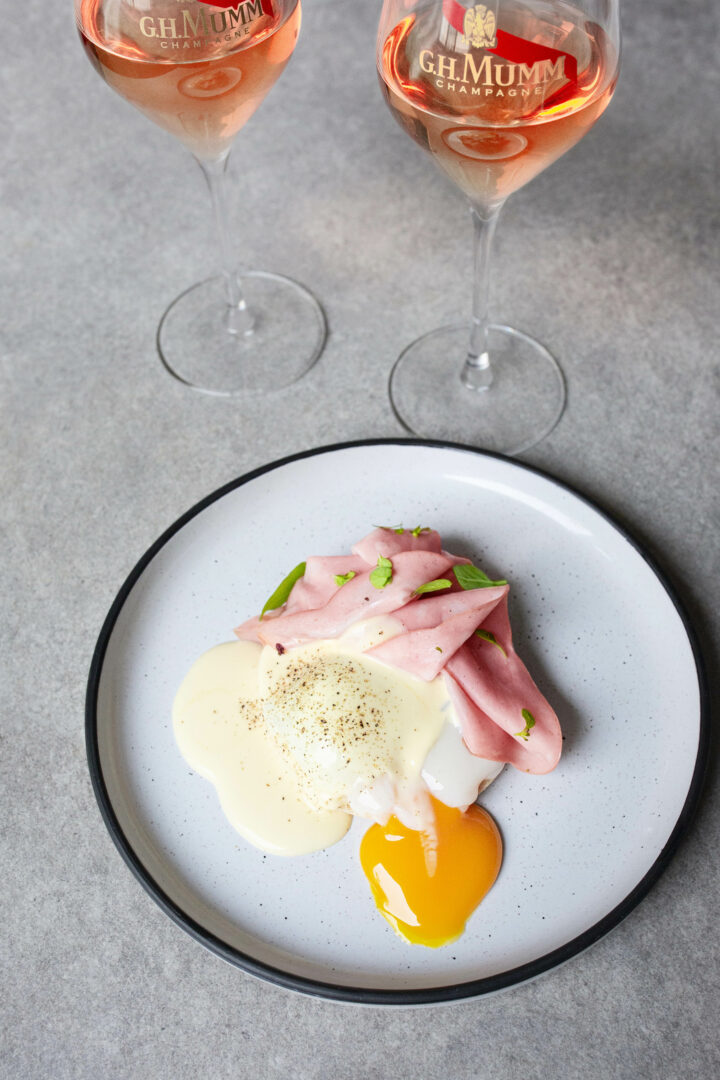 Mumm Le Rosé
Light-hearted Mumm Rosé reveals its charms as an apéritif, but the bright berry notes also complement a wide range of dishes, including simple seasonal starters such as seafood, fresh cheeses and salmon marinated with fresh cranberries.
Discover the cuvée
Discover the cuvée