Open sandwich gravlax & soft-boiled egg
Open sandwich gravlax & soft-boiled egg
Open sandwich of gravlax with raspberries, unpasteurized cream & soft-boiled egg
People

For 4

Cooking time

20 minutes

Resting time

1 day

Winery pairing

Grand Cordon Rosé
INGREDIENTS
Gravlax with Raspberries
250g fresh salmon
40g coarse salt grains 15g salt
30g granulated sugar
100g fresh raspberries
40g pink peppercorns
1/4 red onion
Garnish
2 slices farmhouse bread
2 eggs
1/4 red onion
Crème fraiche
Pink peppercorns
2 raspberries
Salt & pepper
Baby shoots to garnish
Recipe
Step 1. Gravlax with Raspberries
Dry the fish in paper towel.
Mix the salt, sugar, raspberries crushed with a fork (keep a few raspberries for the garnish) and the pink peppercorns. Mix thoroughly.
Coat the salmon with this mixture, cover with plastic wrap and put in the fridge for 24h.
Remove the salmon, rinse it and tap gently to dry it.
Step 2. Soft-Boiled Egg
Cook the eggs for 6 min, starting in hot water, and then shell them. Crush the pink peppercorns with a mortar.
Crush a few pieces of raspberry. Thinly slice the onion.
Step 3. Plating-Up
Add oil to the slices of bread and toast them under the grill for 5 min. Thinly slice the salmon.
Spread the toast with crème fraîche and top with the thinly sliced salmon.
Place half a soft-boiled egg and sprinkle with pink peppercorns.
To garnish, add a few pieces of fresh raspberry, a few strips of red onion and a few shoots.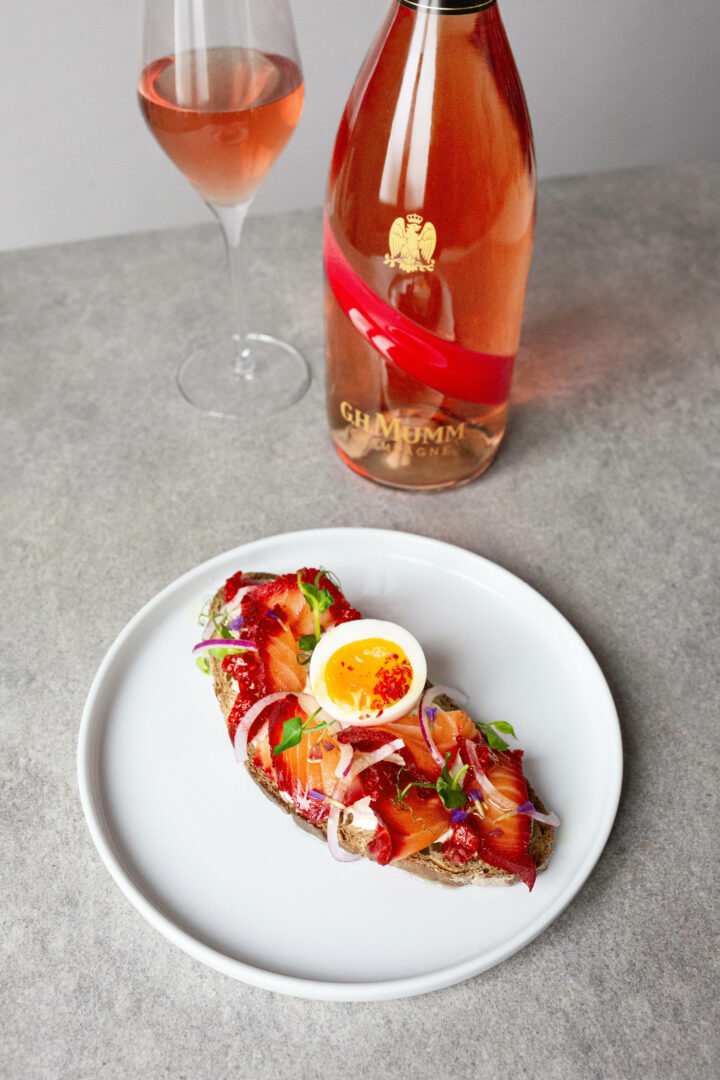 Mumm Grand
Cordon Rosé
Mumm Grand Cordon Rosé is a perfect champagne to savour. Inspiring and intense, it can be enjoyed on its own or paired with a range of creative and modern dishes.
Discover the cuvée
Discover the cuvée