Sweet corn velouté
Sweet corn velouté & marrowbone
People

For 2

Preparation Time

1 hour

Winery Pairing

Mumm 4
Ingredients
5 corn cobs
30cl whole milk
15cl heavy cream
30cl chicken bouillon
Salt & pepper
2 marrowbones
1 dab of butter
Recipe
Step 1: Sweet Corn Velouté
Remove the corn cobs from their husks and cut along the base to retrieve the corn grains (keep 4 large tablespoonfuls of them per plate for the rest of the recipe). Put them into a saucepan with the milk, cream and chicken bouillon. Cook on a medium heat for 20 min. Mix and filter to obtain a smoother velouté. Lightly salt and pepper.
Leave to cool completely before refrigerating for 1h.
Step 2: Marrowbone
Rinse and brush the marrowbones. Put them on a baking tray and grill them in the oven for 15 min.
Step 3: Garnish
Brown the sweet corn you have kept with a dab of butter in a frying pan, adding salt and pepper.
Dice the marrowbone and add it to the grilled sweet corn.
Step 4: Plating-Up
Put the cold velouté into a soup dish and place in the center the marrowbone garnished with sweet corn grilled to the core.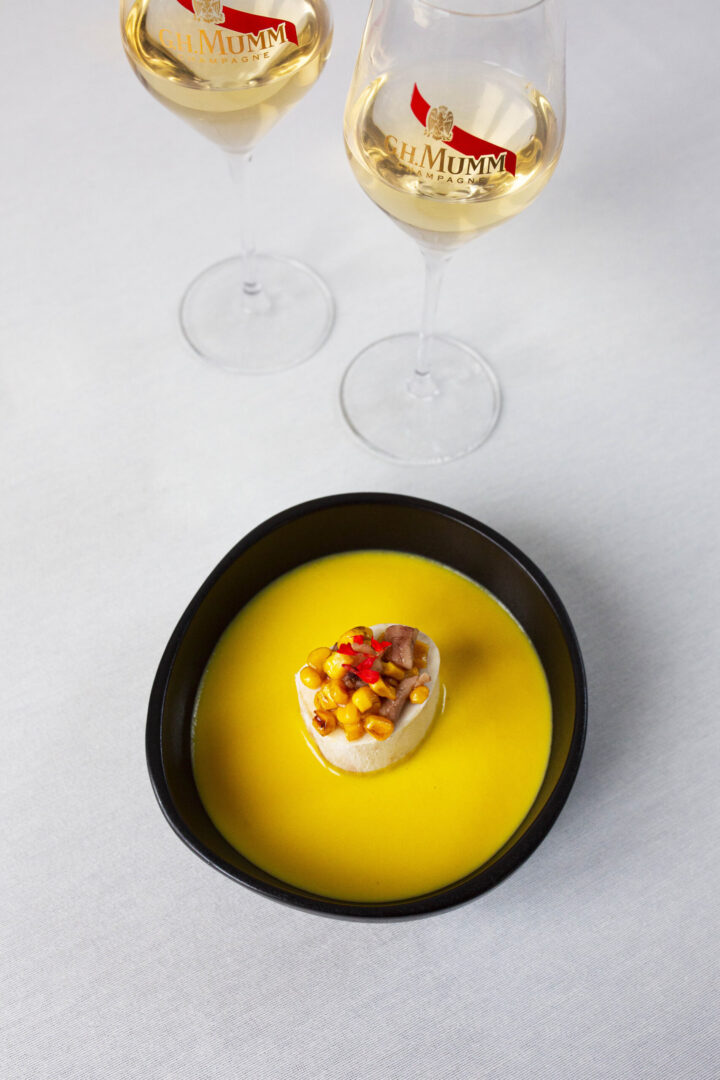 Mumm 4
Mumm 4 is an elegant brut champagne that can be savoured slowly to enjoy its deep complexity or paired with gastronomic delights such as poultry with chanterelles and apricot compote, brie with truffle, game birds or roasted beef or boar accompanied by heirloom vegetables.
Discover the Cuvée
Discover the Cuvée