Water ceviche
Water ceviche with nectarines & leek oil
People

For 2

Preparation Time

40 minutes

Winery pairing

Cordon Rouge
INGREDIENTS
200g mussels
4 jumbo shrimps
50g salmon roe
4 oysters
1 nectarine
50g black mullet
4 tablespoonfuls olive oil
140g leek greens
300g grapeseed oil
100ml water
1/2 lemon
1/4 red onion
Recipe
Step 1. Seafood
Shell the jumbo shrimps, keep the shells and the heads and devein them using pliers.
Steam the mussels in a container for 8 min to collect the water, then shell them.
Open the oysters, remove their shells and keep the water. Thinly slice the mullet.
Step 2. Leek-Green Oil
Mix the oil and leek greens with a blender for 3 minutes.
Transfer the oil to a saucepan and heat until it boils. Filter everything with a coffee filter and leave the oil to cool (it can be kept in the fridge for 4 days and used to season other dishes, such as salads).
Step 3. Seafood Water
Put the jumbo shrimp shells, oyster water, mussel water and shells into a saucepan.
Add 100ml of water and heat on a low heat for 10 min. Add the lemon juice. Filter and leave to cool in the fridge for 1h.
Step 4. Nectarine
Halve the nectarine, remove the stone and finely chop the fruit. Finely chop the red onion too.
Step 5. Plating-Up
Halve the oysters and jumbo shrimps. Put them at the bottom of a soup dish with the rest of the seafood. Pour over the seafood water, add a few salmon roe, the leek-green oil, as well as the finely chopped nectarine and red onion.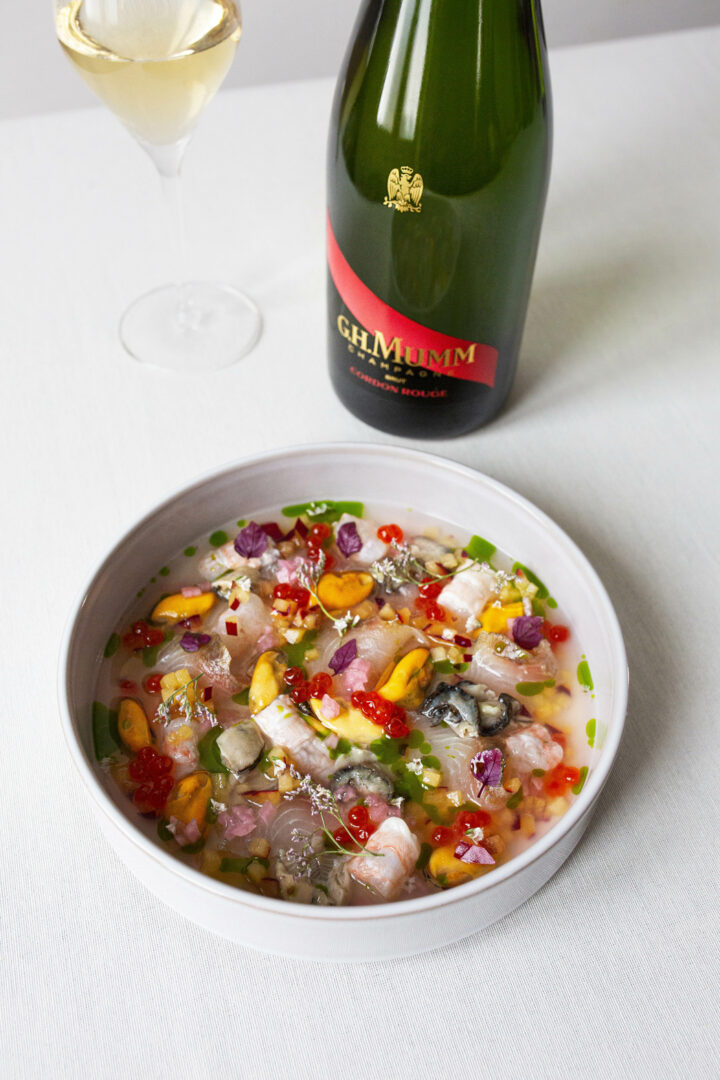 Mumm Cordon
Rouge
Mumm Cordon Rouge is ideal for an aperitif among friends or over a meal –those moments when everything simply clicks and positive energy flows: real friends sharing real talk, everyone at ease in a joyful, convivial atmosphere.
Discover the cuvée
Discover the cuvée