Red tuna, tomatoes & redcurrants
Red tuna, tomatoes & redcurrants
Red tuna, tomatoes & redcurrants
People

For 4

Preparation time

20 minutes

Winery pairing

Le Rosé
INGREDIENTS
400g red tuna
4 tablespoonful olive oil
20 redcurrants
1 green onion
2 very ripe tomatoes
4 cherry tomatoes
Salt & pepper
1/2 lemon
Recipe
Step 1. Tomato Water
Roughly chop the tomatoes, green onion and lemon, add salt and pepper and then mix with a hand blender.
Filter/strain using a fine muslin mesh for 1 night.
Step 2. Tuna
Dice the tuna. Add the redcurrants, a drizzle of olive oil, finely chopped green onion, salt and pepper and then mix.
Step 3. Cherry Tomatoes
Bring a saucepan of water to the boil and plunge the cherry tomatoes into it. Leave them for 30 sec and then plunge them into freezing water. Remove the skin and halve the tomatoes.
Step 4. Plating-Up
Put a spoonful of red tuna into a soup dish and pour the tomato water around it. Add a few peeled cherry tomatoes. Then add a few drops of olive oil and garnish with a few baby shoots and redcurrants.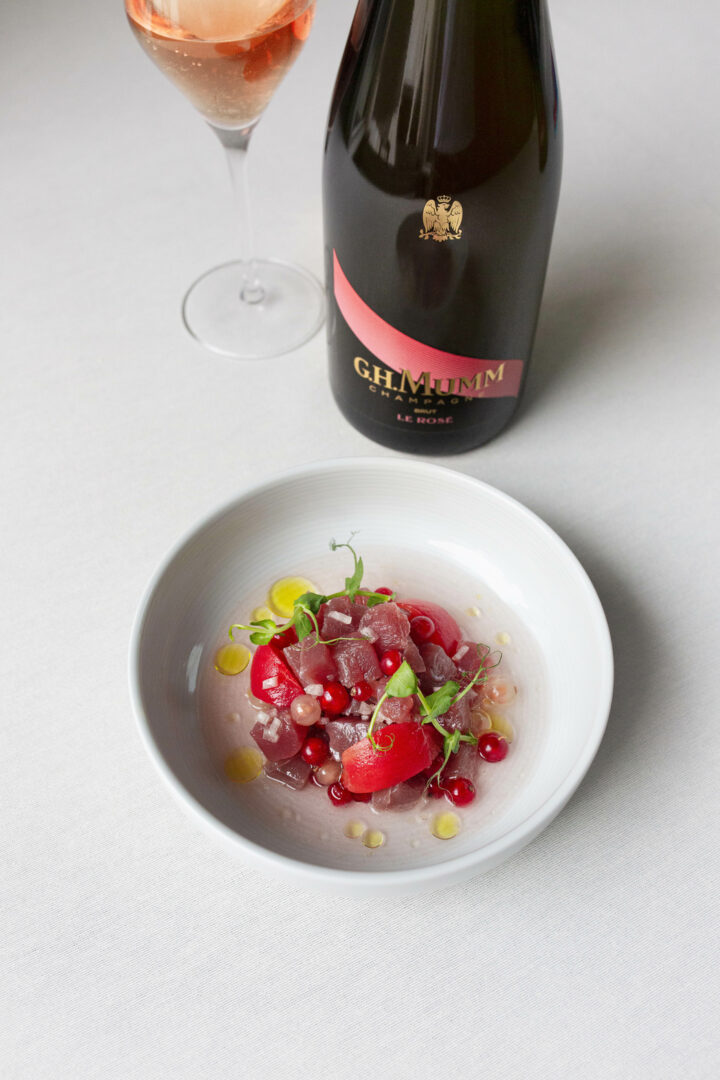 Mumm Le Rosé
Light-hearted Mumm Rosé reveals its charms as an apéritif, but the bright berry notes also complement a wide range of dishes, including simple seasonal starters such as seafood, fresh cheeses and salmon marinated with fresh cranberries.
Discover the cuvée
Discover the cuvée