Grilled king oyster mushrooms
Grilled king oyster mushrooms
Grilled king oyster mushrooms & mushroom bouillon with coffee
People

For 2

Preparation Time

1 hour

Winery Pairing

Mumm 4
Ingredients
1 king oyster mushroom Salt & pepper
Your choice of baby shoots to garnish
Mushroom Bouillon with Coffee
1 onion
30g butter
2 dried shiitake mushrooms
2 tablespoonfuls dried porcini mushrooms
2 cultivated mushrooms
1 teaspoonful freshly ground coffee
Recipe
Step 1: Mushroom Bouillon
Roughly chop the onion with its skin (this will give a nice color).
Brown it in a saucepan with 10g butter for 5 min.
Add 500ml of water and some salt and pepper.
Add the dried mushrooms, the roughly chopped cultivated mushrooms and the coffee.
Leave to infuse on a low heat for 30 min, then filter.
Step 2: King Oyster Mushrooms
Halve the king oyster mushroom and cook it like a steak with olive oil – 5 min each side – and add salt and pepper.
Add a dab of butter. When the butter starts to bubble, drizzle it over the king oyster mushroom to give it a nice color.
Step 3: Plating-Up
Put a ladleful of mushroom bouillon in a soup dish, then place the king oyster mushroom in the center.
Add a little unrefined salt and serve.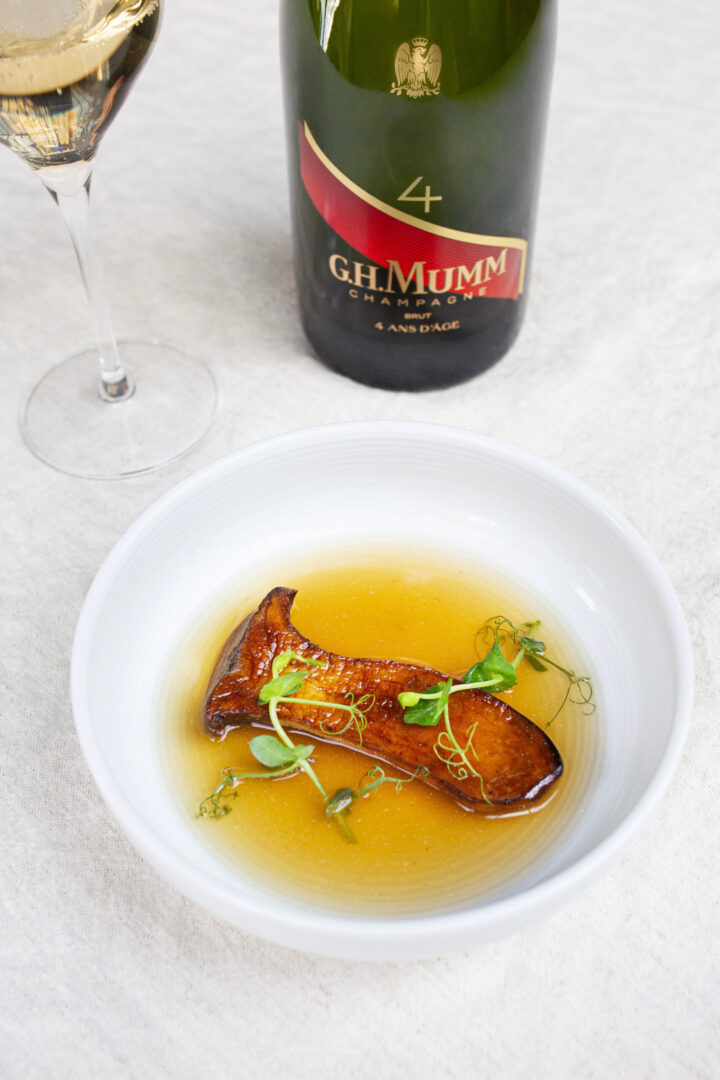 Mumm 4
Mumm 4 is an elegant brut champagne that can be savoured slowly to enjoy its deep complexity or paired with gastronomic delights such as poultry with chanterelles and apricot compote, brie with truffle, game birds or roasted beef or boar accompanied by heirloom vegetables.
Discover the Cuvée
Discover the Cuvée