Beefsteak tomatoes & mussels
Beefsteak tomatoes & mussels
Beefsteak tomatoes, mussels & yuzu
People

For 4

Preparation time

20 minutes

Winery pairing

Grand Cordon Rosé
INGREDIENTS
2 beefsteak tomatoes
20 mussels
12 redcurrants
1/2 grapefruit
1 tablespoonful soya sauce
1 tablespoonful yuzu (or lemon) juice
1 tablespoonful yuzu marmalade
1 green onion
2 shiso leaves
Salt & pepper
Butter
1 glass white wine
Recipe
Step 1. Beefsteak Tomatoes
Plunge the tomatoes into boiling water for 1 min. Remove the tomato skin.
Thickly slice the tomatoes.
Step 2. Mussels
In a saucepan, brown the green onion in some butter.
Add the mussels and a glass of white wine, cover and leave the mussels to open.
Shell them and keep the juice.
Step 3. Plating-Up
Squeeze the lemon half in a bowl. Add the mussels, salt, pepper, green onion, chopped shiso, redcurrants, a few grapefruit supremes, mussel juice, soya sauce, yuzu sauce and the marmalade, then mix thoroughly.
Arrange the mussels with the sauce and a drizzle of olive oil on the tomato; garnish with flowers and baby shoots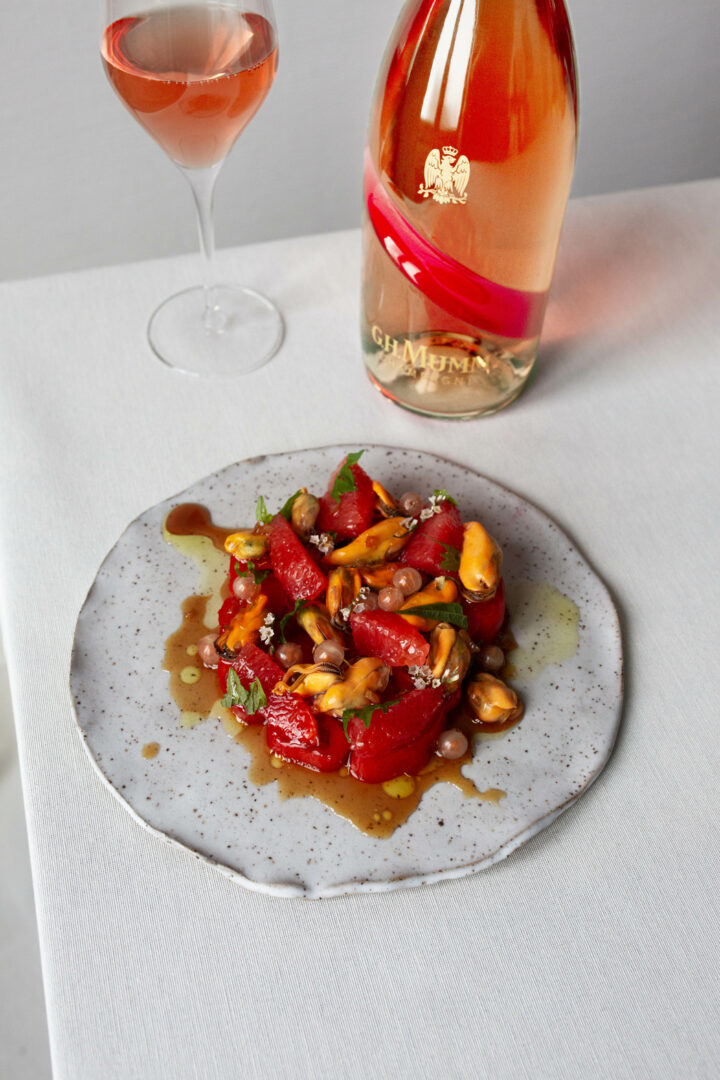 Mumm Grand
Cordon Rosé
Mumm Grand Cordon Rosé is a perfect champagne to savour. Inspiring and intense, it can be enjoyed on its own or paired with a range of creative and modern dishes.
Discover the cuvée
Discover the cuvée