Tomato salad with shio-koji
Tomato salad with shio-koji
Tomato salad with shio-koji, pear & za'atar
People

For 4

Preparation Time

15 minutes

Winery pairing

Cordon Rouge
INGREDIENTS
Salad
2 large Green Zebra tomatoes
1 Comice pear
4 pinches of za'atar
1 red onion
Vinaigrette
1 teaspoonful soy sauce
1 teaspoonful mild rice vinegar
1 teaspoonful Dijon mustard
5 tablespoonfuls olive oil
1 tablespoonful shio-koji (Japanese grocery)
Recipe
Step 1. Directions
Blanch the tomatoes and cut them into 6.
Peel the pear and cut it into thin strips with a mandolin.
Mix the ingredients for the vinaigrette in a bowl. Mix the vinaigrette and the tomatoes.
Stir by hand to thoroughly soak the tomatoes.
Cut the red onion with a mandolin.
Step 2. Plating-Up
Put the tomatoes, a few strips of pear, a few slices of red onion, and the za'atar on a plate.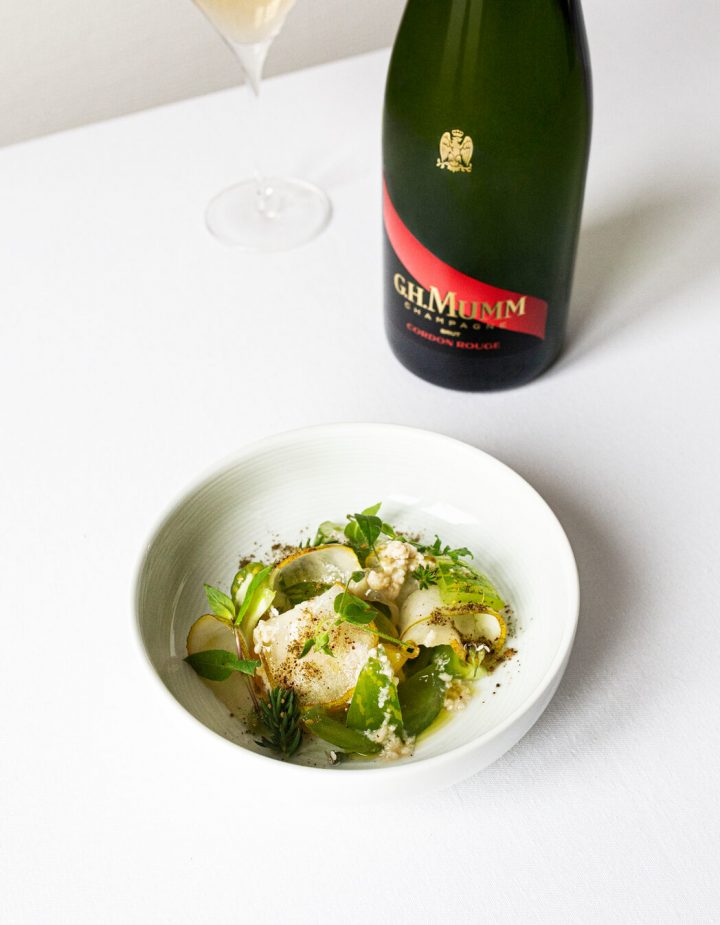 Mumm Cordon
Rouge
Mumm Cordon Rouge is ideal for an aperitif among friends or over a meal –those moments when everything simply clicks and positive energy flows: real friends sharing real talk, everyone at ease in a joyful, convivial atmosphere.
Discover the cuvée
Discover the cuvée