Smoked eel risotto
Smoked eel risotto
People

For 2

Preparation Time

1 hour

Winery Pairing

Mumm 4
Ingredients
500ml fish stock
150g Arborio rice
10g butter
4 sprigs of chives
2 smoked eel filets
1 shallot
1 tablespoonful olive oil
100g parmesan
10cl champagne
Recipe
Remove the skin from the eel filets.
Heat the stock in a saucepan and add the skin; bring to the boil.
Brown the chopped shallot in 1 tablespoonful of olive oil in a saucepan for 2 min, then add the rice and stir until it becomes translucent.
Deglaze with the champagne and stir until it evaporates.
Add a ladleful of stock and stir constantly. As soon as the stock evaporates, add another ladleful until the rice is cooked.
Turn off the heat then add the butter and the parmesan, finely chop the chives and blend into the risotto.
Finally, cut thin slices of smoked eel at an angle.
Serve the risotto in a soup dish, topped with slices of eel.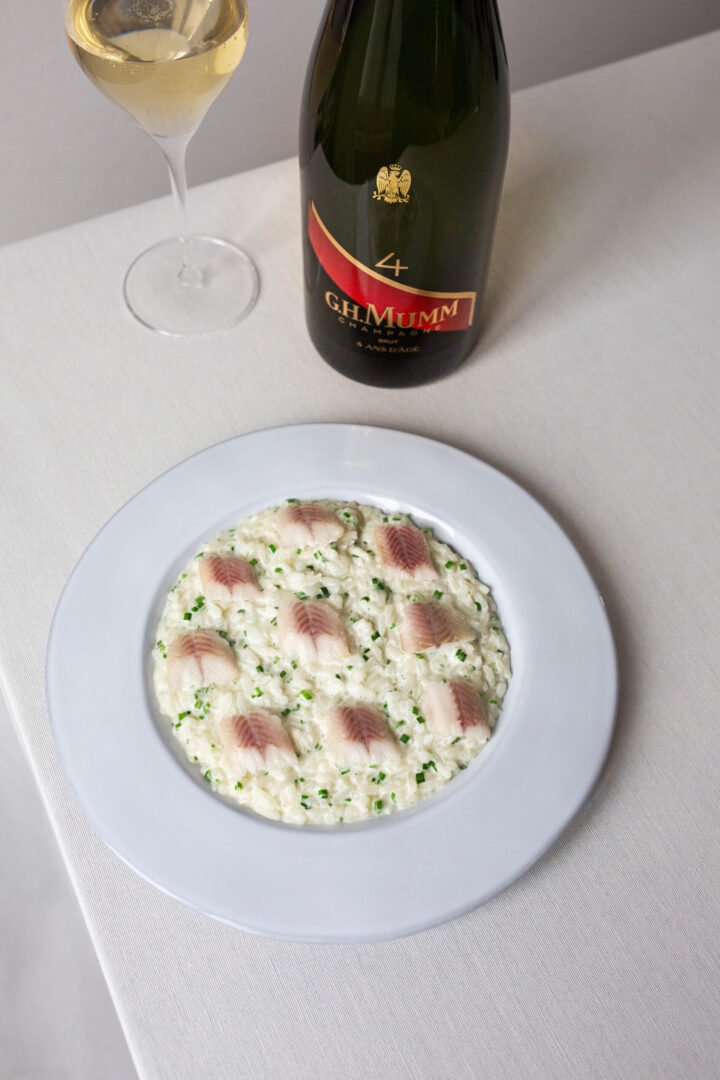 Mumm 4
Mumm 4 is an elegant brut champagne that can be savoured slowly to enjoy its deep complexity or paired with gastronomic delights such as poultry with chanterelles and apricot compote, brie with truffle, game birds or roasted beef or boar accompanied by heirloom vegetables.
Discover the Cuvée
Discover the Cuvée