Veal chop milanaise
Veal chop milanaise & piquillo pepper sauce
People

For 2

Preparation time

20 minutes

Cooking time

15 minutes

Winery pairing

Grand Cordon Rosé
INGREDIENTS
Veal Chop
1 nice veal chop
80g breadcrumbs
2 eggs
1 teaspoonful parsley
20g salted butter
Piquillo Pepper Sauce
5 canned piquillo peppers
100g cream cheese
1 egg yolk
1 teaspoonful mustard
4 tablespoonfuls olive oil
Salt & pepper
Recipe
Step 1. Piquillo Pepper Sauce
Mix together all the ingredients. Add salt and pepper.
Leave to cool in the fridge.
Step 2. Veal Chop
Take the veal chop out of the fridge approximately 10 min before cooking it.
Dip both sides of the meat in the flour, beaten egg and then the breadcrumbs, carefully ensuring an even layer of breadcrumbs.
Heat the butter in a large frying pan.
When it starts to turn golden, add the chop and cook it on a medium heat until a crust forms.
Then add the butter and bubble it, covering the chop with the butter and then flipping it over.
Lower the heat and cook for another 5 min, flipping it over one last time.
Season and serve with the piquillo pepper sauce.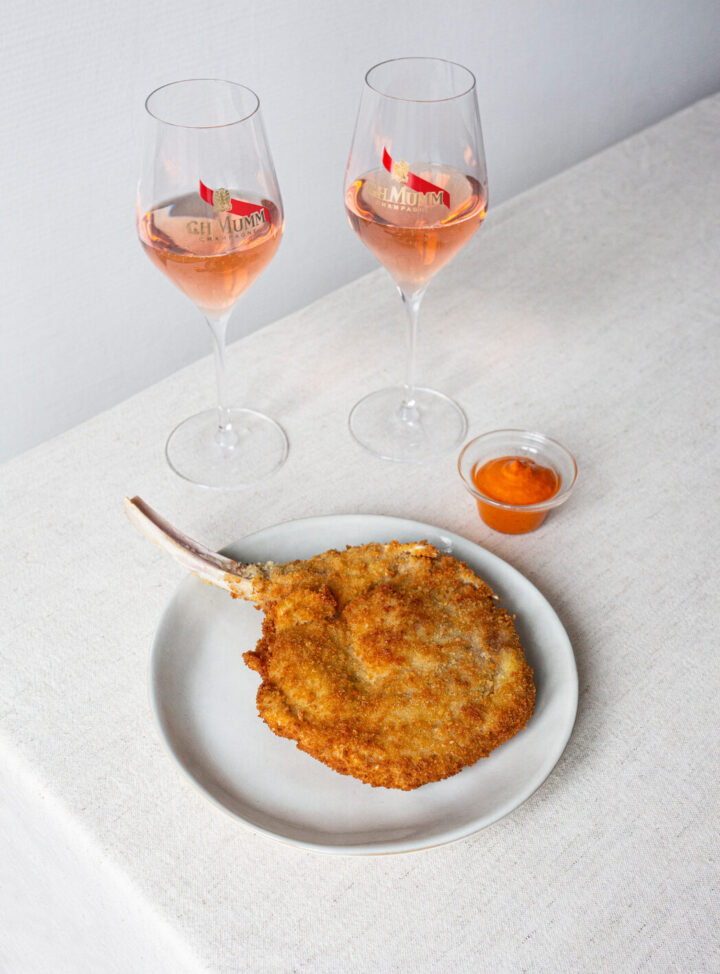 Mumm Grand
Cordon Rosé
Mumm Grand Cordon Rosé is a perfect champagne to savour. Inspiring and intense, it can be enjoyed on its own or paired with a range of creative and modern dishes.
Discover the cuvée
Discover the cuvée