Pork breast & shiitake miso
Pork breast & shiitake miso
Pork breast, pork broth & shiitake miso condiment
People

For 2

Preparation Time

2 hours

Winery Pairing

Mumm 4
Ingredients
1kg pork breast
4 broccoli leaves
Shiitake Miso Condiment
20 shiitake mushrooms
1 onion
1 chopped leak white
1 tablespoonful miso
1 tablespoonful rice vinegar
Broth
1kg meat offcuts
1 chopped shallot
1 chopped onion
1 garlic clove
2 tablespoonfuls soya sauce
3 Olive oil
1 dab of butter
Recipe
Step 1: Pork Breast
Blanch the pork breast in boiling water for 10 minutes to remove the impurities.
Marinate the meat with the chopped garlic, soya sauce, oyster sauce and some pepper.
Preheat the oven to 180°C and put the meat into the oven for 3h. Drizzle with a glass of water after 40 min, then baste the meat in its own juices every 30 min.
Step 2: Pork Broth
Brown the meat offcuts in a pressure cooker for 10 min.
Then add a dab of butter and caramelize the meat.
Add a drizzle of olive oil, the shallot, the chopped onion and then brown for 2 min.
Deglaze with the pork breast cooking juice and a glass of water, then add the soya sauce. Leave to cook on a low heat for 1h.
Filter the juice and reduce until a syrupy broth is obtained.
Step 3: Shiitake Condiment
Finely dice the shiitake mushrooms, onion and leek. Brown them in butter for 8 min and add some pepper.
Add the vinegar and let it evaporate. Add the miso and mix.
Mix in places, without making the mixture homogeneous – some pieces should remain– and leave to cool.
Step 4: Plating-Up
Drop the broccoli leaves into a frying pan with the olive oil, and add salt and pepper.
Put them onto a plate to finish. Put 2 slices of pork and top with the condiment and pork broth.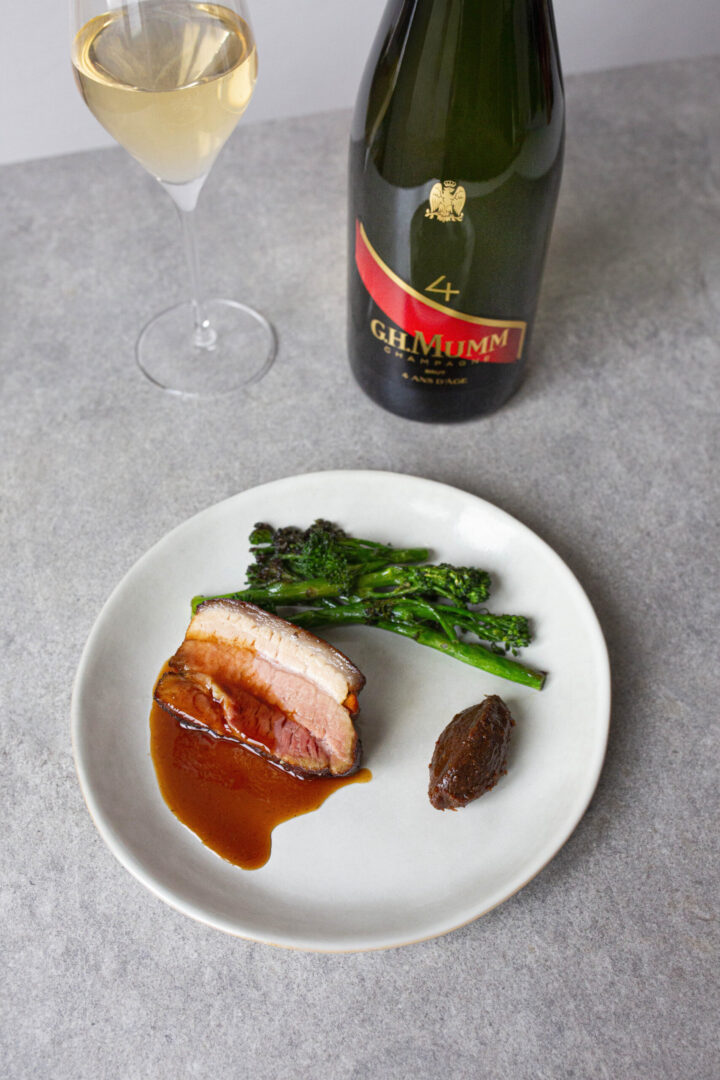 Mumm 4
Mumm 4 is an elegant brut champagne that can be savoured slowly to enjoy its deep complexity or paired with gastronomic delights such as poultry with chanterelles and apricot compote, brie with truffle, game birds or roasted beef or boar accompanied by heirloom vegetables.
Discover the Cuvée
Discover the Cuvée