Fish & chips with tartar sauce
Fish & chips with tartar sauce
Fish & chips, mushy peas and tartar sauce
People

For 2

Preparation Time

40 minutes

Resting time

2 hours

Winery Pairing

Mumm 4
Ingredients
Fried Fish
400g cod filet
180g flour, type 'T45' + 40g to coat the fish
2 eggs
25cl lager
Salt & pepper
Mushy Peas
1kg peas
25g butter
10cl heavy cream
1 sprig of thyme
1 green onion
1 pinch of salt
1 pinch of pepper
Tartar Sauce
2 chopped hard-boiled eggs
3 chopped pickles
1 chopped shallot
1 tablespoonful chopped parsley
2 sprigs of chopped chervil
3 tablespoonfuls capers
1 egg yolk
1 teaspoonful vinegar
1 teaspoonful mustard
Recipe
Step 1: Fried Fish
Pour 180g of flour and the lager into a salad bowl, season thoroughly with salt and pepper, then whisk.
Add the egg yolks (set aside the whites). Whisk. Cover and set aside at room temperature for 2h.
Preheat the deep fat fryer to 170°C.
Beat the egg whites stiffly and gently blend them into the batter with a spatula. Dip the pieces of fish into the batter and fry them for 5 min, then remove them and put onto paper towel.
Step 2: Mushy Peas
Shell the peas.
In a large saucepan of boiling water, add a pinch of salt, the peas, onion and thyme.
Leave the vegetables to cook for 15 minutes. Mix the peas with half of the butter and the cream. Add salt and pepper.
Step 3: Tartar Sauce
Beat the egg yolk until the mixture turns white and becomes frothy.
Then blend in the oil, taking care to pour it in very fine drizzles.
Then blend in the rest of the ingredients and mix thoroughly.
Step 4: Plating-Up
Arrange the mushy peas at the bottom of the plate and add the fried fish.
Put a quenelle of tartar sauce on the side.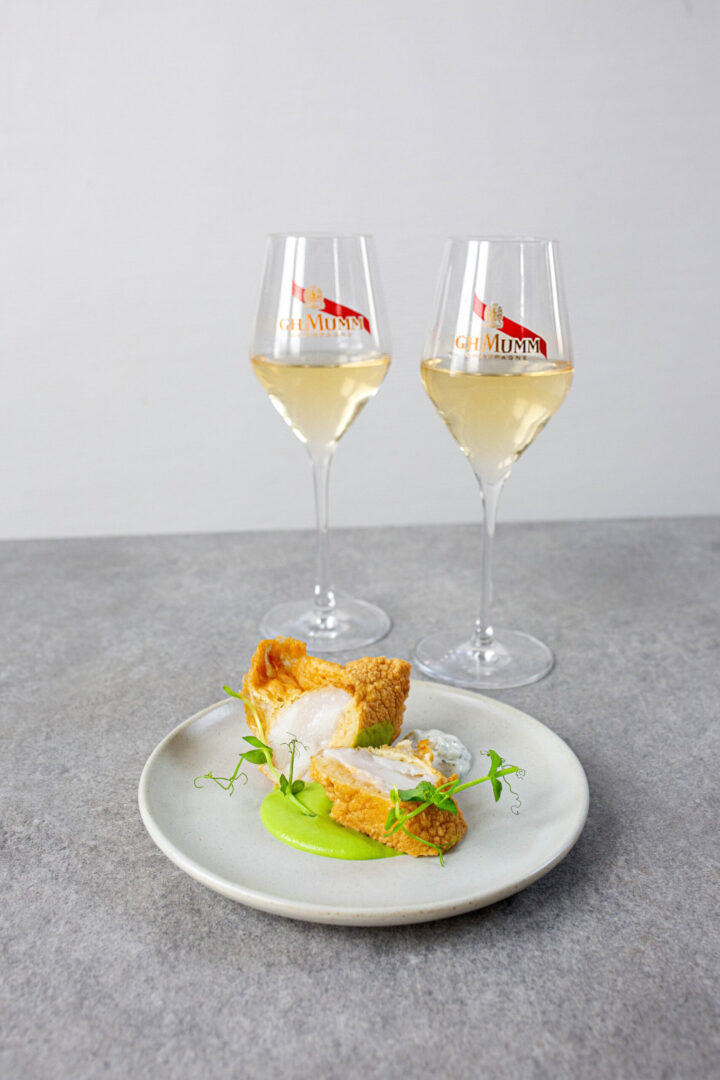 Mumm 4
Mumm 4 is an elegant brut champagne that can be savoured slowly to enjoy its deep complexity or paired with gastronomic delights such as poultry with chanterelles and apricot compote, brie with truffle, game birds or roasted beef or boar accompanied by heirloom vegetables.
Discover the Cuvée
Discover the Cuvée