Prawn gyoza & ponzu sauce
Prawn gyoza & ponzu sauce
Prawn gyoza & ponzu sauce
People

For 2

Preparation Time

1 hour

Winery Pairing

Millésimé 2013
Ingredients
Dumpling Dough
250g flour
150g tepid water
1 teaspoonful salt
Filling
150g prawns
2 tablespoonfuls finely chopped green onion
1 tablespoonful grated ginger
1 teaspoonful chopped garlic
1 tablespoonful brown sugar
250g ground pork
1 teaspoonful corn starch
1 tablespoonful soya sauce
1 tablespoonful sesame oil
Ponzu Sauce
2 tablespoonfuls soya sauce
3 pinches of sugar
2 tablespoonfuls orange juice
1 tablespoonful lemon juice
1 teaspoonful dashi bouillon powder
1 tablespoonful finely chopped green onion
Recipe
Step 1: Dough
Mix the ingredients in a salad bowl and knead for 10 min.
Cover and leave to rest at room temperature for 30 min. Roll the dough into a sausage shape and cut into 18g lengths.
Use a roller to form 1mm-thick circles and flour them generously so that they do not stick.
Step 2: Filling
Mix together all the ingredients and hand- knead them for 5 min.
Step 3: Folding
Take a leaf of dough and put a teaspoonful of filling in the center. Close the edges by moistening with a finger, closing the dumplings like pyramid-shaped cartons.
Cook in boiling water for 8 min.
Step 4: Ponzu Sauce
Mix the ingredients. Set aside.
Add a few sesame seeds and a drizzle of olive oil.
Step 5: Plating-Up
Arrange the gyozas on a plate and drizzle with ponzu sauce. Garnish with a few shoots and some finely chopped green onion.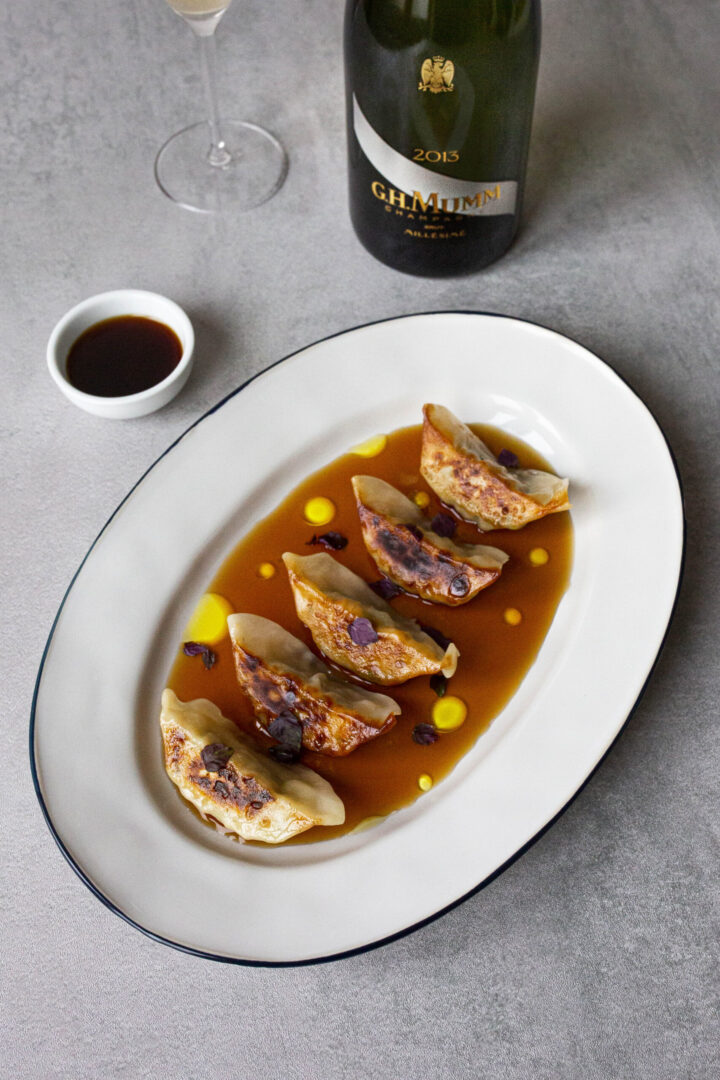 Mumm Millésimé 2013
Mumm Millésimé 2013 is elegance transmuted into a singular vintage champagne. Candlelight illuminates a prestigious restaurant –imposing, yes, but intimate too, the ideal backdrop for the rare pleasure of sharing a most intriguing wine.
Discover the Cuvée
Discover the Cuvée