Stuffed cabbage with duck
Stuffed cabbage with duck
Stuffed cabbage with duck & blueberry reduction
People

For 4

Preparation time

1 hour

Winery pairing

Grand Cordon Rosé
INGREDIENTS
Blueberry Sauce
200g blueberries
2 shallots
25cl dry white
wine 200g butter
Salt & pepper
Stuffed Cabbage
1 round cabbage
2 confit duck legs
Duck fat
1 shallot
1 carrot
Salt & pepper
Recipe
Step 1. Stuffed Cabbage
Remove 8 nice cabbage leaves, rinse them and blanch them in salted boiling water for 8-10 minutes. Strain the leaves and set aside.
In a large saucepan, brown the chopped shallot and diced carrot in a little duck fat. Then add half the cabbage cut into thin strips.
Leave the cabbage to soften for about fifteen minutes, stirring frequently.
Shred the meat by removing the skin and bone.
Put the meat in a frying pan and mix, leaving it to cook for a few more minutes, then correct the seasoning.
Remove the large stalks on the leaves, put a small lump of filling in the center of the leaf and fold it over on itself.
Put the stuffed cabbage leaves into an oven dish, salt lightly and add a little duck fat on each leaf. Put into the oven at 180°C for 25-30 minutes.
Although the recipe deliberately comprises more vegetables than meat, you can of course increase the amount of meat if you wish.
Step 2. Blueberry Sauce
Heat a saucepan containing olive oil, add the shallots and leave to soften for 2 minutes. Pour in the white wine and blueberries, and bring to a slight boil.
Lower the heat to medium and leave to reduce by 2/3 for 15 minutes and mix everything.
Gradually blend the butter cut into small cubes into the sauce and gently whisk until a smooth, homogeneous sauce is obtained. Add salt and pepper to correct the seasoning.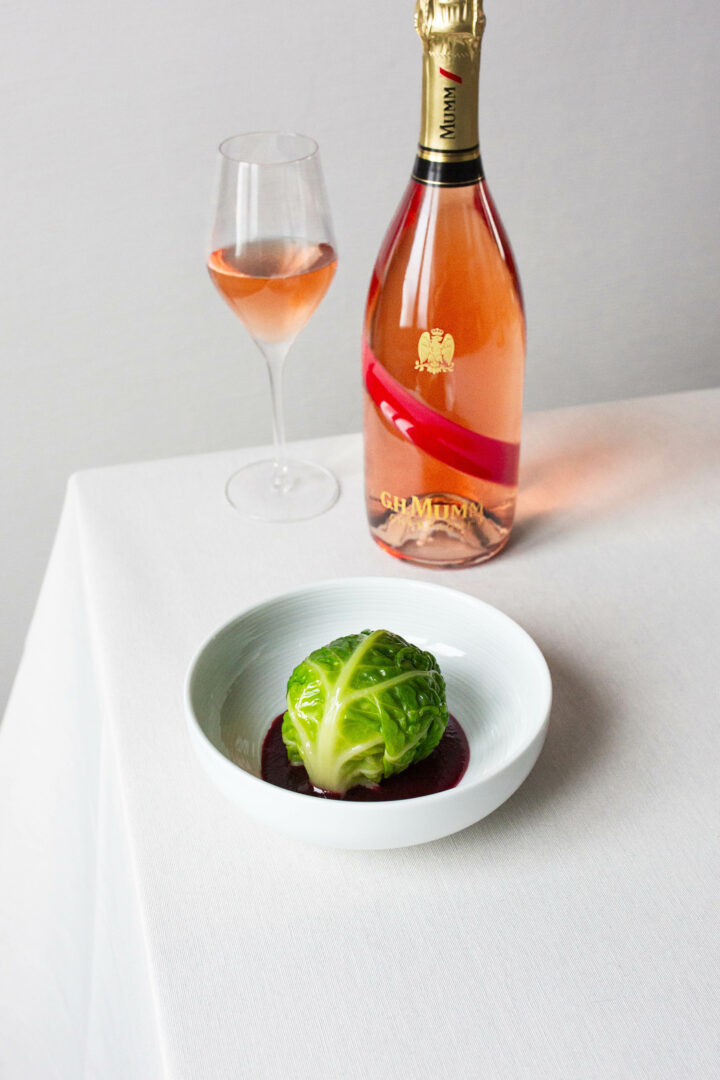 Mumm Grand
Cordon Rosé
Mumm Grand Cordon Rosé is a perfect champagne to savour. Inspiring and intense, it can be enjoyed on its own or paired with a range of creative and modern dishes.
Discover the cuvée
Discover the cuvée