Marinated watermelon & strawberries
Marinated watermelon & strawberries
Marinated watermelon & strawberries with shiso, chantilly and hibiscus granita
People

For 4

Preparation time

3 hours

Winery pairing

Le Rosé
INGREDIENTS
Marinated Watermelon and Strawberries
1/4 watermelon
10 strawberries
3 green shiso leaves
1 tablespoonful sugar
Chantilly
100ml whipping cream
1 tablespoonful confectioners' sugar
Hibiscus Granita
200ml filtered water
20g dried hibiscus
1 tablespoonful sugar
Hibiscus Powder
Recipe
Step 1. Marinated Watermelon and Strawberries
Hull and halve the strawberries. Roughly dice the watermelon.
Mix everything in a salad bowl with 1 tablespoonful of sugar and 2 chopped siso leaves. Leave to marinate in the fridge for 1h.
Step 2. Chantilly
Whip the cream with 1 tablespoonful of confectioners' sugar using a beater.
Step 3. Hibiscus Powder
Mix the hibiscus until a fine powder is obtained.
Step 4. Hibiscus Granita
Heat the water containing the hibiscus and the sugar. Leave to infuse and then leave to cool.
Pour the infusion into a container and put it in the freezer. Scrape the surface of the granita every 30 min for 3h.
Step 5. Plating-Up
Put a little chantilly and some marinated watermelon and strawberries into a bowl.
Then add the hibiscus granita. Use a sieve to sprinkle a little hibiscus powder over the cream and garnish with shiso leaves.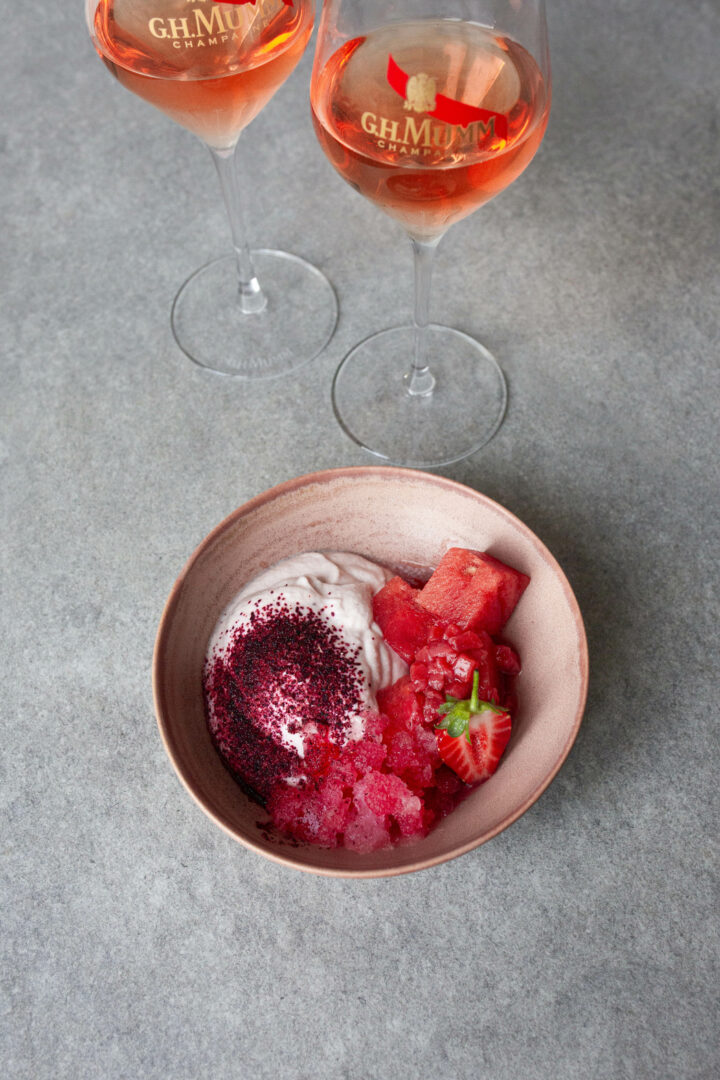 Mumm Le Rosé
Light-hearted Mumm Rosé reveals its charms as an apéritif, but the bright berry notes also complement a wide range of dishes, including simple seasonal starters such as seafood, fresh cheeses and salmon marinated with fresh cranberries.
Discover the cuvée
Discover the cuvée