Rice pudding with caramel
Rice pudding with caramel
Rice pudding with caramel & toasted buckwheat
People

For 4

Preparation time

45 minutes

Winery pairing

Mumm Olympe
INGREDIENTS
Rice Pudding
125g round rice
75cl milk
75g superfine sugar
1 vanilla pod
Caramel
75g superfine sugar
20g salted butter
5cl whipping cream
2 tablespoonfuls buckwheat
Recipe
Step 1. Rice Pudding
Plunge the rice into a large saucepan of boiling water and leave to cook for 3 min.
Strain.
Bring to the boil the milk with the vanilla pod split in two.
Pour the rice into it and leave to cook for 25 min, mixing carefully.
Add the sugar and leave to cook for another 2 min. Take off the heat and leave to cool.
Divide up the rice pudding into glass serving cups.
Step 2. Caramel
Pour the sugar into a saucepan and leave to cook until an amber caramel is obtained.
Take off the heat and pour the cream in a thin drizzle, stirring constantly.
Add the butter, mix for 2 min on a low heat. Leave to cool and pour it over the rice pudding.
Step 3. Buckwheat
Toast the buckwheat in a dry frying pan for 2 min. Sprinkle the buckwheat over the rice pudding and serve.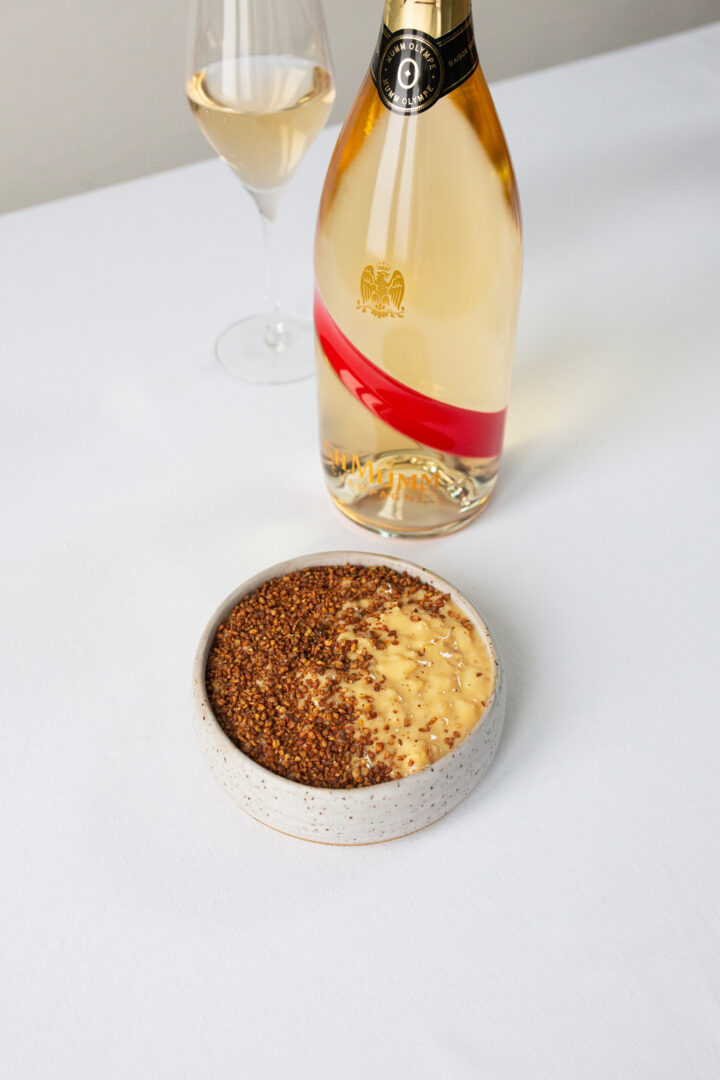 Mumm Olympe
Invited to all the best parties, Mumm Olympe champagne combines delicious sweetness with bright fruit and the House's signature freshness.
Discover the cuvée
Discover the cuvée