Chocolate ganache & meringues
Chocolate ganache & meringues
Chocolate ganache, meringues & cocoa nibs, olive oil
People

For 2

Preparation time

45 minutes

Cooking time

1 hour

Winery pairing

Mumm Olympe
INGREDIENTS
Chocolate Ganache
4 ice cubes
40g sugar
120g dark chocolate
25cl whipping cream
2 egg yolks
4 teaspoonfuls olive oil
Chocolate Meringues
100g confectioners' sugar
100g superfine sugar
15g unsweetened cocoa powder
4 eggs
2 tablespoonfuls cocoa nibs
Recipe
Step 1. Chocolate Ganache
Break up the chocolate into small pieces and put them in a bowl.
Heat the cream in a medium saucepan on a low heat.
Beat the egg whites stiffly with the sugar until the mixture turns white.
Pour the heated cream over the stiff egg whites and whisk. Pour the whole mixture into the saucepan on a very low heat, mixing everything until the cream thickens.
Pour the mixture over the chocolate, mixing with a spoon until the chocolate melts completely and the mixture is homogeneous and smooth.
Cover with plastic wrap, leave to cool at room temperature and then put in the fridge for 4h.
Step 2. Chocolate Meringues
Preheat the oven at 120°C.
Separate the egg whites from the yolks and beat them stiffly. Gradually blend in the superfine sugar while continuing to beat.
When the egg whites are shiny, smooth and firm, sprinkle over the confectioners' sugar and mix with a spatula.
Blend in the cocoa in the same way.
Using a piping bag, pipe the meringues onto an oven tray covered in parchment paper and cook for 1h. Then open the oven door and leave to cool inside the oven.
Step 3. Plating-Up
Form quenelles of ganache, add the meringue on top and sprinkle with cocoa nibs.
Then add a drizzle of olive oil.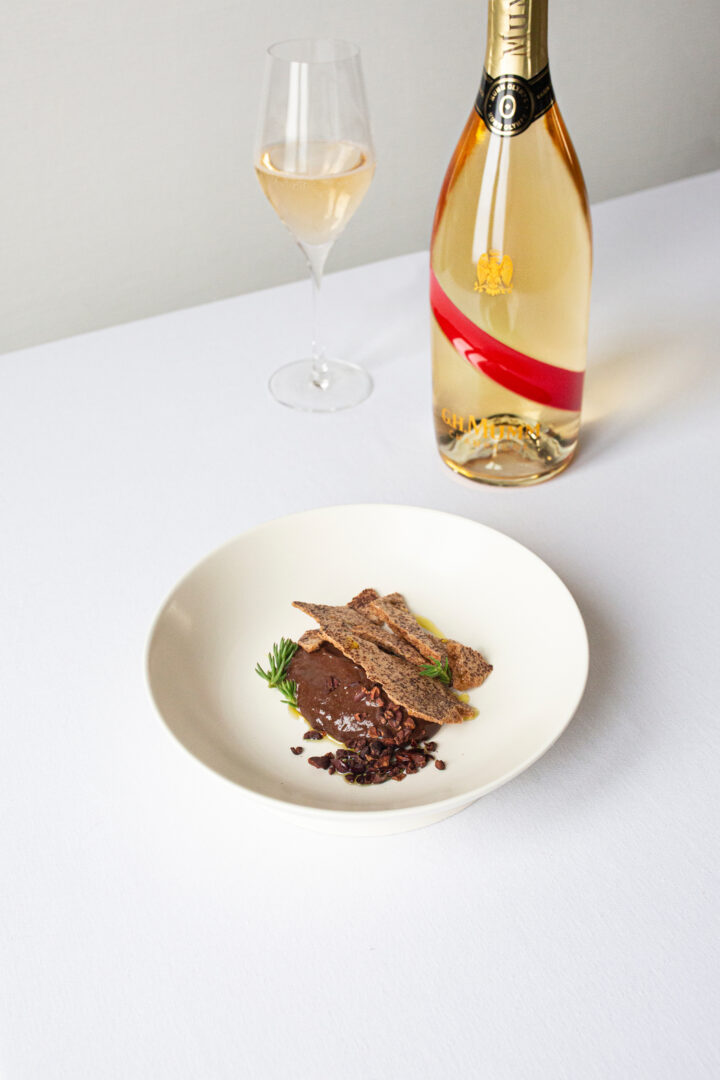 Mumm Olympe
Invited to all the best parties, Mumm Olympe champagne combines delicious sweetness with bright fruit and the House's signature freshness.
Discover the cuvée
Discover the cuvée