Yellow fruit nage
Yellow fruit nage with darjeeling tea & tapioca pearls
People

For 4

Preparation Time

1 hour

Winery Pairing

Mumm 4
Ingredients
50g sugar
1 tablespoonful tapioca
1 sachet Darjeeling tea
1L filtered water
1 cherry plum
1 apricot
1 peach
1 passion fruit
Edible flowers
Recipe
Soak the tapioca in a glass of water for 20 min.
Heat 1L of water with the sugar and sachet of Darjeeling tea in a saucepan.
Pour in the tapioca and leave to simmer for 10 min.
Turn off the heat and add the diced fruit, then leave to cool.
When the mixture is completely cool, pour it into glass serving cups and garnish with flowers and passion fruit.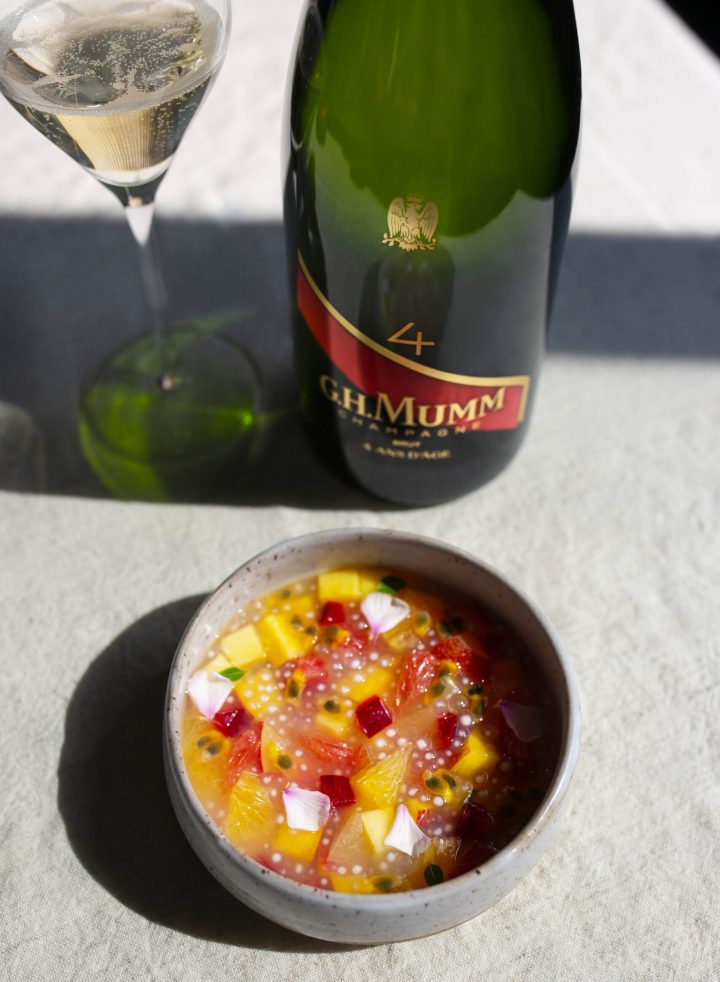 Mumm 4
Mumm 4 is an elegant brut champagne that can be savoured slowly to enjoy its deep complexity or paired with gastronomic delights such as poultry with chanterelles and apricot compote, brie with truffle, game birds or roasted beef or boar accompanied by heirloom vegetables.
Discover the Cuvée
Discover the Cuvée