Raspberry tart
Raspberry tart & mascarpone mousse with zest
People

For 6

Preparation time

2 hours

Winery pairing

Grand Cordon Rosé
INGREDIENTS
3 cartons raspberries
Mascarpone Mousse
100g mascarpone
100g heavy cream
Zest of 1 lemon
Zest of 1 grapefruit
30g sugar
Sugar Crust Tart Base
250g flour
50g confectioners' sugar
125g butter
1 egg yolk
1 pinch of salt
30g water
Recipe
Step 1. Mascarpone Mousse
Whip the very cold heavy cream with the sugar into chantilly. Beat the mascarpone with the finely grated grapefruit and lemon zest.
Then carefully blend in the chantilly.
Step 2. Sugar Crust Tart Base
Rub the flour and butter cut into small cubes between your hands. When the butter has been completely 'absorbed' by the flour, add the confectioners' sugar.
Add the egg yolk and cold water, then a pinch of salt. Mix all the ingredients. Cool in the fridge for 30 minutes so that the butter hardens.
Roll out the pastry and put it in a buttered pan. Place over it a piece of parchment paper cut to size with weights in it and cook in the oven at 180°C for about 15 minutes (keep an eye on the color).
Then remove the parchment paper with weights and use a brush to spread a little of the beaten whole egg over the inside of the cooked pastry (base and sides). Put back into the oven for 5 min. The egg will waterproof the pastry base.
When the base is cold, add the cream to the base and top with the raspberries placed upside down.
Enjoy immediately.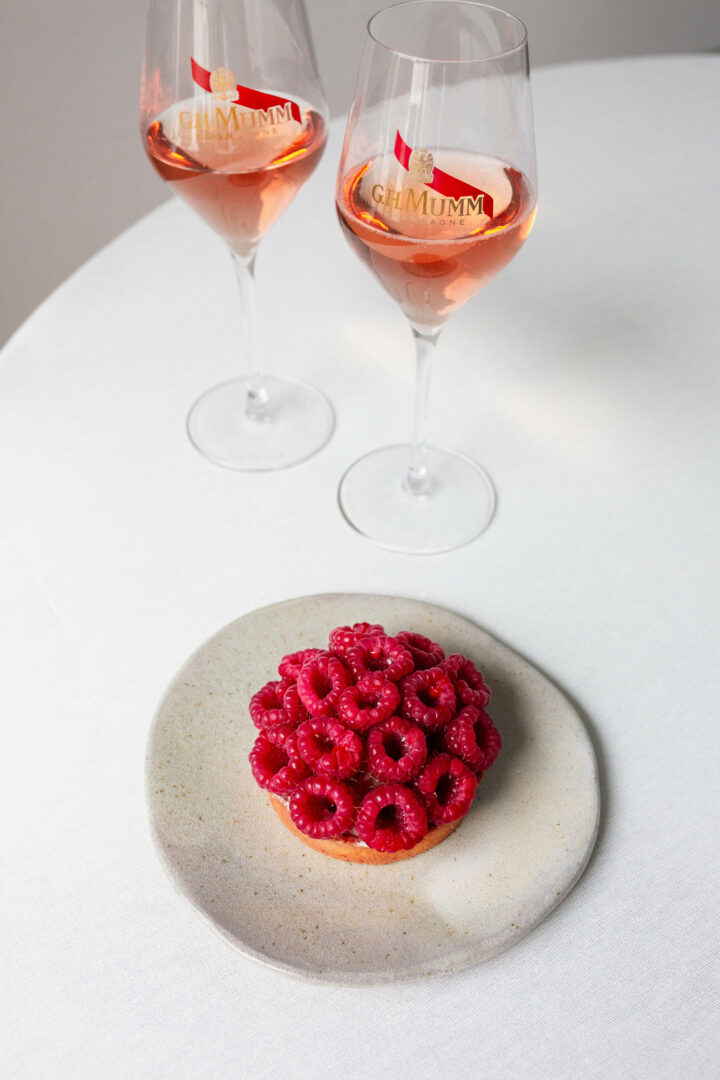 Mumm Grand
Cordon Rosé
Mumm Grand Cordon Rosé is a perfect champagne to savour. Inspiring and intense, it can be enjoyed on its own or paired with a range of creative and modern dishes.
Discover the cuvée
Discover the cuvée