Grilled beef tacos
Grilled beef tacos, salsa roja & pickled red onion
People

For 4

Preparation time

1 hour 30 minutes

Winery pairing

Grand Cordon Rosé
INGREDIENTS
1 flank steak
Salsa Roja
400g cherry tomatoes
1-2 Serrano chili pepper(s)
1 red onion
20g fresh cilantro (you can use more, according to taste)
2 tablespoonfuls lime juice
Salt
Pickled Red Onion
1 red onion
100ml white vinegar
1 tablespoonful coarse salt
3 tablespoonfuls sugar
Corn Tortilla
230g nixtamalized corn flour
400ml tepid water
Recipe
Step 1. Salsa Roja
Preheat the grill and put the tomatoes and Serrano chili peppers into an oven dish.
Roast them until they turn black in places, for about 5 minutes. Turn over the tomatillos. Continue to roast them for about 4 minutes. Tip the onion, cilantro, garlic, salt and 2 tablespoonfuls of lime juice into a blender or food processor.
Add the roast tomatoes and chili peppers to the food processor, then mix until a smooth texture is obtained, taking care to scrape the sides from time to time.
Correct the seasoning with salt and lime juice.
Step 2. Pickled Red Onion
Peel and thinly slice the red onion. Put the salt, sugar and vinegar into a saucepan and bring to the boil, then turn off the heat.
Next put the onions into a 250ml-jar and add the tepid vinegar, then wait 24h before using them.
Step 3. Corn Tortilla
Mix the corn flour and water in a bowl. Knead until a homogeneous ball is obtained.
Cover with a damp cloth. Preheat a hotplate to medium heat.
Using a tortilla press or a dish, place a dough ball approximately 4cm in diameter between the two plastic disks and press on them to form a round tortilla approximately 15cm in size.
Put the tortilla onto the hotplate and cook for 45 sec. The edge should start to dry slightly.
Turn it over and continue to cook for 1 min until small brown marks form. Turn it over again and leave to cook for another 15 sec.
Step 4. Plating-Up
Add salt and pepper to the flank steak, and cook it in a hot, oiled frying pan for 2 min on each side. Slice it and put a few slices on the tortillas, then top with salsa and add a few pickled onions and your choice of shoots.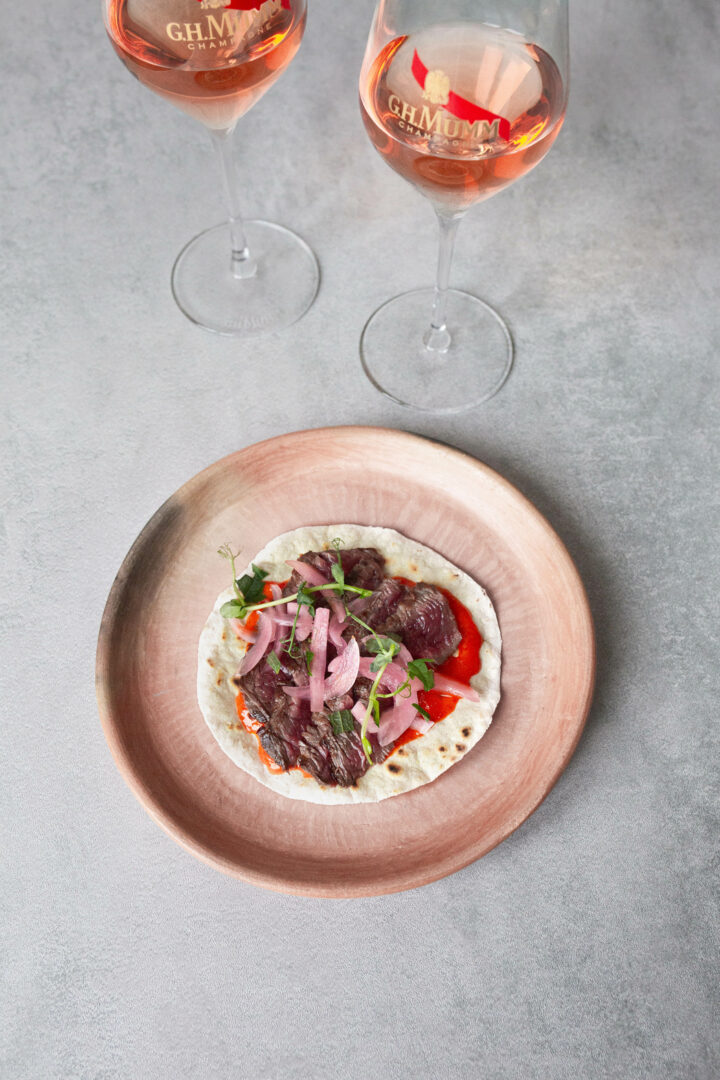 Mumm Grand
Cordon Rosé
Mumm Grand Cordon Rosé is a perfect champagne to savour. Inspiring and intense, it can be enjoyed on its own or paired with a range of creative and modern dishes.
Discover the cuvée
Discover the cuvée