Cream of leek & egg yolk
Cream of leek and leek straw, & egg yolk
People

For 4

Preparation time

30 minutes

Winery Pairing

Grand Cordon
INGREDIENTS
2 leeks
50ml whipping cream
2 egg yolks
1 teaspoonful white vinegar
50g butter
400ml frying oil
Salt & pepper
Recipe
Step 1. Cream of Leek
Roughly chop the leeks.
Drop them into 20g of butter, add salt and pepper, and leave to caramelize for 10 min.
Transfer the leeks to a blender and mix with the cream and the rest of the butter for 6 min.
Step 2. Leek Straw
Cut the white of the second leek as thinly as possible lengthways.
Heat your oil to 150°C and fry the leeks several times until they become golden and crispy.
Transfer them onto some paper towel. Add salt and pepper.
Step 3. Plating-Up
Put a large spoonful of cream of leek in the center of a plate. Make a nest with the leek straw and add an egg yolk in the center.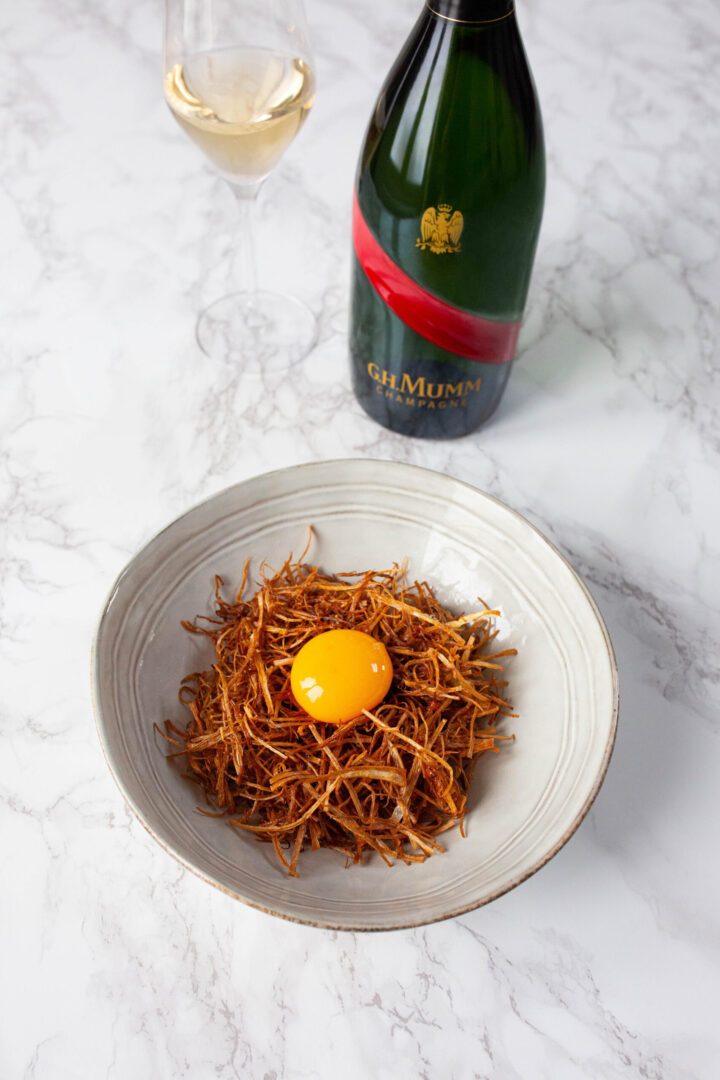 Mumm Grand Cordon
Toasting milestones, personal achievements or simply celebrating friendship with an improvised get-together, the exceptional fresh intensity of Mumm Grand Cordon champagne evokes the exhilaration of life's most unforgettable moments.
Discover the cuvée
Discover the cuvée