Baked apricots & yoghurt mousse
Baked apricots & yoghurt mousse
Baked apricots, yoghurt mousse with basil & french salted butter shortbread
People

For 2

Cooking Time

45 minutes

Resting time

2 hours

Winery pairing

Cordon Rouge
INGREDIENTS
Greek Yoghurt Mousse
1 Greek yoghurt
20cl whipping cream
1 bunch of basil
Baked Apricots
500g apricots
1 tablespoonful honey
25g butter
Plating-Up
2 French salted butter shortbreads
Recipe
Step 1. Greek Yoghurt Mousse
Whip the cream into a firm chantilly.
Blend the yoghurt and basil in a blender, sieve and then gently mix with the chantilly.
Put into a piping bag.
Step 2. Baked Apricots
Preheat the oven to 180°C.
Clean, stone and halve the apricots.
Put the apricots – convex side upwards – into an oven dish.
Gently heat the honey and butter in a saucepan.
Pour the mixture over the apricots in the oven dish. Put in the oven for 6 minutes.
Leave to cool when it comes out of the oven.
Step 3. Plating-Up
Arrange the apricots and mousse in a soup dish.
On the side, garnish with baby basil shoots and add the crumbled French salted butter shortbread.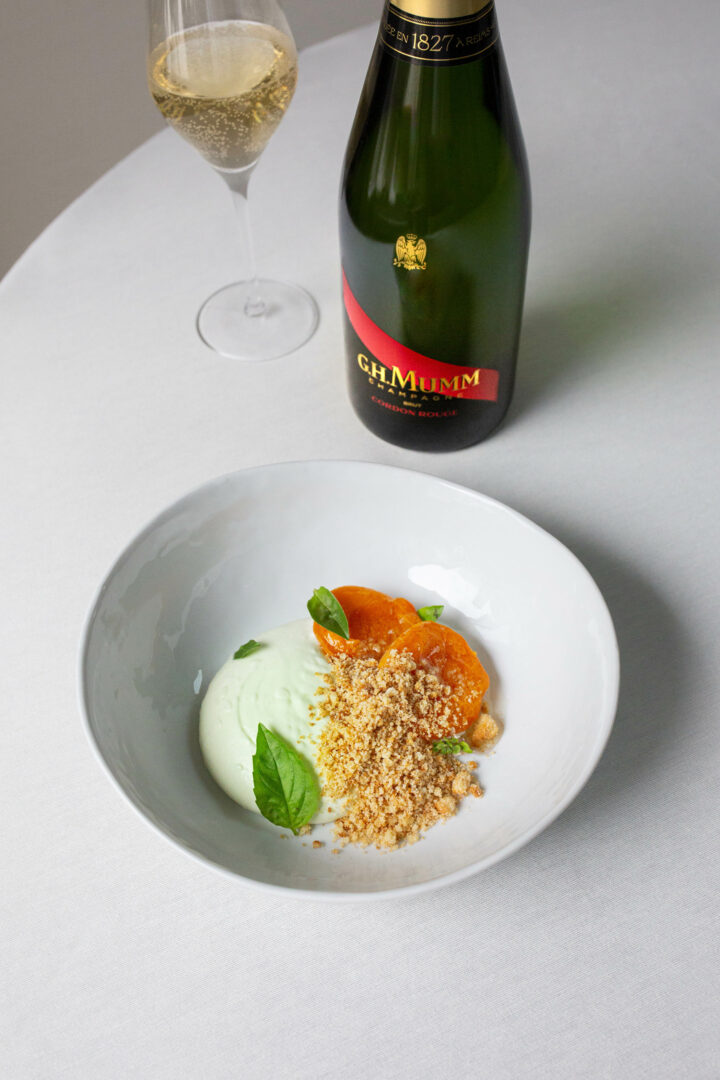 Mumm Cordon
Rouge
Mumm Cordon Rouge is ideal for an aperitif among friends or over a meal –those moments when everything simply clicks and positive energy flows: real friends sharing real talk, everyone at ease in a joyful, convivial atmosphere.
Discover the cuvée
Discover the cuvée