This holiday season, Kwame teams up with G.H.Mumm to pair his bold and authentic flavors that draw on his heritage and his own life experiences with the Maison's iconic Champagne. For nearly two hundred years, Maison Mumm has put innovation at the service of its wines, using pioneering methods to celebrate the power and structure of Pinot Noir, its signature grape. Kwame's inspiring menu-pairing suggestions with Mumm Champagne represent a joyful collusion between two icons of innovation.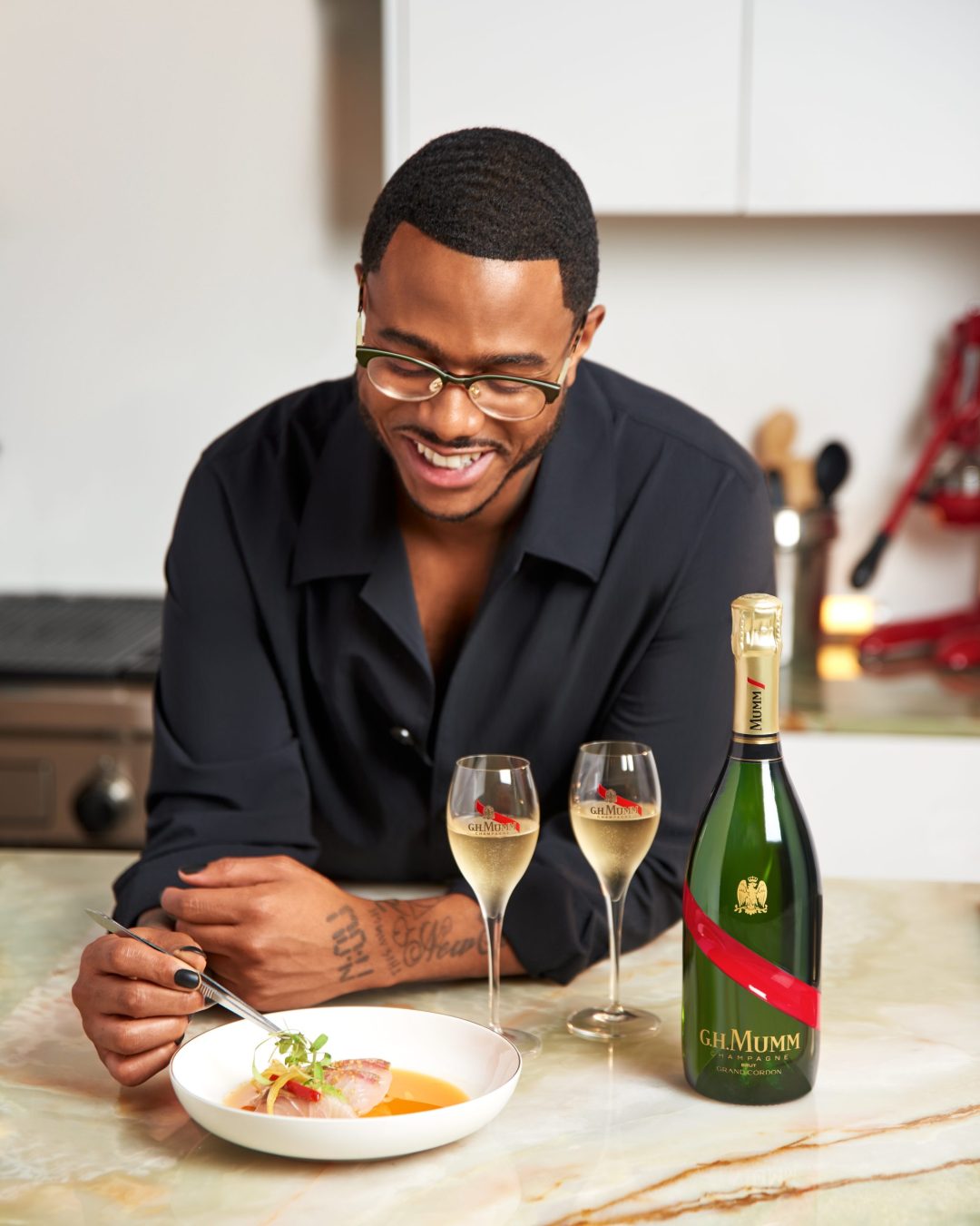 Kampachi Escovitch
Kampachi Escovitch Ingredients:
5 slices of Kampachi, sashimi
5 slices Hass Avocado
1 tbsp of Carrot Nage
8 leaves of Cilantro
Maldon salt as needed
Kosher salt as needed
Carrot Nage Ingredients:
3 cups Escovitch
½ cup lime juice
1 tbsp honey
3 tbsp carrot juice
1 tsp Kosher Salt
Escovitch Ingredients:
1 tbsp minced fresh ginger
1 tbsp minced Habanero Chili
4 cups rice wine vinegar
2 cups carrot juice
2 tbsp white sugar
1 julienne yellow onion
1 julienne red bell pepper
1 julienne orange bell pepper
Kosher salt to taste
Preparation:
Step 1: Preparing the Carrot Nage
Combine lime, honey, carrot juice, and salt. Mix thoroughly with escovitch then reserve cold until ready to serve.
Step 2: Preparing the Escovitch
Sweat ginger and habanero in oil until raw flavor is out. Add carrot juice, vinegar, and sugar – reduce to a syrup. Add onions and peppers and cook until soft, about 5 minutes. Season with salt to taste. Cool and reserve.
Step 3: Plating the Kampachi Escovitch
Place the kampachi and avocado in alternating shingles. Top with carrot nage and pickled pepper. Sprinkle with maldon salt and garnish with cilantro
Pair with Grand Cordon Brut
Pair with Grand Cordon Brut
ROASTED AND CONFIT CHICKEN GEERAH
Roasted and Confit Chicken Geerah Ingredients:
1 Marinated Chicken
1 Confit Chicken
4 tbsp Geerah Jus
Maldon Salt
Marinated Chicken Ingredients:
3 lbs. chicken breast, skin-on/bone-in
3 tbsp curry powder
10 cloves garlic, peeled & minced
1 small diced yellow onion
2 tbsp ground cumin
3 tbsp finely chopped cilantro
Canola oil as needed
Kosher salt as needed
Confit Chicken Ingredients:
4 chicken thighs
3 tbsp curry powder
2 tbsp white granulated sugar
2 tbsp cumin
½ gallon duck fat
1 tbsp kosher salt
Canola oil as needed
Geerah Jus Ingredients:
½ gallon chicken stock
1 small diced yellow onion
12 cloves garlic peeled and minced
3 tbsp curry powder
½ Habanero chili minced
3 tbsp ground cumin
1 tbsp fresh lime juice
Kosher salt to taste
Canola oil as needed
Preparation:
Step 1: Preparing the Marinated Chicken
Combine all ingredients except chicken and mix thoroughly. Add to a ziploc bag with chicken and coat well. Close bag, pushing out as much air as possible, and refrigerate 24-48 hours.
When ready sear in a pan on 6 minutes each side or until it reads 165 on a thermometer once placed in the thickest part.
Step 2: Preparing the Confit Chicken
Mix the curry powder, cumin, salt and sugar together. Coat chicken with this rub and let sit for 4 hours refrigerated. Rinse of chicken and pat dry.Melt duck fat in a dutch pot and place the chicken inside. The chicken should be completely submerged, and cook in 300°F oven for 3 hours. Let cool in fat for 2 hours.
Meanwhile heat a pot of oil to 400 degrees. Place chicken thighs in the oil and fry until crispy and browned. Remove from oil and place on a paper towl lined plate. Season with kosher salt and cumin.
Step 3: Preparing the Geerah Jus
Add oil to a pan and add onion, habenero and garlic. Sweat over medium heat then add the the rest of the ingredients. Simmer for 30 minutes and transfer to a blender.
Blend until smooth and strain through fine mesh strainer, season with salt to taste.
Step 4: Plating the Roasted and Confit Chicken Geerah
Place the chicken on the plate, the breast and the thigh. Sauce with the jus and serve.
Pair with Grand Cordon Brut
Pair with Grand Cordon Brut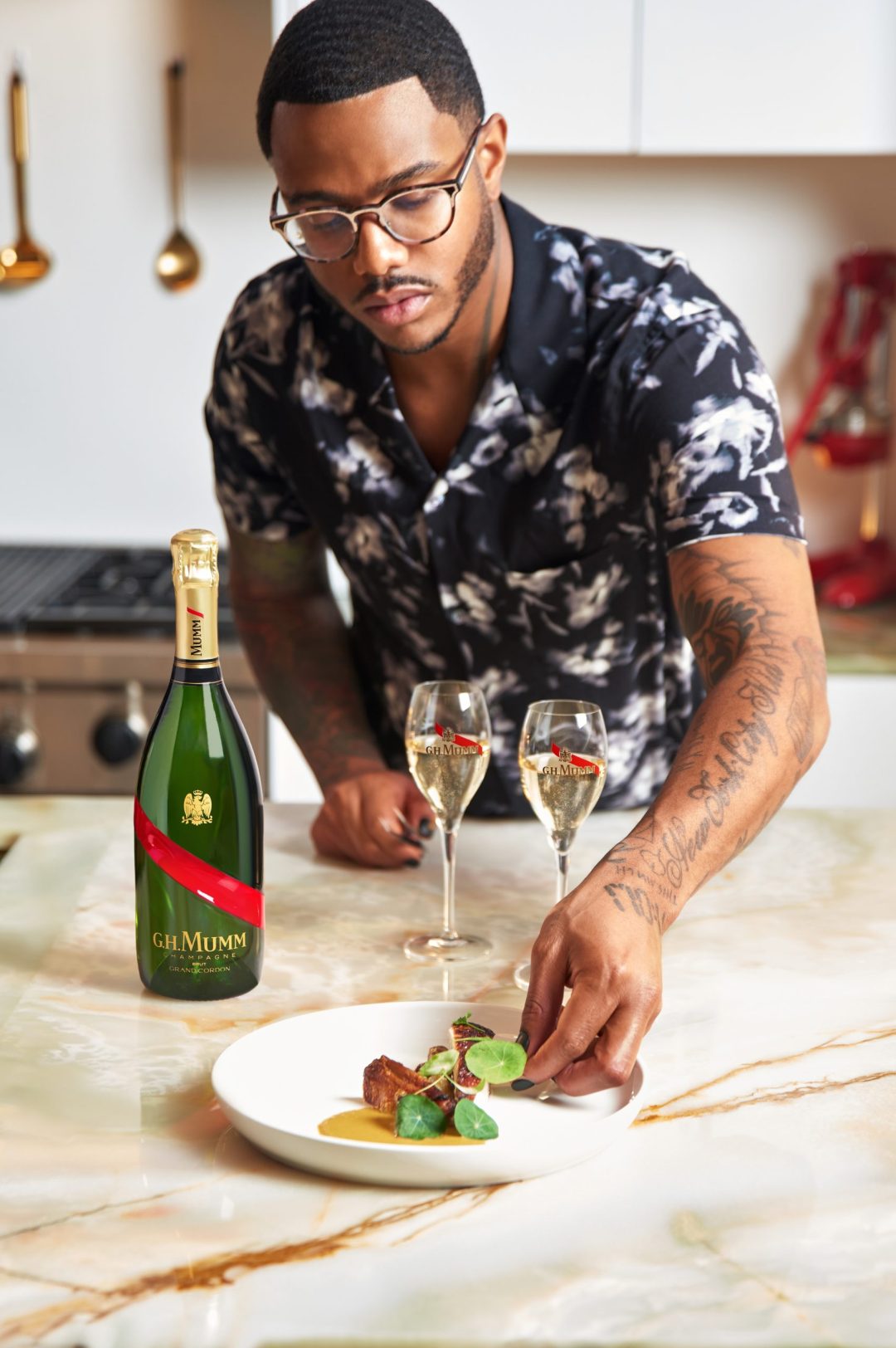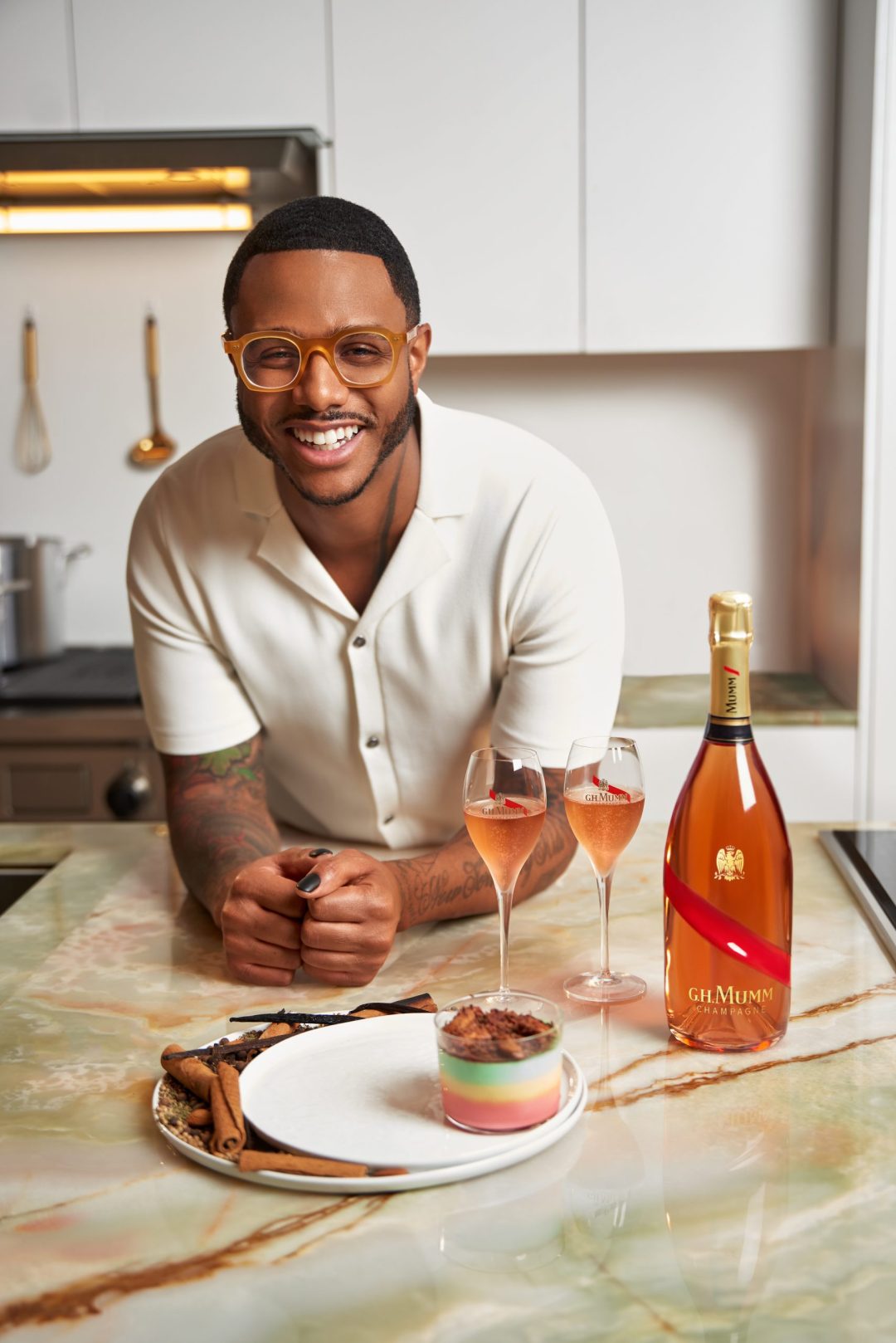 Rainbow Cookie Panna Cotta
Rainbow Cookie Panna Cotta Ingredients:
1 Panna Cotta
15g Rainbow jam
2g Semisweet microplane chocolate
15g Nutz for Nutz
1g Maldon Salt
Panna Cotta Ingredients:
7 gelatin sheets, silver
3 cups heavy cream
2 cups whole milk
3 tbsp white granulated sugar
1 whole vanilla bean
4 tbsp almond paste
1 tsp kosher salt
2 drops red liqiud food color
6 drops yellow liquid food color
3 drops green liquid food color
1 cup raspberry jam
Preparation:
Step 1: Preparing the Panna Cotta
While whisking constantly, heat cream, milk, sugar, vanilla, almond paste and salt to 140°F. Remove from heat.
Meanwhile bloom gelatin in cold water until soft and pliable – about 3-5 minutes. Once soft, wring out excess water from sheets and whisk into warm cream base.
Once fully dissolved, blend on high then strain through fine mesh strainer and cheesecloth. Divide evenly into 3 containers. then each one: red, yellow, and green.
In small glass jars, neatly add 1/2 a cup of the red base then transfer to freezer to set. After 1 hour, check to see if base is set then add yellow layer if ready. Repeat with green. Let refrigerate for 6 hours to set.
Top with a tablespoon of raspberry jam and serve!!
Step 2: Plating the Rainbow Cookie Panna Cotta
Neatly spread jam in a thin layer atop panna cotta then using a microplane, shave chocolate over jam. Garnish with almonds and maldon
Pair with Grand Cordon Rosé
Pair with Grand Cordon Rosé