Pairing Champagne with food
Pairing Champagne with food
Champagne is a welcome addition to any occasion, but matching it with food can elevate your tasting experience to a whole new level.
Finding the perfect food-wine pairing is easier than you might think, thanks in no small part to the immense versatility of champagne. For more adventurous and complex combinations, Mumm's special cuvées offer a vast array of options.
And remember: there is no right or wrong way to serve Mumm Champagne. The possibilities are endless!
CHAMPAGNE: THE GIFT OF VERSATILITY
It is a little-known fact that champagne was historically considered to be a dessert wine, served with entremets and other sweet confections in the most elegant Parisian salons. These days we tend to think of champagne as an aperitif, but the truth is that it can be enjoyed in virtually any situation, and at any point in your meal.
Champagne is a natural match for seafood starters, while its lively acidity will complement some type of cheese. The aromatic complexity and broad flavor palette which are the hallmarks of the Mumm style also make for some great food-wine pairings.
To help you get started, we've come up with a few pairing suggestions for Mumm champagnes.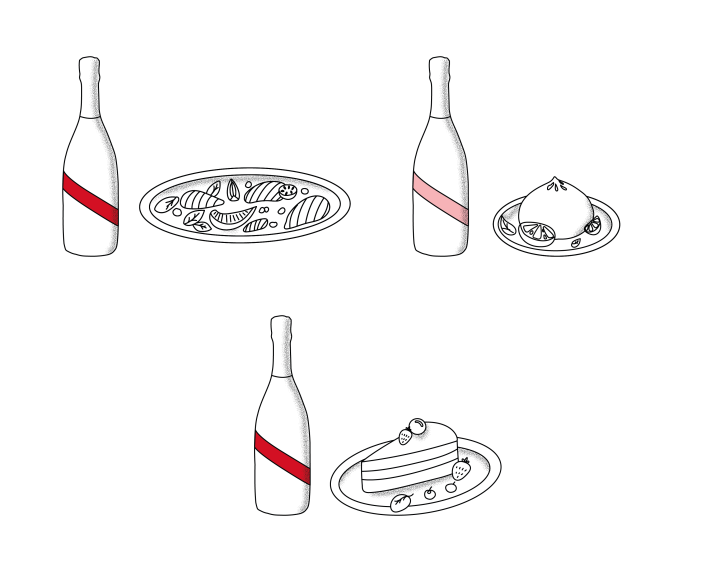 PAIRING MUMM CHAMPAGNES WITH FOOD
Epitomizing the House's signature style, Mumm Grand Cordon combines the power and structure of Pinot Noir with the elegant minerality of Chardonnay and the fruity charms of Meunier. It makes a perfect match for a sashimi of sea bass with groundcherry and XO sauce, beautifully complementing the delicate spicy flavors.
The carefree exuberance of Mumm Rosé makes it an excellent aperitif, but the bright berry notes will also complement a wide range of dishes, from simple starters to elaborate seafood creations. Try it with mozzarella, tomatoes and parsley vinaigrette, a twist on the classic insalata caprese. The rich, creamy cheese and fresh herb dressing are a match made in heaven for the vivacious rosé.
For more adventurous culinary combinations, the Mumm Grand Cordon Rosé opens up a whole new world of possibilities. This opulent cuvée brings intense aromas of red fruit and wild berries, typical of the Pinot Noir grapes cultivated in Maison Mumm's legendary vineyards.
Balancing the power and structure of Pinot Noir with the elegance of Chardonnay and the fruitiness of Meunier, Grand Cordon Rosé has the strength of character to match the bold, spicy, exotic flavors of Asian and African cuisine.
For example, try matching Mumm Grand Cordon Rosé with a lightly-seared fillet of bonito, served with piquillo peppers marinated in a zesty ponzu sauce. The punchy citrus flavors will work wonders with the Grand Cordon Rosé's unique blend of structure and elegance.
THE RIGHT WAY TO PAIR CHAMPAGNE: YOUR WAY
Champagne is effortlessly versatile, and when it comes to creating original food and wine pairings the possibilities are endless. Transcending its status as an iconic aperitif, champagne can be served with everything from street fusion food to classic desserts.
For more advanced pairings which really bring out the finer nuances of both food and wine, Mumm's special cuvées give gastronomic adventurers free rein to experiment.
When it comes to pairing food and champagne, there really is just one golden rule: do it your way.