What is a champagne magnum?
What is a champagne magnum?
The champagne magnum is the most common of the large-format bottles and can serve up to 16 glasses. But that's not all it has to offer…
The custom of large bottles was born in Champagne. In the 18th century, following the success of its wines, large-format bottles were served in the most prestigious restaurants in Europe. The jeroboam, methuselah, salmanazar, and, of course, the extremely popular magnum, were all in high demand.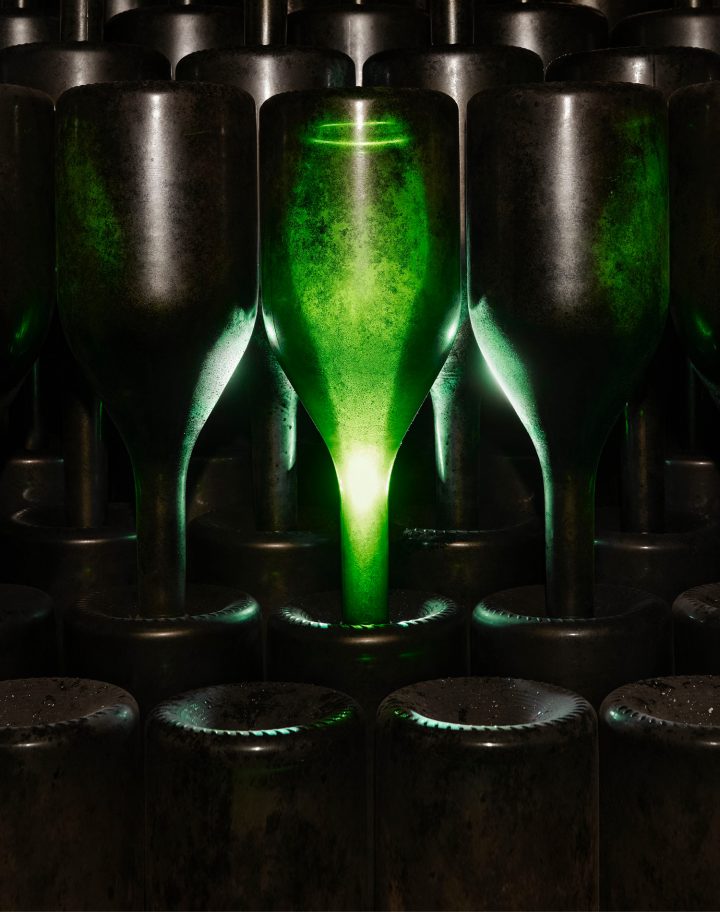 Mumm: audacity inside and out
Mumm's motto, "Only the best", applies not only to the production of its wines but also to the quality of its bottles. The House has long been known for its unique bottle design, the most innovative incarnation of which is found in Mumm Grand Cordon, created in 2016 to celebrate the 140th anniversary of the Cordon Rouge. Mumm's iconic red sash is now indented directly into the glass, reflecting an authentic technical prowess that epitomizes the House's avant-garde style. The sophisticated neck—slimmer and longer than usual—promotes the development of aromas. The stripped-back, minimalist, and harmonious lines are even more remarkable in magnum format. This new bottle also reflects Mumm's commitment to the environment since it is produced locally from 75% recycled glass.
The magnum: the key to improved aging
Champagne magnums offer superior aging conditions. Magnum bottles are larger, but their necks are not. This key factor has an impact on how much wine is in contact with the air contained in the bottle. Aeration is limited with a magnum and the process slowed down. This format therefore reduces oxygenation and encourages optimum aging. Stored carefully in magnums, Mumm Champagnes gradually become more complex in the safety of the House's limestone caves, where they spend two years more than their 75 cl counterpart to ensure optimum maturing.
Mumm Champagne Magnums, exceptional cuvées
To allow its wines to reveal as much of their flavors as possible, Mumm offers most of its cuvées in magnum format. Mumm Grand Cordon—a blend of wines from more than 100 crus—perfectly expresses the aromatic power and elegance of the House's Pinot Noir. Mumm Rosé reveals light, refreshing notes of red fruit candy and intense aromas of strawberry and red currant. On the palate, it is vivacious, with aromatic freshness.
Mumm Cordon Rouge offers wonderful aromatic freshness with rich, round fruity aromas. The palate reveals elegant roundness with notes of fruit and caramel. RSRV Blanc de Blancs 2012—produced exclusively from Chardonnay grown in the Grand Cru village of Cramant—is characterized by minerality, purity and vivacity. Finally, RSRV Blanc de Noirs 2009 is aged in our cellars for at least six years. It is particularly popular for its strong personality that combines elegance and aromatic complexity, revealed in smoky notes and aromas of vanilla and pear marmalade. On the palate, a straightforward attack finishes with a certain tension.