Champagne and foie gras, a match made in heaven
Champagne and foie gras, a match made in heaven
Sophisticated dishes are frequently paired with exceptional wines. Foie gras is a perfect example of this. Like champagne, foie gras can be enjoyed at various moments during a meal.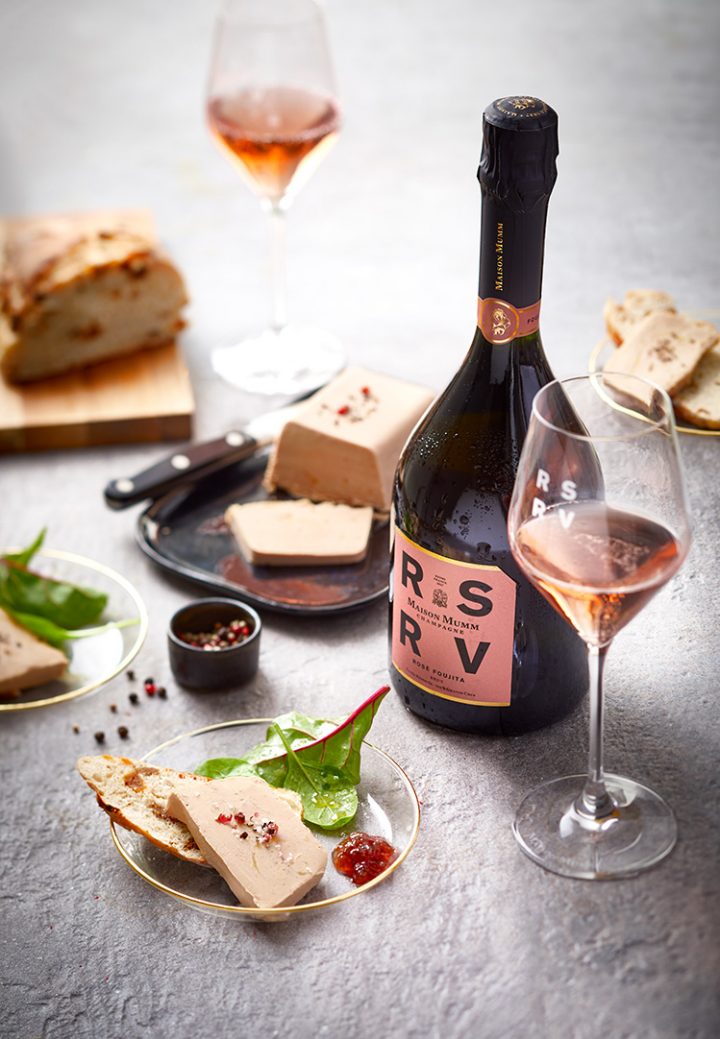 Mumm Grand Cordon and terrine of foie gras
Like Mumm Champagnes, foie gras can be enjoyed in various ways. Different recipes offer a wide range of flavor sensations. These rich dishes call for a full-bodied, fruity partner, and—although traditionally paired with sweet wines—are truly brought into their element when served with champagne. This is especially the case for foie gras terrine, served as a starter, at a moment in which it is important not to overwhelm the palate, which is instead coated by the champagne, providing just the right amount of freshness.
Mumm Grand Cordon is an ideal candidate. As some of the reserve wines used in the blend are aged in oak barrels, it boasts a wonderful aromatic richness. The invigorating, expressive nose—with notes of fruit, vanilla, sweet pastries, and honey—and the vinous, well-structured palate add a new dimension to the foie gras. Mumm Cordon Rouge's aromatic freshness, elegant roundness, and unctuous finish make it another excellent choice.
Mumm Millésimé 2013 and pan-fried foie gras
The soft and unique texture of pan-fried foie gras is beautifully highlighted by the effervescence of a champagne that lend its freshness to this rich dish. This creates a stunning contrast. Mumm Millésimé 2013—a reflection of the House's expert understanding of Pinot Noir—makes a perfect match thanks to the generosity of its flavors of brioche and fresh hazelnut, and the aromatic freshness of its fruity notes.
The round and unctuous Mumm Demi-Sec also pairs well with pan-fried foie gras.
Finally, if you choose to serve your foie gras with a little red fruit coulis or raspberry vinaigrette, Mumm Rosé will echo the fruits on the plate and add depth to the pairing.
RSRV Blanc de Noirs Millésimé to bring out the flavors of foie gras as an ingredient

Foie gras does not always play the leading role in a dish and is sometimes found simply in a stuffing or sauce, often served with chicken or fine meats. This calls for a champagne that can stand up to its creaminess. The champagne should not muffle it but instead help to enhance the full range of foie gras flavors. This is achieved by Mumm RSRV Blanc de Noirs Millésimé with its aromatic richness and elegance provided by Pinot Noir grown in the Grand Cru village of Verzenay.