Successful chocolate and champagne pairings
Successful chocolate and champagne pairings
Although frequently sidelined, champagne and chocolate actually make a rather interesting combination, and offer an outstanding pairing when chosen astutely.
Wine and chocolate are similar in many respects. The wide range of known grape varieties and cocoa beans offers a host of flavors and aromas that also reflect the terroirs in which they are grown. Furthermore, grand crus not only exist in both realms, but both are fermented to extract their finest features. This leads to the creation of exceptional wines and chocolate. These similarities allow the two to be brought together in delicious pairings.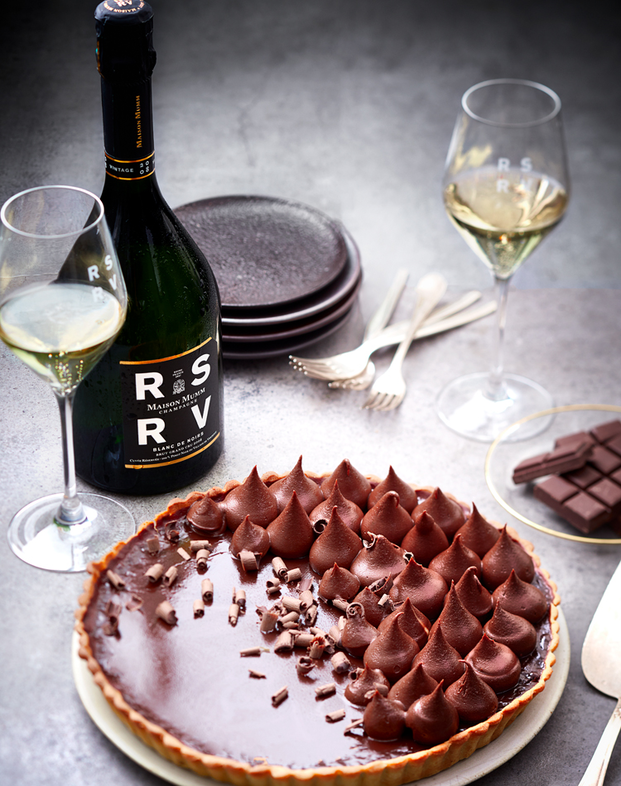 Champagne and chocolate, a delicate matter
The first step is to choose a cuvée capable of softening cocoa's bitterness. It's all a question of balance, as is always the case with food and wine pairings. Too lively, and the champagne will overpower the chocolate, and vice versa for cocoa that is too intense. The choice of chocolate is therefore extremely important. Chocolate with little sugar and a hint of bitterness goes well with Mumm Demi-Sec, as the cuvée's restrained acidity shows it in its best light.
Mumm Champagne, perfect for dessert
Champagne goes remarkably well with dessert. As long as it isn't too sweet, a lemon meringue tart pairs beautifully with RSRV Blanc de Blancs Millésimé and its light, delicate bubbles. Floral and fresh fruit notes are pepped up with hints of lemon that evoke this iconic dessert. The elegant and subtly mineral attack, and expressive and lively finish further refine the alliance.
For a delicious strawberry tart, Mumm Rosé is the ideal match. This rosé champagne is made in part from still red wines that contribute an aromatic intensity played out in notes of juicy fruits. Strawberry and redcurrant aromas are found on the nose, followed by spices and red fruit coulis. The palate then reveals freshness, elegant structure and a finish underpinned by the sweetness of these springtime aromas, all coming together to create the perfect pairing.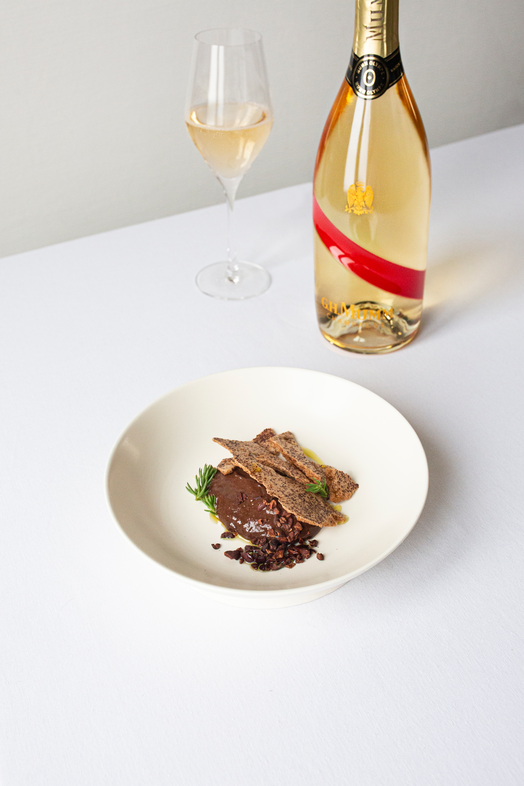 A creamy tiramisu forms a winning alliance with RSRV Blanc de Noirs Millésimé, which echoes the cocoa's roasted notes with its subtle toasted and grilled aromas on the nose. This is a match that allows the wine to demonstrate its full aromatic power and structure.
Finally, for honey-laced desserts, opt for Mumm Grand Cordon with its complimentary notes of maple syrup and its expression of dried fruit. Mumm Cordon Rouge makes another excellent match with its brioche flavors. It, too, offers rich fruit aromas with a freshness that prevents the palate from being overwhelmed.