Rosé champagne according to Mumm
Rosé champagne according to Mumm
People often ask how rosé champagne is made. At Mumm, the tradition dates back to the 19th century, when the House produced a wine dubbed "oeil-de-perdrix" in reference to the deep pink of the skin around the eye (oeil) of a partridge (perdrix). The first Mumm Cordon Rosé cuvée was launched by René Lalou, the House's iconic CEO, in 1952.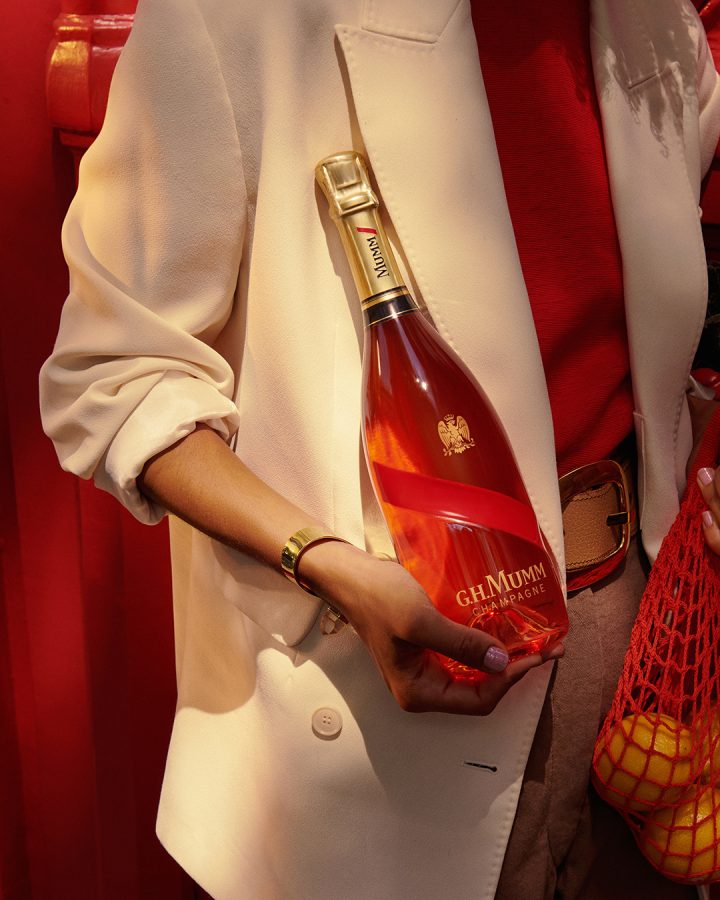 Blended rosé, a practice unique to champagne
There are two ways of creating a rosé champagne. The first is based on the classic method for creating still rosé wines, where red grapes with an otherwise colorless juice—either Pinot Noir or Meunier in Champagne—are macerated in a vat, which releases the pigment that eventually gives the wine its color. Although a perfectly viable process, it produces a wine that is too rich in tannins for Mumm champagne and which does not allow the creation of the subtle, harmonious flavors that the House seeks.
Mumm creates instead a blended rosé. Approximately 15% of this blend is from red wines, notably Pinot Noir grown in Grand Cru appellations (Ambonnay, Bouzy, Verzenay) and in other villages in Champagne renowned for their still red wines (Les Riceys), together with Meunier from the Ardre Valley. Revealing bold notes of forest fruits, these red wines bring intensity to the cuvée. Champagne is the only appellation permitted to use this method to produce rosé wine.
The three grape varieties used in Mumm rosé champagne
Mumm Rosé Champagnes are produced from three different grape varieties. Mumm's multifaceted, signature grape variety, Pinot Noir, contributes power and structure. It is commonly grown in cooler climates, particularly in Champagne. The House's Pinot Noir is characterized by fresh aromas of forest fruits. Meunier, a red grape with colorless juice, is known for its notes of ripe yellow fruits. It adds roundness and richness to the blend. Finally, Chardonnay contributes the elegance and freshness of primarily floral and citrus notes.
Tasting notes
Although associated with freshness, rosé champagne is nonetheless a gourmet wine with a strong character. Mumm Rosé offers aromatic intensity and finesse. Its pale salmon color with orange highlights is embellished with a delicate and steady effervescence. Its energy is immediately present on the palate. The wine reveals an elegant structure, with nuances of summer fruits. The sweetness of red fruits balances out the wonderfully long finish.
Grand Cordon Rosé is another faithful expression of the House's Pinot Noir revealing aromatic power and structure as well as elegant notes of red fruits, underpinned by hints of spice. Approximately 15% of the Grand Cordon Rosé blend is made up of red wines, which contribute intensity, alongside bold notes of forest fruits.
Finally, RSRV Rosé Foujita offers an outstanding rosé interpretation of Champagne's terroirs through a blend of six Grand Crus. On the nose, it reveals notes of brioche, sweet pastry, and vanilla, alongside aromas of ripe berries and raspberry coulis. The palate conveys roundness and vinosity, leading into a taut finish with notes of red fruits.