ADALOR
Recipe
INGREDIENTS

• 90 ml — 3 oz Cordon Rouge
• 30 ml — 1 oz White peach puree
Story
The adalor was the first drink to mix peach and champagne, in Chicago in 1913. The combination was rediscovered and named bellini at the Harry's bar in Venice, Italy in the 1940s.
Method
In a chilled flute fill 1/3 with white peach puree, fill up with Cordon Rouge, stir gently
Tip
Depending on what is best suited for you, you can use "white peach" or "peach" puree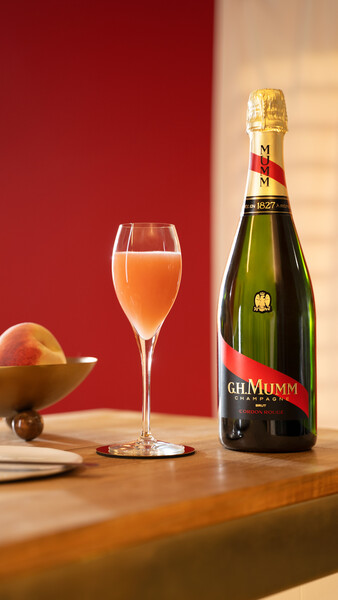 Mumm Cordon Rouge
Aged for a minimum of 20 months in Maison Mumm's cellars, this wine is ideal as an aperitif among friends or a lazy Sunday brunch –those moments when everything simply clicks and positive energy flows: real friends sharing real talk, everyone at ease in a joyful, convivial atmosphere.
Discover the Cuvée
Discover the Cuvée