News
MAISON MUMM, The PAIRING QUEST: Chef Yoko Kimoto
Maison Mumm introduces the latest episode of the Pairing Quest, which matches an up-and-coming chef with a menu from the Mumm archives. Drawing on the House's long tradition of working with innovative cooks and iconic restaurants, each Pairing Quest presents a chef with the challenge of reinterpreting a historic Mumm menu by giving it a personal twist.
THE CHEF
Born in Tokyo in 1991 to a Korean mother and Japanese father, she trained at the Tsuji Culinary College in Tokyo before working for five years at L'Atelier Joël Robuchon in Roppongi, learning the secrets of French cuisine with one of the world's most celebrated chefs.
Following this French immersion, Kimoto decided to explore her Korean roots and went to work in the venerated restaurant Hanmiri in Seoul, to study Korean Royal Court cuisine, a traditional way of cooking entwined with the history of the Joseon Dynasty founded at the end of the fourteenth century.
Since returning to Japan, she has moved closer to Japanese cuisine and more especially, toward the use of locally grown ingredients. Supporting regional growers and sourcing ingredients in a way that respects the environment is the final cornerstone of her culinary style, which draws on her knowledge of French, Korean and Japanese food.
At her restaurant Hyène, which opened in Omotesando in 2022, guests can encounter her highly innovative approach to cuisine.
At her restaurant Hyène, which opened in Omotesando in 2022, guests can encounter her highly innovative approach to cuisine.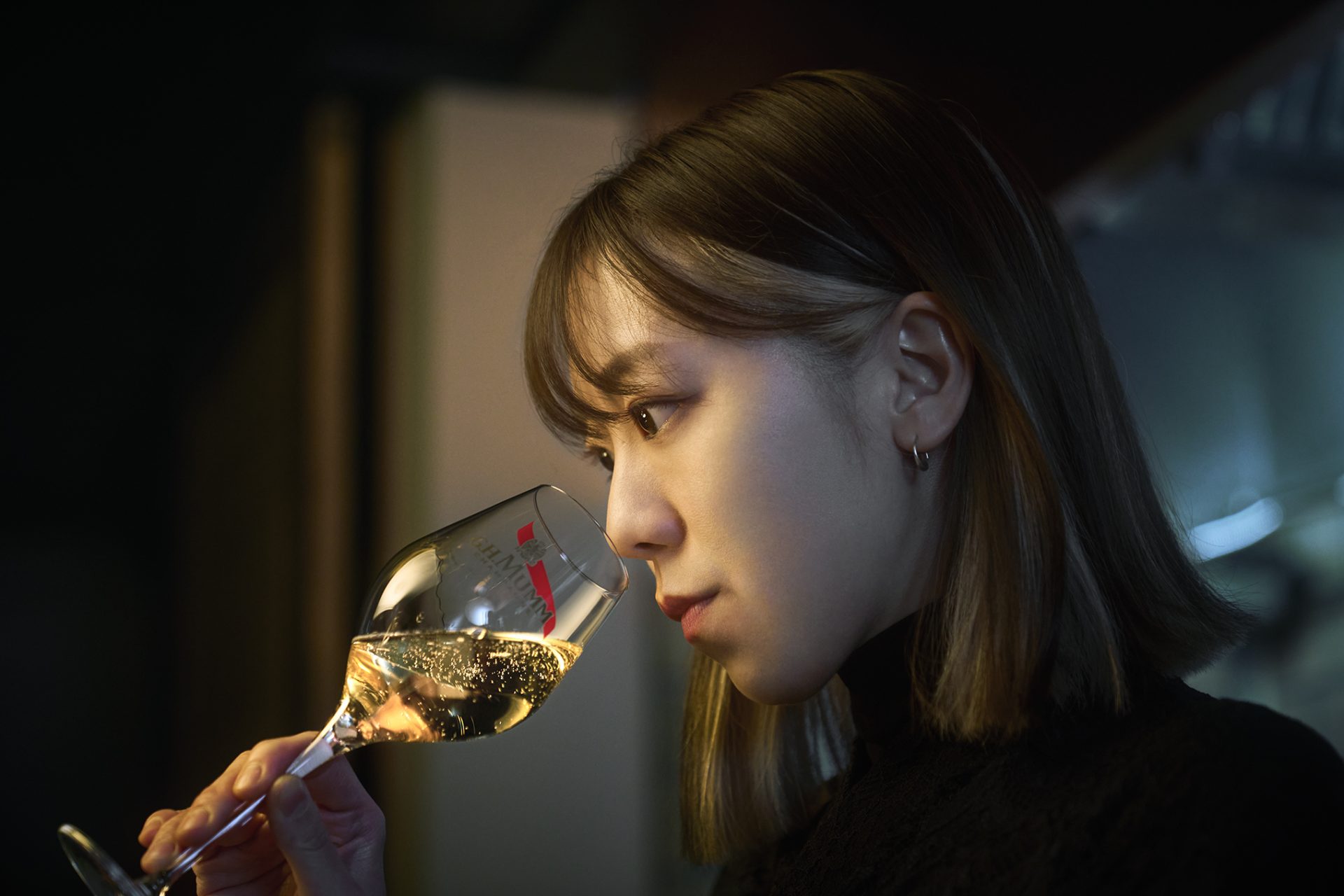 Emerging, surviving and flourishing as a female chef
Kimoto learned to cook as a child, preparing her own bentos for school, and it was her fascination with the science and art of baking that eventually led her to enroll at culinary college.
Early in her career, however, she was frequently told that being a successful chef was too tough for a woman. Instead of discouraging her, it had the opposite effect, making her more determined to succeed. "It's true that being a chef is very hard," she says. "The long working hours make it hard to have a relationship or a family, and you can't allow yourself female pleasures such as wearing makeup or having manicured nails."
For Kimoto, it became important to succeed not only for her own career but also to inspire other girls growing up: "I want to show that a woman can become a successful chef and also lead a happy life!"
She takes inspiration not from another chef, but from her mother, who had trained as a nurse and at the age of 40 decided to change career and went to study in Sweden. "She obtained her master's aged 45, despite being married and having children. She never let go of her desire to keep learning."
Her Values
Standing outside Hyène, you wouldn't know you were about to enter a restaurant. From the sidewalk, this discreet, wooden building looks like any other traditional residential home. Once you cross the front door, however, you enter a sophisticated world of contemporary design, where the intimate restaurant seats eight people around the kitchen counter, allowing guests to engage directly with the chef as she works.
This element of architectural surprise also translates to Kimoto's work, where her beautifully presented dishes gently subvert their visual cues, offering unexpected flavor nuances: things are not always what they appear to be. In playing with the flavors, traditions and presentation styles of three different cuisines, Kimoto brings a rich palette of fresh nuances to her elegantly constructed menus.
Innovation for her is not about relentlessly pursuing new tricks for the sake of novelty, however, but uncovering new layers of flavor. The first and last rule before a dish is served is that it must be delicious.
The Pairing Quest
Maison Mumm has invited Kimoto to take up the challenge of reinventing a dish from its archives.
The House has a long history of working with leading chefs, who appreciate the versatility of the Maison's cuvées with their Pinot Noir signature making them enjoyable not just as a celebratory aperitif, but as a wine that can accompany a meal.
This particular challenge was to work with a menu created during the wine harvests of 1963, with the Parisian chef René Lasserre as guest of honor. The menu featured traditional dishes from the Champagne region, and the dinner was held in a rustic setting, in one of the Mumm winepresses in the vineyards. Lasserre's eponymous restaurant, which the previous year had received a third Michelin star, was a place where cuisine was elevated to the art of spectacle, with dishes sometimes completed in the restaurant in front of guests. The guests themselves added to the drama: Salvador Dali and his pet ocelot, Orson Welles and Audrey Hepburn were just some of its regulars.
A warm friendship grew between Maison Mumm's Chairman, René Lalou, and René Lasserre. Lalou was a frequent client, while Lasserre served the Maison's cuvées and offered his most loyal customers a bottle of Cordon Rouge at the start of every year.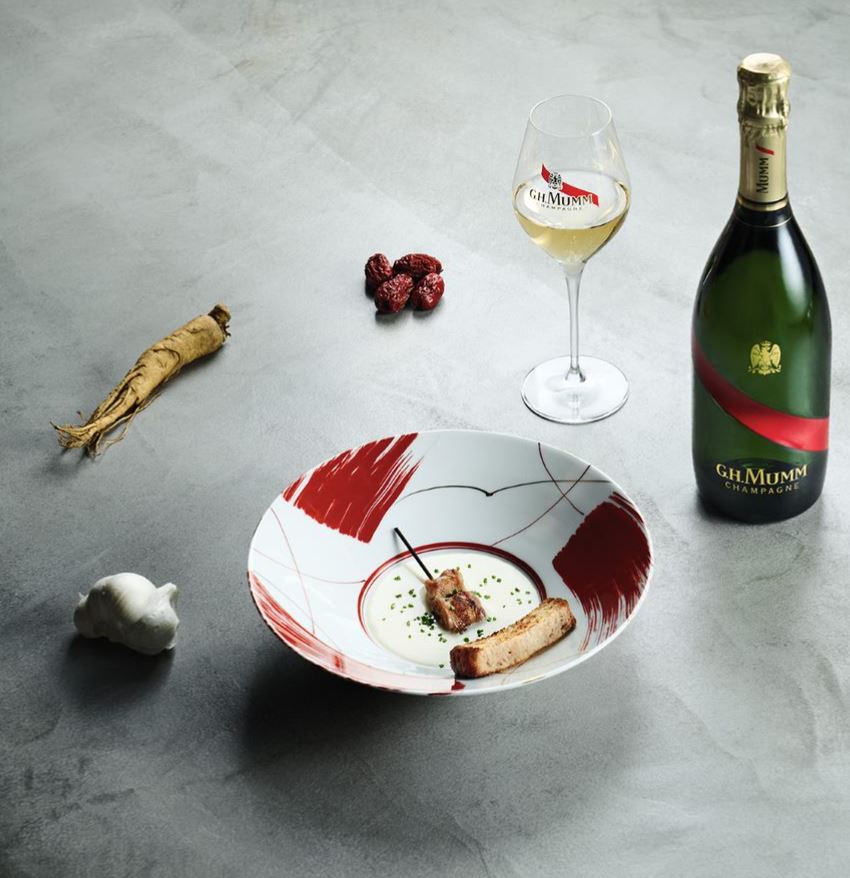 Roast Quail in a Korean style
For this pairing Quest, Yoko Kimoto has taken inspiration from the "Perdreau roti sur canapé" on the menu— a roast partridge on a brioche: a traditional French dish.
Chef Kimoto has decided to revisit it with a blend of Korean, French and Japanese influences. She is taking a traditional Korean soup, known as Samgyetang, as her starting point. Traditional Korean court cooking focuses on the nutritional benefits of food, and this broth made from quail boiled with ginseng, ginger and jujube berries was created several hundred years ago to treat an ailing queen. Using the same flavorings, Kimoto is turning this soup into a rich potage with butter and cream, while the quail meat is placed on skewers and grilled over charcoal in the style of Japanese yakitori. Finally, Kimoto has reinterpreted the 'nest' as a brioche featuring chestnuts and jujube berries to accompany the quail with the soup.
This dish has a rich yet subtle umami which perfectly complements the fresh, elegant and balanced aromas of Mumm Grand Cordon.
The restaurant
At RESTAURANT HYÈNE, you can enjoy innovative dishes that combine Korean royal court cuisine – which is rooted in the chef's heritage, French culinary techniques and Japanese culture through the usage of carefully selected local ingredients.
"I'm interested in breaking down preconceived ideas, in challenging my guests,"
"But just as importantly, a meal at Hyène is about a moment of conviviality, like a dinner party in someone's home. I want my guests to experience a moment of joy, to walk out with a positively altered mood."
BOOK NOW
BOOK NOW