Mozzarella & black fruit
Mozzarella, black fruit & parsley oil vinaigrette
People

For 2

Preparation time

35 minutes

Winery pairing

Le Rosé
INGREDIENTS
1 mozzarella
100g blackcurrants
50g blackberries
1 tablespoonful balsamic vinegar
1 tablespoonful olive oil
20 white- and redcurrants
Salt and pepper
3 cherry tomatoes
10 basil shoots
Parsley Oil
RECIPE
Step 1. Mozzarella
Mix the blackcurrants with the blackberries, olive oil, balsamic vinegar, and salt and pepper in a blender.
Filter and set aside in the fridge.
Blanch the skin off the cherry tomatoes and quarter them. Halve the mozzarella.
Step 2. Parsley Oil
Mix together all the ingredients for 2 min and heat the mixture until it boils, then filter in a fine sieve and leave to cool.
Step 3. Plating-Up
Put the slice of mozzarella onto a plate and season with the black-fruit vinaigrette.
Garnish with blackcurrants, blackberries, add the tomatoes and finish off with a drizzle of parsley oil.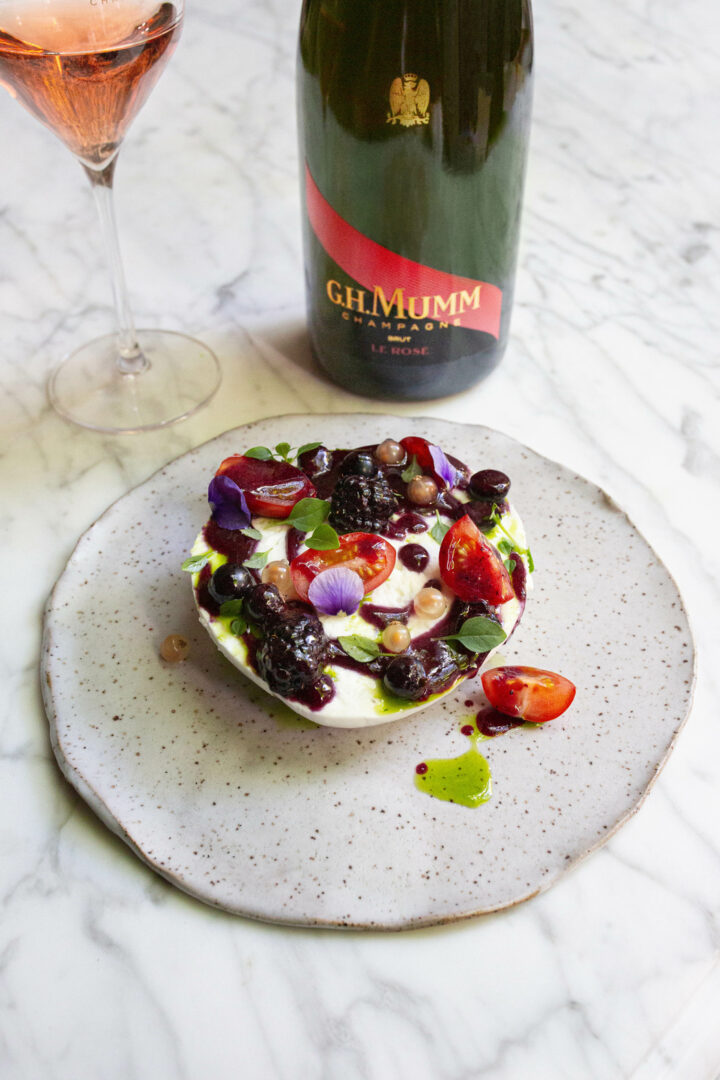 Mumm Le Rosé
Light-hearted Mumm Rosé reveals its charms as an apéritif, but the bright berry notes also complement a wide range of dishes, including simple seasonal starters such as seafood, fresh cheeses and salmon marinated with fresh cranberries.
Discover the cuvée
Discover the cuvée