Prawn gyoza & ponzu sauce
Prawn gyoza & ponzu sauce
Prawn gyoza & ponzu sauce
People

For 2

Preparation Time

1 hour

Winery Pairing

RSRV Blanc de Blancs 2014
Ingredients
Dumpling Dough
250g flour
150g tepid water
1 teaspoonful salt
Filling
150g prawns
2 tablespoonfuls finely chopped green onion
1 tablespoonful grated ginger
1 teaspoonful chopped garlic
1 tablespoonful brown sugar
250g ground pork
1 teaspoonful corn starch
1 tablespoonful soya sauce
1 tablespoonful sesame oil
Ponzu Sauce
2 tablespoonfuls soya sauce
3 pinches of sugar
2 tablespoonfuls orange juice
1 tablespoonful lemon juice
1 teaspoonful dashi bouillon powder
1 tablespoonful finely chopped green onion
Recipe
Step 1: Dough
Mix the ingredients in a salad bowl and knead for 10 min.
Cover and leave to rest at room temperature for 30 min. Roll the dough into a sausage shape and cut into 18g lengths.
Use a roller to form 1mm-thick circles and flour them generously so that they do not stick.
Step 2: Filling
Mix together all the ingredients and hand- knead them for 5 min.
Step 3: Folding
Take a leaf of dough and put a teaspoonful of filling in the center. Close the edges by moistening with a finger, closing the dumplings like pyramid-shaped cartons.
Cook in boiling water for 8 min.
Step 4: Ponzu Sauce
Mix the ingredients. Set aside.
Add a few sesame seeds and a drizzle of olive oil.
Step 5: Plating-Up
Arrange the gyozas on a plate and drizzle with ponzu sauce. Garnish with a few shoots and some finely chopped green onion.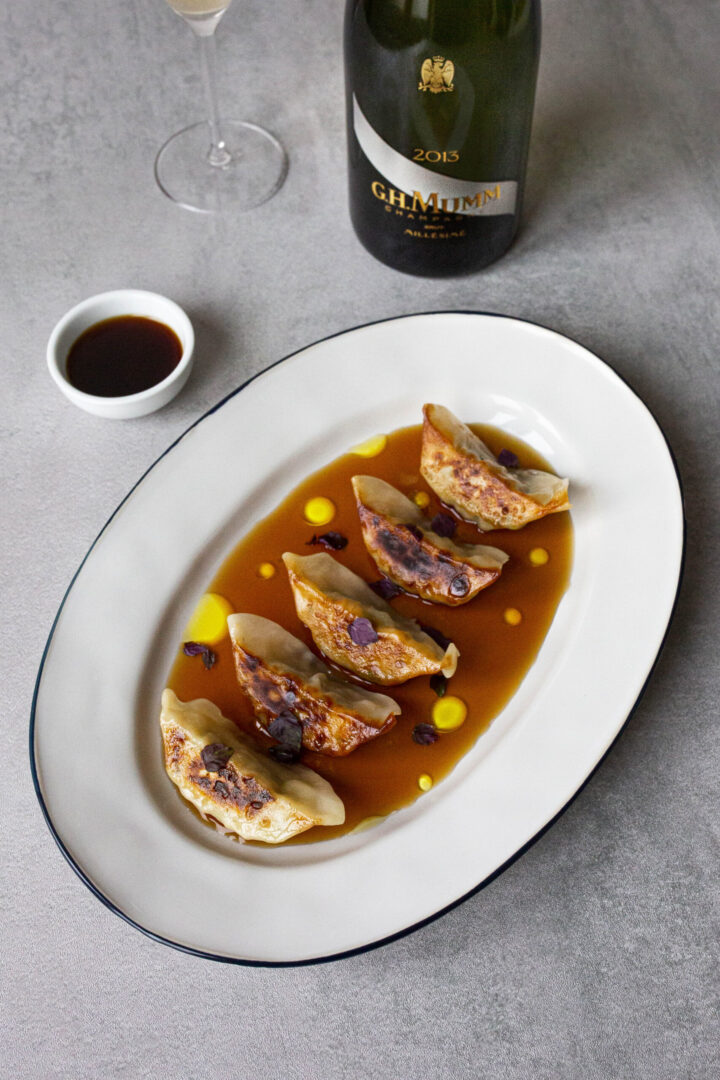 2014 RSRV Blanc de Blancs Champagne
RSRV Blanc de Blancs is produced exclusively with Chardonnay grapes from Cramant ("chalk mount") in the Côte des Blancs. Light and luminous, with green and pale yellow highlights, and airy, delicate bubbles.
Discover the Cuvée
Discover the Cuvée