Chocolate mousse & chantilly
Chocolate mousse & chantilly
Buckwheat chocolate mousse & chantilly with olive oil
People

For 4

Preparation Time

20 minutes

Resting Time

3 hours

Winery Pairing

Mumm 4
Ingredients
4 egg whites
125g dark chocolate + 1 square
10g butter
40g sugar
20g buckwheat
Olive oil
100ml whipping cream
Recipe
Melt the butter and chocolate in a bain-marie, keeping one square of the chocolate.
Whisk the egg whites until they are very stiff while gradually adding the sugar.
Add the cream to the melted chocolate.
Gently blend the chocolate into the egg whites. Add a pinch of coarse salt.
Set aside in the fridge for at least 3h.
Toast the buckwheat in a dry frying pan.
Whip up the cream with a beater and add 1 generous drizzle of olive oil.
Serve the chocolate mousse and the chantilly in quenelles. Add a drizzle of olive oil and a few buckwheat grains. Sprinkle with grated chocolate to finish.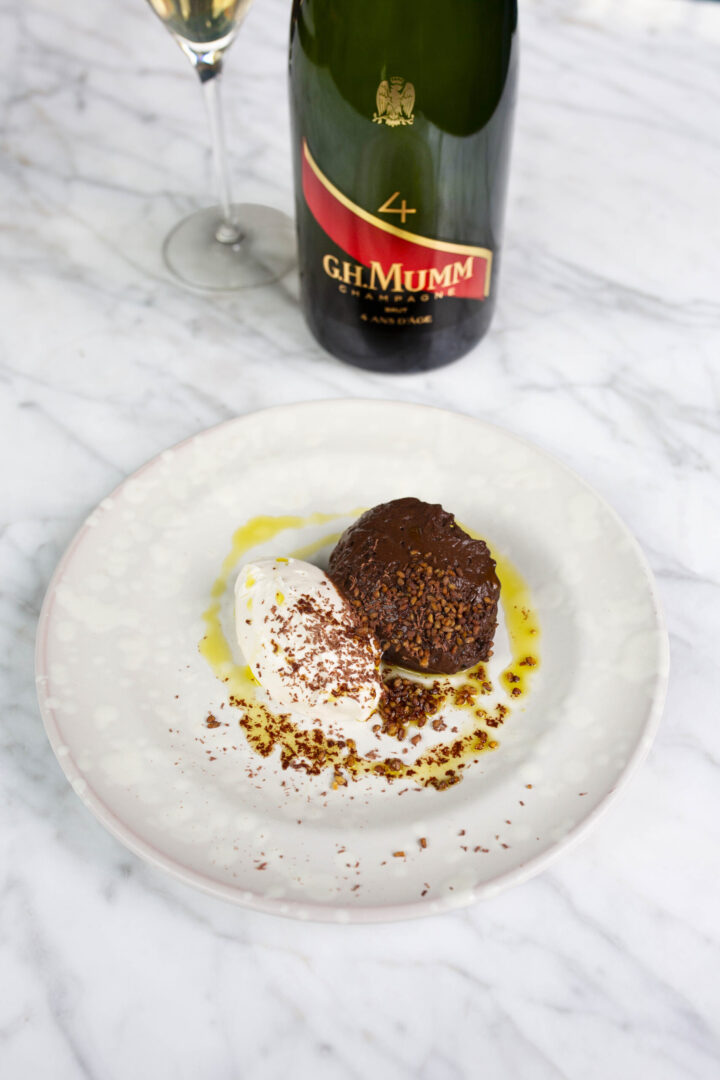 Mumm 4
Mumm 4 is an elegant brut champagne that can be savoured slowly to enjoy its deep complexity or paired with gastronomic delights such as poultry with chanterelles and apricot compote, brie with truffle, game birds or roasted beef or boar accompanied by heirloom vegetables.
Discover the Cuvée
Discover the Cuvée