Temari sushi with mullet
Temari sushi with mullet & confit plums
People

For 2

Cooking Time

1 hour

Winery pairing

Cordon Rouge
INGREDIENTS
Sushi Rice
300g Japanese white rice
390ml water to cook the rice
100ml sushi vinegar
1 black mullet filet 4 red plums
2 tablespoonfuls sugar
RECIPE
Step 1. Cooking the Rice in a Saucepan
Wash the rice several times, put the rice into a saucepan and add 390ml of water; cook on a high heat with a cover.
When the water boils, lower the heat and leave to simmer without stirring for 15-20 minutes. Then turn off the heat and mix the rice with a spoon.
Step 2. Sushi Rice
The vinegar should be blended into the rice when it is still hot. While you are mixing the rice and vinegar, use a fan to cool the rice and remove the humidity.
Step 3. Confit Plums
Halve the plums. Remove the stones and cut the plums into 6.
Place them on a baking tray and sprinkle them with sugar. Put them in the oven at 100°C for 1h and then leave to cool.
Step 4. Mullet
Cut the mullet into thick carpaccios.
Put a slice onto a wooden board and cover with plastic wrap, then crush the slice using a saucepan bottom.
Put a ball of rice in the center of the fish and close it like a ballotine to make a perfect ball.
Top with a piece of confit plum and arrange on a plate.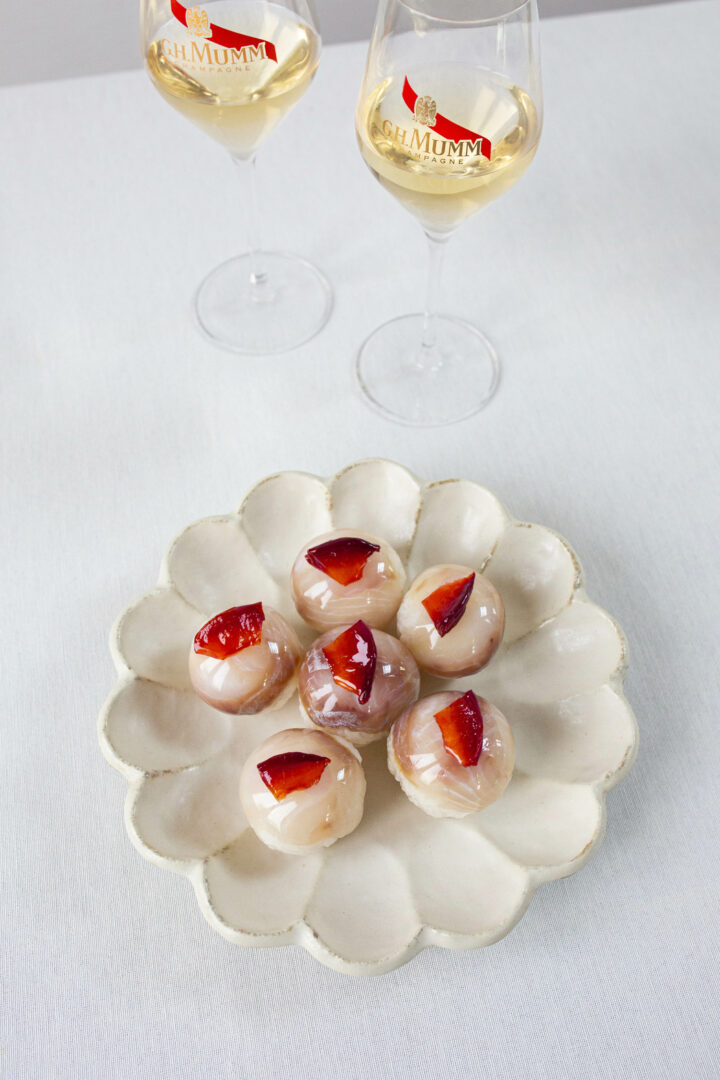 Mumm Cordon Rouge
Mumm Cordon Rouge is ideal for an aperitif among friends or over a meal –those moments when everything simply clicks and positive energy flows: real friends sharing real talk, everyone at ease in a joyful, convivial atmosphere.
Discover the cuvée
Discover the cuvée