Veal croquettes & tonnato sauce
Veal croquettes & tonnato sauce
Shredded Veal Croquettes & Tonnato Sauce
People

For 2

Preparation Time

40 minutes

Cooking Time

4 hours

Winery Pairing

Millésimé 2013
Ingredients
Shredded Veal
1kg veal pallet
2 chopped garlic cloves
1 chopped onion
Salt and pepper
1 1/2 tablespoonfuls cocoa powder
1 1/2 tablespoonfuls corn starch
1 dab of butter
1 sprig of thyme
Tonnato Sauce
1 small can tuna in oil
3 anchovy filets in oil
2 egg yolks
1 teaspoonful Dijon mustard
2 tablespoonfuls veal juice from the
pressure cooker
1 hard-boiled egg
1 tablespoonful Sherry vinegar
100ml olive oil
Frying Fat
1 beaten egg
100g flour
100g breadcrumbs
Recipe
Step 1. Shredded Veal
Brown the veal pallet in a slow cooker, add a dab of butter and the onions, then the garlic and thyme.
Brown for 8 min, then add the cocoa and corn starch.
Pour in water up to the top, add salt and pepper, and cover. Leave to cook on a medium heat for 4h; the sauce should reduce by more than half.
When the meat is cooked, leave it to cool and shred it with your fingertips, then add the sauce. Form balls with the shredded veal and leave in the fridge for 30 min.
Dip the balls into the flour then into the beaten egg, and finally into the breadcrumbs.
Heat the oil in a saucepan to 160°C and fry the meat balls until a nice color is obtained.
Step 2. Tonnato Sauce
Mix together the tuna in oil, anchovy filets, egg yolks, Sherry vinegar, mustard, veal juice and olive oil until the mixture is fairly smooth.
Step 3. Plating-Up
Arrange the croquettes on a plate covered with parchment paper and add the tonnato sauce on the side.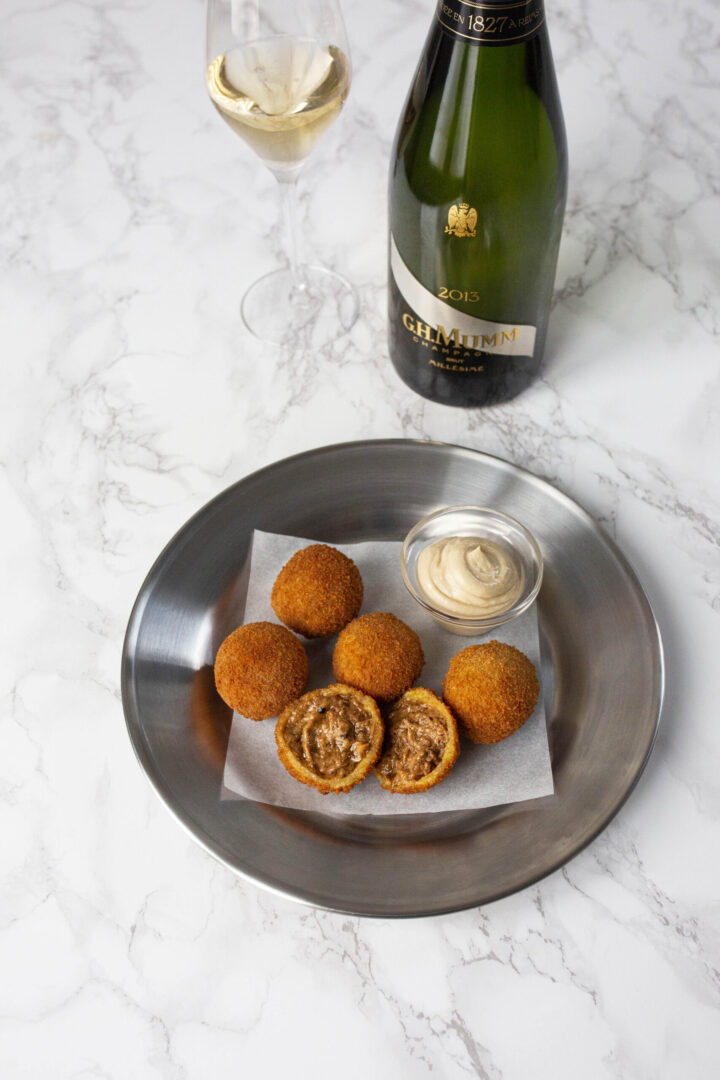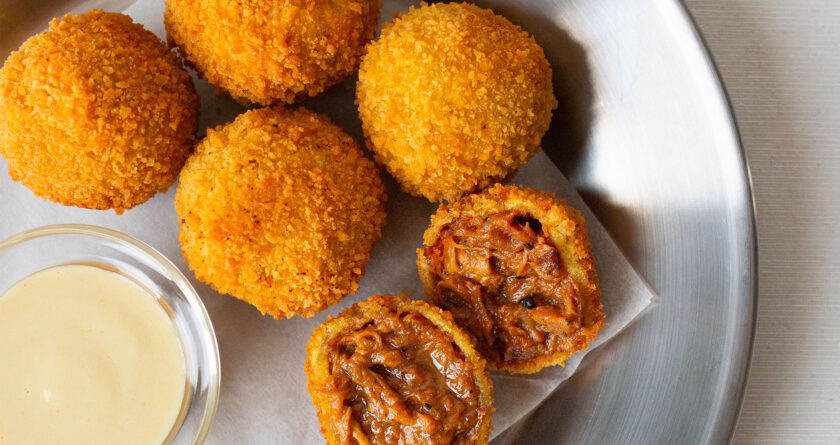 Mumm Millésimé 2013
Mumm Millésimé 2013 is elegance transmuted into a singular vintage champagne. Candlelight illuminates a prestigious restaurant –imposing, yes, but intimate too, the ideal backdrop for the rare pleasure of sharing a most intriguing wine.
Discover the Cuvée
Discover the Cuvée